Ever since 2011, Medan city, the capital of North Sumatra's never be the same again, musically speaking. This city was known as a rock city for so many years, but starting from that year it started showing its jazz side and never stop ever since. The reason why we say this is that this fourth biggest city population in Indonesia has its own annual Jazz Festival, courtesy of WEM (Waspada EMusic), initiated by the founder, also a lethal jazz guitar player graduated from Berklee College of Music a couple of decades ago, ERUCAKRA MAHAMERU. This annual jazz fest is called NORTH SUMATRA JAZZ FESTIVAL.
During the first several years this festival was held around May. But then in 2017 it's moved to October. As we are now in the month of October, the festival is ready to come back, and it's just around the corner! Yes, the NORTH SUMATRA JAZZ FESTIVAL 2019 is coming soon on Sunday, 6 October 2019, taking place at the Mahogany Grand Ballroom of Grand Aston CityHall Medan, starting from 7:00 pm onwards. What's surprising is, this time the festival is free! All you need to do is registering yourself to http://cvsaya.id/jazzfestival.
Speaking of the lineup, this festival has been going international since the 2nd edition by having stars from around the globe to participate in it. For this 9th edition the festival is welcoming bands from Netherlands and Korea, besides of course local talents and signatured home band are filling up the lineup as well.
Coming from Netherlands is the winner of conservatory talent award 2017, jazz singer SANNE RAMBAGS with her trio, UNDER THE SURFACE. Joining her in this trio are Bram Stadhouders (guitar) and Joost Lijbaart (drums). Found in 2015 and then released their debut album in just 2 years, this band moves fast by participating in many major festivals around the world such as Mexico, Mali, China, Norway, India besides their country Netherlands. Medan is the next place they will put their signature on, so if you live in Medan or nearby, you should not miss this unique trio coming from different generations with the urge to search for space and silence through improvisations.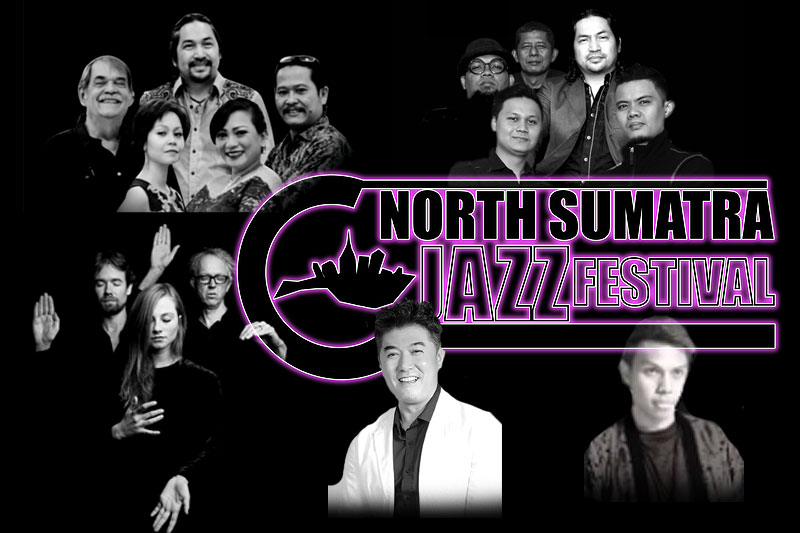 Erucakra's buddy from Korea, PHIL YOON is back again after being a part of this festival in 2015 and 2016. Phil Yoon is a jazz drummer who also stands as the Chairman of Yongin Global Jazz Festival (YGJF) and CEO of Global Green International Jazz & Cultural Exchange Center (GIJCEC). Like before, he's bringing his band simply named after himself, the PHIL YOON GROUP to grace the fest once again. In the midst of K-pop fever all over the world, Medan will once again find out that jazz is still pulsing strong in Korea too. Let's call it K-Jazz. If you missed the previous gigs, Phil Yoon Group will show you how it is this year.
The initiator Erucakra of course will have the stage too with his band, Erucakra C Man Band. Just like Phil, Erucakra is also an alumnus of Berklee College of Music. With his C Man Band he explores challenging music that on the surface might refer to fusion. But if you listen carefully, you will get that they don't just play normal fusion. Erucakra likes it more to call their music as NeoProgressive Jazz. As the band loves to blaze fire, it's an excellent choice to see for those who are looking for stage action in watching jazz. Erucakra is bringing his other project called VOYAGER where his friend Ed van Ness, a world-renowned clinician, conductor and adjudicator experienced in Carnatic South Indian Music is also in. Completing the lineup is a talented young man, AFIF NABAWI.
The committee always say about this annual party, "A class of national and international performers are going to entertain you with their amazing skill, so do not expect ordinary!". It's true, since you'd never know what to expect due to so many surprise twists and turns could happen on stage year after year. Once again, this time it's free, but you have to register yourself to http://cvsaya.id/jazzfestival. That's all you need to do. For the first 200 names on the list and if you come on time this Sunday (6 October 2019), you will get goodie bags from the sponsors. They are having dress code too, semi formal with touch of black or pink, just like the poster suggested.
While life isn't really easy for most of us today, a still running jazz festival is greatly appreciated. The fact that this one goes for free is a wonder. Consider this as a surprising treat, Medan, and really, don't miss this. Medan is ready to jazz again big time, make sure you become a part of it!