Another interesting edition was scored. Rising stars, the professionals, experienced musicians and potential young talents burned the stage, altogether making Braga Jazz Walk #14 stands as a fun, enjoyable and entertaining show with good quality. The showcases were tight, the jam session was hot. While guitar played a vital role in this installment, the other instruments ranging from bass, drums, piano to trumpet added richer textures for 3 hours straight.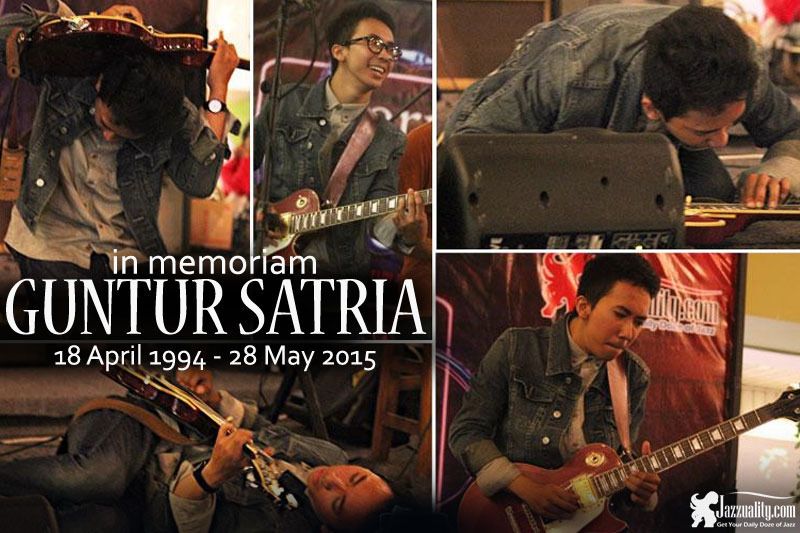 We dedicate this edition to a friend, an awesome artist that had been playing in this event many times who passed away at such young age (21 years old). His name is Guntur Satria. Also, there's a movement to respect Guntur made by fellow musicians called #100PanggungBuatGuntur (100 Stages for Guntur), we submitted this one to the initiators so this would count. Following the announcement we made earlier in our social medias, there were fellow musicians came, plus the lineup are also his friends. We dedicate this edition to him.
From the lineup, first in action was a collaboration between a man with excellent singing skill and an all round guitarist: Fearman and TNT. Fearman is known as the vocalist of successful acoustic band Poinkustik that currently also works hard in establishing his solo career. Fearman is a complete vocalist who could sing just about anything, from a high pitch rocker voice to jazz crooning, from Western style to all kind of traditional singing styles. As for Tinto Arief Anugrah – the real name of TNT, this rockin' and rollin' guitarist is a total package. He can go groovy, bluesy and jazzy just as good as his rockin' mode. The last time we invited them was on the 8th edition (http://jazzuality.com/jazz-event-report/braga-jazz-walk-08-the-report/). It's time to bring them back again and check what they have in store at present time.
We thought they were going to perform as a duo, but actually they featured a skillful bassist we knew from EIP, Muhammad Ilham. From two to three, they kicked off with Titiek Puspa's "Bimbi." Then Fearman dedicated one song for Guntur, a classic from Queen, "Love of My Life".
Then they gave a surprise by taking the hard rock way, delivering Extreme's "Cupid's Dead" by using a pre-recorded drums. It's not everyday to have a full rockin' performance on our stage, so we think it's cool. TNT was on fire, roaring wild freely throughout this song. Oh yeah, he played both acoustic and electric guitar which added more attractions to this gig.
Fearman and TNT are friends. Perhaps that makes them easier to build such strong chemistry. Ilham blended with them nicely too. These lads are skillful. Edgy, bold and daring approach, unique song selection, what a start.
The second round was taken by a real-life couple: wife Misty (real name: Tuti Iskandar) and husband YD Nafis. YD Nafis is a respected pianist who plays in several bands, including the mindbending West Java Syndicate and Prog Jazz with Balinese twist, Tesla Manaf ft Mahagotra Ganesha. Perhaps not many people know that his wife actually has a lovely singing voice which is perfect to sing jazz standards and Latins. We knew it and arranged the schedule, which actually already planned since almost a year ago. Now finally we could invite them to express love on stage, and they really did that.
This time piano became the backbone of the whole thing. Nafis guarded it perfectly so Misty could fly freely following her soul throughout the performance. Misty began by singing "Bluesette" and then went bossa with "No More Blues", originally titled "Chega de Saudade", a monumental song since it is onsidered to be the first recorded bossa song. The sweet, intimate moment continued on with Lalah Hathaway and Snarky Puppy's "Something" and "Meant to Be", originally by Melissa Polinar. As the last song, she chose a famous jazz blues ballad from the 50's which was popularized by artists like Julie London or Ella Fitzgerald, "Cry Me A River." Nafis provided essential melodies for his beloved wife, supporting her fully without any intention to share the spotlight.
Misty works as a teacher. But singing is also her favorite thing, which we think should be continued due to sweet, satin smooth vocal that she's gifted with. What we love is her simplicity.  No show off, no overdo, just sing the song as it is. That way we could listen to the sweetness of each songs, which works perfectly in presenting this kind of songs. Another inspiring thing from this session is how a real musical couple could support each other and how they could transfer love that they share to the audience. Following the jam session that she was in before, we are happy that finally we could bring her in one full slot.
The third session belong to a handsome young man that would remind you of John Mayer. He is great in playing guitar, he sings just as good too, including his efortless falsetto. This expressive and talented young man's name is Rizky Ahmad Mudzakir, better known as Izky Mudza. Since he loves blues and blues is the roots of all modern music, it's not difficult for him to go embracing different genres from rock, alternative to jazz. We knew him when he came and sang two songs in Braga Jazz Walk #8 and love him ever since.
For Braga Jazz Walk #14, Izky performed with some friends: Praditio (acoustic guitar), Agustinus (of Salamander Big Band; drums) and Roni Okta (bass). Cool stuffs were all over right from the start by taking an Eric Clapton's signature, "Change the World". He then sang his single "Ini Cinta", a song that we believe has the potential to be a hit. It's groovy, catchy melody and has the kind of lyrics which tells stories not far from what we experience and feel daily. John Mayer's famous song "Gravity" sounded perfect from him and the boys. He once again demonstrated how good he is in blues rock. His original song "Buatku Gila" became the very last meal, where once again the catchy melody, lyrics and groovy blues rock shone from this team.
Izky currently is busy with preparing his debut album. His first single "Ini Cinta" is going to come out soon. A talent like Izky won't have any problem to shine. He's gifted with more than enough talent and his music is relevant with today's trend. He can appear alone and with band just as good, he's charming on stage. And here's anothe key point, this man has a strong character. It's always cool to meet a talent like him, let's wish him the best in pursuing his solo career.
Fabian was the final act for this edition. He is a rising star and the next big thing, currently just made his debut in the recording field by releasing his selftitled album a month ago under Demajors. The album which is available in our online store is produced by the man behind Tulus, Yura and many other successful artists/bands, Ari 'Aru' Renaldi. Ari is also in charge of the arrangement for the album.
We are proud to have him making some waves at Braga Jazz Walk. Having full support by an all-star cast including Krisna Alda Radiansyah (bass), Iwan Popo (keyboard), Billy Ramdhani (saxophone), Rully Parulian (drums) and Salamander's trumpeter, Brury Effendi enabled him to run freely in exploring the musical terrain. Clearly this young man has jazz inside his concept, but jazz isn't the only genre because he also embraces others like blues, funk, pop and so on in his crafts. He's eclectic, deriving ideas, style and taste from diverse range of sources and know how to make his own sound from it.
Fabian and the band played no less than 7 songs. The first four songs were taken from his album: the cheerful, groovy "Showtime", eclectic "Sturara", "Mengapa" and "Senyum Untukmu". Then he dipped himself fully in heavy funk with Stevie Wonder's "Superstitious." He also used this song to introduce the band member along with action-packed solo runs. Fabian sealed his performance by singing his single, "Mimpi", dedicated to Guntur. "He's a friend of mine, I know that he liked to dream. But what's cool is, his dreams inspire people," said Fabian. This song has the power to be a hit. It's light, melodious and groovy. Everyone won't have any difficulties to love it.
If you listen to the album, you will get something fresh directly from the first track. Fabian is great in playing guitar, the instrument that has been with him since he was still a kid. He has a great vocal too. He has released a single titled "Mimpi" (Dream) that currently climbs the charts in many top radio stations (https://www.youtube.com/watch?v=WRUyJWDCWOA). As for the performance, he looks cool and confident in owning the stage. He is smiley and has good, friendly vibes in and out the stage.  And, he has great team too. This young man is the next big thing, no doubt.
Before the jam session began, Andre Arizky stepped up and sang ""Here Without You" in medley with :Lemar's "What About Love" He tried hard to hold his tears while singing this song for Guntur. By the passing of Guntur, we lost one very special talent with big heart. It's a big loss for us, it's a big loss to for our music industry. He was on his way to reach his dreams, but actually God has a different plan for him. Rest in peace Guntur, you will never be forgotten. Andre Arizky, thank you for a very touching rendition.
.Jam session took place right after. Fearman and TNT were back, but both were with guitar now. Our photographer Titus Firmanto on drums, Omega on piano and a friend of Fearman and his Poinkustik band, Dadan on vocal. This batch sang Bad English's "When I See You Smile".
Danto, a singing blues guitarist then joined the stage. Together this group played Jimi Hendrix's "Little Wing" and gave it to Guntur. Erick and Andre Arizky joined as they went on with "Route 66". Since it was already late, that became the last song for the 14th edition.
Bandung actually has so many talents that have big chance to success. We are proud to be able to show them in our event and coverage. In every edition we try our best to make a reliable spot to enjoy jazz, to perform, to jam and to learn. We make careful selection that can show the rich variety of jazz, the distribution of players/bands and so on. We believe this edition reflects our intention too.
The Braga Jazz Walk will be back next month with a special edition of Ramadhan. We will bring many more great talents within our reach. This wraps our coverage, thank you for your support, see you in the next edition!
Watch the video highlight of Braga Jazz Walk #14 on our Youtube channel:
See more pictures:
Reporter: Riandy Kurniawan
Photographer: Titus Firmanto, Mia Damayanti, Umanbott
Video Editor: Vierna Mariska