It was absolutely an honor to meet Andrae Crouch in person. He has spread the gospel to hungry hearts all over the world for more than 40 years. Sharing the blessings, the love of God continously for those many decades surely is a great achievement.
Andrae Crouch has received 8 Grammy Awards, 4 GMA Dove Awards, ASCAP Billboard and NAACP Awards. He's also the only living Gospel artist, and the third in history, to have a star on the Hollywood Walk Of Fame. His tremendous career has been filled not only by singing, but also as a songwriter, arranger and record producer. With more than 30 albums, many of his songs became an instant classic. He's also a Senior Pastor at The New Christ Memorial Church Of God In Christ, together with his twin sister, Sandra Crouch. All his abilities, his achievements and talents has been provided by the power of God.
Not many knows that Andrae has a special connection with Indonesia. He still remember that moment when he first visited Indonesia for a concert in the big hall at Gelora Bung Karno stadium. He still remember some Indonesian words and still remember the cities he had visited. I'm amazed by his kindness and the love he has. He is really friendly and fun to talk with. A truly humble man that has been faithfully following what God wants. God bless him, the Ministry and everybody in it endlessly.
With the help and kindness of Mr. Ramon Hervey, we had the chance to interview Andrae at the hotel.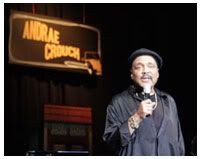 Pastor Andrae, how does it feel to preach the God's love all around the world for over 40 years?
Not really 40 years actually.. At first I only preached around USA. I wasn't a full time. I joined the ministry when I was still young around 1970 something. The first time I went far from America was in the early 70s, and it was Jakarta. I remember it was like a really big hall, I think it's not too far from here.. I was there.
I think it was at Gelora Bung Karno, it's a big stadium.
Yeah, there were many people, they sang amen.. amen.. I still remember how it was. And they said like.."Yesus Juru Selamat" (Jesus the Savior)..