If you ever been to Bali, Ubud should be one of your most favorite destination. This town is surrounded by rice paddies, creek with steep, located in the central foothills of Gianyar. For more than a century Ubud has been popular as a large tourism site since there are many fine arts, dance, music and other forms of cultural can be found throughout the place, not to mention so many sacred nature reserves like Ubud Monkey Forest, temples, cave or even art/painting museum. Now think of this. What if this land with beautiful nature surroundings adds its charm by serving jazz, not a single show but festival, for two days? That sounds great, right? Well, that's what going to happen. Here comes the first ever International Jazz Festival ever held in the heart of Ubud-Bali, the capital of Art of Indonesia by the name of UBUD VILLAGE JAZZ FESTIVAL 2013.
The idea of this event was triggered a musician/composer/teacher and the founder of Underground Jazz Movement Yuri Mahatma and the director/owner of ANTIDA Music Productions, Anom Darsana. This is a new higher step for them after partnering for some regular jazz concerts that has different themes in every edition. The idea of making up a community concert came in the early 2012, but then it rolled bigger by having the involvement and support from majority of community artists. Hence, the concept of hosting a community concert in this unique village was born.
The Ubud Village Jazz Festival 2013 is created in medium size with around 20 performances, involving about 100 musicians (local and international) for two days which will be divided into 2+1 stages (two main performers and one stage for amateurs, new talents and music students). As how the jazz festival normally goes, you can find plenty of jazz forms to choose. Just in case if you're hungry and thirsty during the event, the event also provides variety of best food in the culinary section. Other than live performances, Ubud Village Jazz Festival also facilitates workshop of local and national music educators to investigate ways of getting more people to be interested in playing jazz. The festival will be held on August 9 and 10, 2013 at the 5-star Arma Museum and Resort, Ubud, Bali.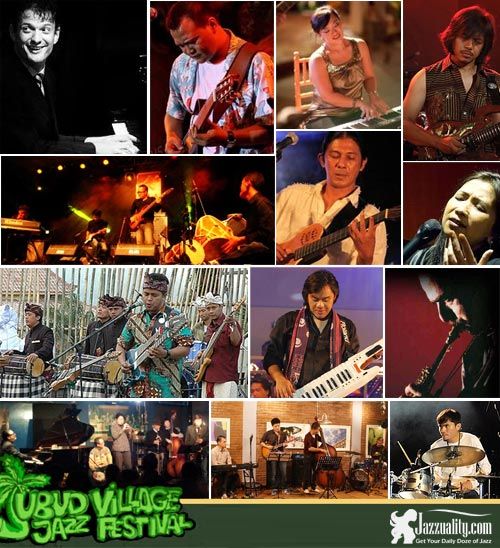 Now let's talk about the artists. As we have mentioned earlier, the lineup consists of local, national and international stars, either with their own groups or through special collaborative acts. Representing Netherlands is Peter Beets, a world-acclaimed pianist with classy, infectious swing. Then look at the combination of Mexico, Japan, England and Malaysia under the name of Diego Maroto and No Black Tie Artists. From Japan comes an interesting ensemble Yokohama Association of Artist Orchestra also known as YAA. After visiting many Asian regions like Korea, now they are going to expand their coverage area by playing in Bali.