Prologue
1978 is the year when Jazz Goes to Campus was held for the very first time. At that time the students of Faculty of Economics from University of Indonesia got the idea to create art events not only about music, but also theater, painting, photography and some other art forms. During that era, jazz was already facing the stigma by being labeled as an expensive and exclusive music by many. Candra Darusman, -at that time still a faculty of economics student-, wanted to prove otherwise. He initiated the first ever Jazz Goes to Campus (JGTC) in late 1978, still in Salemba, with minimalist stage sets and ticket price only IDR 500. "But we got really great crowds. It was cool and familiar." said Candra Darusman not long ago to us. The history proved that among those art events, only the JGTC managed to stand the test of time. Today this event proudly stands as the longest running annual jazz event in Indonesia and one of the oldest in the world (second to North Sea Jazz Festival). This year they are ready to back again with a mouth-watering lineup of artists. Let's give it up for The 37th Jazz Goes to Campus!
The Ultimate Jazzperience
There are some interesting new movements being made by this year's committee, which once again involves hundreds of current active students of Faculty of Economics from University of Indonesia (FEUI). First, they will be a Project called "Tribute to Salemba", made by one of the playing artists in the first JGTC in 1978, Benny Likumahuwa with the initiator, Candra Darusman. This show will bring back all the memories and should be interesting since it will feature legendary names who were presented at that very first installment in Salemba. Therefore, the committee decided to use "Living the Inspired Jazzperience" as the theme which is focusing on "Inspired" and "Jazzperience". "This year we wish to show our appreciation by presenting the senior jazz musicians that have given uncountable contributions in building up the jazz industry in Indonesia." said the committee in the press release. In accordance to the theme, the 37th JGTC has "The Ultimate Jazzperience" as the tagline. This tagline pretty much shows their spirit in letting the audience feel the beautiful experience of enjoying jazz as well as ultimate satisfaction that can be felt by all this year's stakeholders. "We are commited to give different jazz festival. We are going to bring variety of jazz musicians with balanced composition of senior and young ones. Other than that, "The Ultimate Jazzperience" should be able to represent the 37 years of our service." said the committee. Not only celebrating the well known jazz musicians, Jazz Goes to Campus also aims to create a platform for young musicians to express their passion for jazz and exhibit their music talent throguh our very own JGTC competition.
The crowds of the 36th Jazz Goes to Campus (2013)

PRE-EVENTS
- Opening and Clinic
There are series of pre-event being held before the D-day. Starting with the JGTC Opening & Press Conference three days ago on October 31st, 2014 at Faculty of Economics, University of Indonesia, Depok, a JGTC Clinic was made exclusive for the JGTC Competition's contestants on November 2nd. Given by guitarist Agam Hamzah, drummer Rayendra Sunito, pianist Boby Limijaya and bassist Fajar Adi Nugroho, this clinic enhanced the technical aspects and an overview of how to become a good player in the industry.
- JGTC Competition
About the competition itself, this event is one of the most prestigious competitions that has created so many well-established musicians. The JGTC Competition belongs to JGTC Exhibiton along with the JGTC Choice Awards. The Qualification Round will run on 8-9 November 2014 at Tribeca Central Park, but that's not all because for the first time will also be held in Surabaya. This will give easier opportunities to jazz bands/artists in Surabaya to be a part of the competition. The Surabaya Qualifying Round will take place at Area Danau Kampus C, Airlangga University, Surabaya on November 14, 2014.  I (Riandy Kurniawan) will be one of the judges with Benny Likumahuwa, Rayendra Sunito and Boy Rhunos (Surabaya only).
- JGTC Roadshow
JGTC Roadshow is on schedule too. This year it will visit Surabaya in cooperation with Airlangga University's students as a mini show on November 14, 2014 featuring ITS Jazz, Korek Jazz, C.Twosix Jazz Club, Fusion Jazz Community and special guest star Idang Rasjidi and the Syndicate.
- JGTC Scholarship
To show the Social Responsibility, JGTC is going to give scholarship to the FEUI students who need it. The fund raising is made through JGTC Gathering & Charity Night, inviting the donors and previous JGTC committees. This charity night is set to come on November 15, 2014 at Qi Dine and Lounge, Sultan Hotel Jakarta with a special appearance of a beautiful multi-talented lady who represented North Sumatra in Miss Indonesia pageant in 2013 that showed her ability in singing/songwriting, Yemima Hutapea.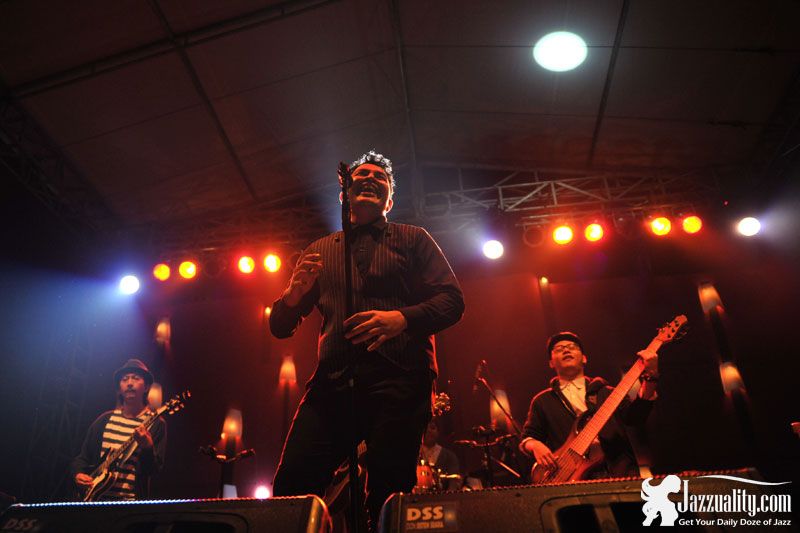 Tulus at the 36th Jazz Goes to Campus (2013)
- JGTC Community Night
To show our care towards the jazz communities in Jakarta, Bogor, Depok, Tangerang, Bekasi and Bandung, the JGTC Community Night will be held on November 21, 2014 at Airman Lounge, Sultan Hotel Jakarta. This Community Night is giving a platform for jazz communities in those areas to mingle and spread the love of jazz. Beben Jazz from Komunitas Jazz Kemayoran (KJK) and the living legend Benny Mustafa will be there as the guest stars.
- JGTC Choice Awards
This program has been running since 2007 in order to give the highest appreciation to those who have given enormous contribution to JGTC and to jazz development in Indonesia in general. This year the awards will be given to selected person in some categories such as Newcomer Artist, Most Dedicated, Young Talent, Album of The Year, dan Lifetime Achievement. The judges are Agus Basuni, Frans Sartono, David Karto, David Tarigan and Yance Manusama. These awards will be given at the main event.
- The Main Event
Now here comes the information you're waiting for. The main event will be on Sunday, November 30, 2014 at Campus Ground FEUI, Depok. As for the lineup, the list are mouth-watering. The international artists are Sondre Lerche (Norway) and Ray Harris and the Fusion Experience (Scotland). We have covered Sondre Lerche's show twice: at Java Jazz Festival 2011 and Kampoeng Jazz 2013, but this time surely he'll highlight more of his new released album "Please". As for Mr. wild keyboardist Ray Harris and the Fusion Experience, we watched his performance at JakJazz 2008 and still remember all the fun we had back then as if it was just yesterday.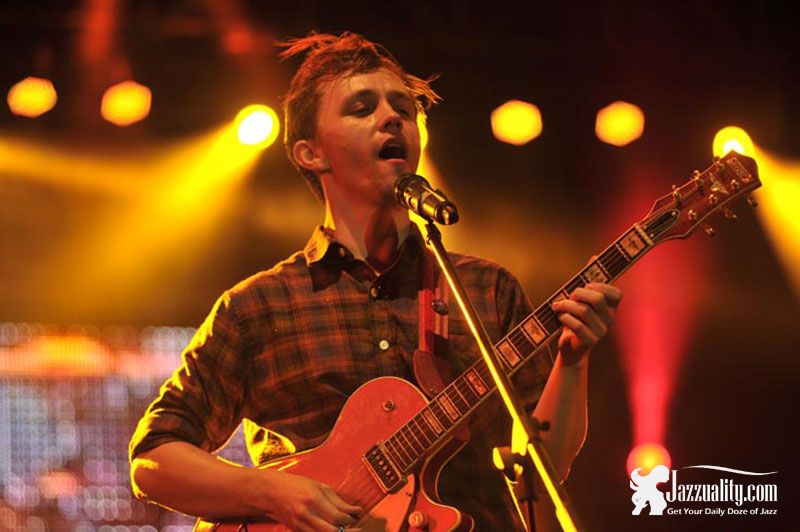 Sondre Lerche at Kampoeng Jazz 2013
From our own land there will be today's front runners, living legends, experienced ones, rising stars and new comers, also special projects. They are Glenn Fredly, Tulus, The Groove, Adhitia Sofyan, JGTC Project "Tribute to Salemba" , Idang Rasjidi Syndicate, Like Father Like Son (Benny Likumahuwa & Barry Likumahuwa), ESQI:EF aka Syaharani and Queenfireworks, Monita Tahalea & The Nightingales, Oele Pattiselanno Quartet, Tjut Nyak Deviana & Friends, Bandanaira, Kunto Aji, HajarBleh Big Band, Yemima Hutapea, Bonita & the hus BAND and of course the JGTC Competition Winners. All these artists will be divided into four stages with wider and more comfortable festival area.