Ever dream of having a superb international star playing not in big, luxurious and expensive concert but in a homey, cozy location that you can just feel at ease by just being yourself; and it's free? Soon it will happen in Bandung, in the community event made by Jazzuality.com in cooperation with Festival Citylink, the TERRAZ JAZZ.
Perhaps some of you just heard about this event and wonder what it actually is. TERRAZ JAZZ is a regular twice a month community event created by Jazzuality.com in cooperation with a happening mall in the Southern part of Bandung,Festival Citylink. It holds the theme of Jazz Edutainment. Our goal is to support the regeneration of jazz musicians, finding potential talents and unique band formats by providing space for them to perform live. On the other hand, we also wish the showcase and jam sessions would give a good jazz entertainment to jazz lovers in Bandung. Fun Jazzin', Fun Jammin', Fun Learnin' is the tagline that reflects the vision and mission we put behind this event.
We're still in our 7th edition, but look who's going to come in this very first SPECIAL EDITION. If you're a bassist this name should grab your attention fully. He's from French,  known as the modern day Jaco Pastorius and have played with giants since a very young age. Yes, that's including Chick Corea (The Vigil) and John McLaughlin. He's the one and only HADRIEN FERAUD.
If Hadrien Feraud is already a big catch, he won't be alone in this gig. He will perform under a trio format with the piano virtuoso from Bali, ERIK SONDHY and a phenomenal young drummer (still 18 years old by the way), YANDI ANDAPUTRA.
Not enough? well, let's add another great band: INDRO HARDJODIKORO & THE FINGERS. This is a band that has stretched its reputation far, far away reaching Northern parts of Europe. As the opening band, Out of 7 is ready to set your mood to fully locked with the whole show. The TERRAZ JAZZ SPECIAL EDITION will come on Tuesday, June 3, 2014 at Terrazo Food Venue, the foodcourt of Festival Citylink, Bandung. This event is FREE of charge!

HADRIEN FERAUD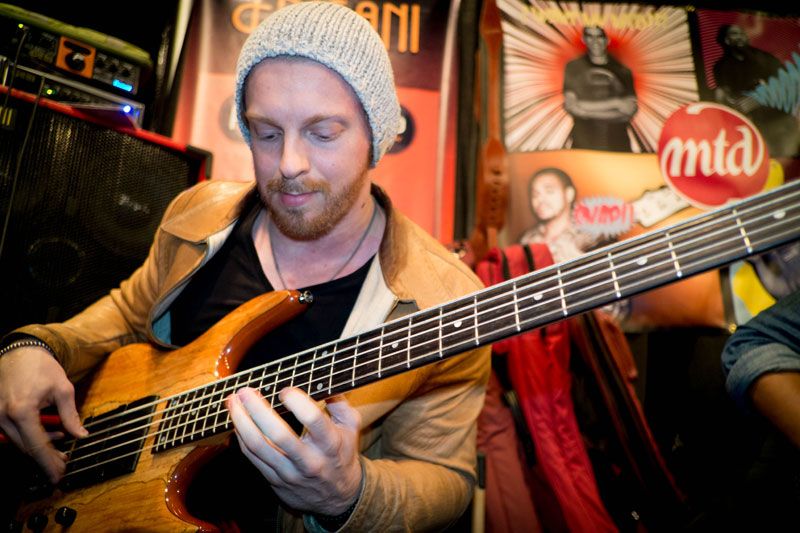 There are so many great bassists, but only a few could stand as a phenom. If in the 70's the jazz world discovered Jaco Pastorius that changed the course of bassists forever, in this modern days Hadrien Feraud claimed to be the new, interesting discovery. No wonder John McLaughlin labeled him the new Jaco.
Born in Paris, little Feraud should feel lucky to be born in a musical family. That made him familiar with wide arrays of genres, including Jazz from the beginning. He learned guitar from his own father when he was still 8 years old . He was once interested in drums, but that soon changed when he received Jaco Pastorius' "The Birthday Concert" CD at age 12. From that moment on, he knew that he as born to jazz with electric bass.
Right after that fundamental turn, he seriously built his skill not just by practicing but most importantly by analyzing the techniques of some masters in the bass land, ranging from Jaco Pastorius, Christian McBride, Victor Bailey, Gary Willis, Anthony Jackson, Matthew Garrison, Richard Bona, Skull Sverrisson, Linley Marthe and Jeff Berlin. As he seriously digged all these heavy stuffs, he hatched faster than would dare to expect. Still in his 20's he already performed and involved in the recordings with iconic figures and famous names. He's one of Chick Corea & the Vigil, his debut in recordings was with John McLaughlin's album "Industrial Zen".
Other than Chick Corea and John McLaughlin, he established connections with so many giants such as Billy Cobham, Jean-Luc Ponty, Bireli Lagrene, Dean Brown, Jada Pinkett Smith, Paco Sery, Rosario Giuliani, Matthew Garrison, Marcus Gilmore, Damien Schmitt, Gergo Borlai, Nelson Veras, Antonio Farao, Bob Francescini, Otmaro Ruiz, Scott Kinsey, Marvin Smitty Smith, Ronald Bruner Jr., Thundercat, Shafiq Husayin, Chris Coleman, Eddie Brown, Ruslan Sirota, David Binney, Louis Cole, Walter Smith 3, Justin Brown, Gerald Clayton, Louis Cato, The West Coast Get Down, Virgil Donati, Janysette McPherson, Cheik Tidiane Seck, Mokhtar Samba, Nguyen Lee, Jean Pierre Como, Jean Marie Ecay, Antoine Herve, Stephane Guillaume, Karim Ziad, Rido Bayonne, Rodrigo Pahlen, Dominique DiPiazza, Christophe Raymond, Tony Raymond, Gary Husband, Flavio Boltro, Andre Cecarelli and many others.
He also has his own album, released in 2007 which amazingly featured so man renowned musicians such as John McLaughlin, Bireli Lagrene, Flavio Boltro, Jean-Marie Ecay, Jean-Pierre Como, Marc Berthoumieux, Mokhtar Samba, Jim Grancamp, Jon Grancamp, Dominique di Piazza, Thierry Eliez, Linley Marthe.
Hadrien has been named "Rising Star, Electric Bassist of the Year" by the Downbeat Critics Polls and "Most Exciting New Player" by Bass Player magazine.
One thing you have to know is that he's called the new Jaco not because he plays like Jaco, but simply because his remarkable skill is hard to find elsewhere, that makes him a very interesting discovery similiar to Jaco in the 70's.
As Feraud is having his Indonesian Tour Debut (read the complete info and Hadrien Feraud's full schedule in Bali, Jakarta and Bandung here: http://jazzuality.com/jazz-events/hadrien-feraud-indonesian-tour-debut/) , it's lucky that we can steal him to perform in Bandung. So if you're a bassist, interested in jazz and wish to increase your skill, you should catch him while there's a chance like this.
ERIK SONDHY (Bali)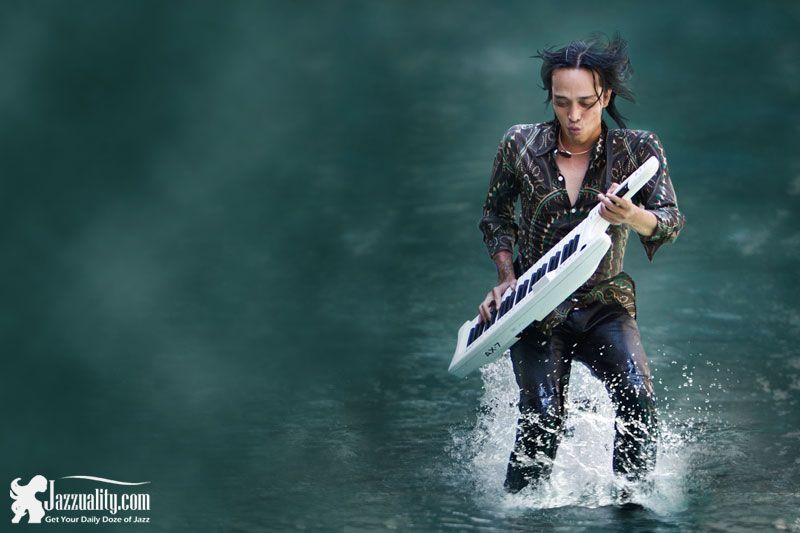 Erik Sondhy's been called Mr Fingers due to his virtuosity on piano. This proud Balinese son has been playing piano and organ since 11 years old, mainly for church recitals. His musical influence was wide from the start. While he's surrounded by the Balinese tradition (his family played gamelans and other Balinese traditional instruments while his mom was a professional Balinese dancer, but he's been familiar with all kinds of Western musics as well. He's a self-taught musician, not only in playing the keys but also to read, compose and produce music compositions.
He invaded Jakarta's pop scene with his bands, but then he got bitten by the jazz bug in 1998 and directly be infected. It only took a year for him to enter the Jazz Goes to Campus (JGTC) annual competition and came out as a winner.
A success became the next chapter. Soon after he was occupied with various gigs in clubs, concerts and studio recordings. But in 2001 Erik decided to come home to Bali, despite all the promising career he would gain in Jakarta. Upon arriving Erik had a vision for Bali on a musical scale and set his course to it directly. It's his quest and calling, Erik's called to bring jazz to Bali by teaching and influencing students and other musicians. Today he has tasted every venue Bali has to offer.
This man can do anything, play anything. That's how he got the nickname Mr. Fingers. One album under his wings called Karma Trio and one more in the future called The Erik Sondhy Project will soon be coming your way.
He once stated that music is his life. "I just have to explore anything. Even if there's a rule i'd try to break it. You'll never hear me repeating my self." That's the kind of spirit he possesses. Erik is a bold and intelligent musician. He's easy to adapt and willing to play anywhere with anything. He has no barriers when it comes to music, and he's captivating when performing. One album under his wings called Karma Trio and one more in the future called The Erik Sondhy Project will soon be coming your way.
YANDI ANDAPUTRA  (Jakarta)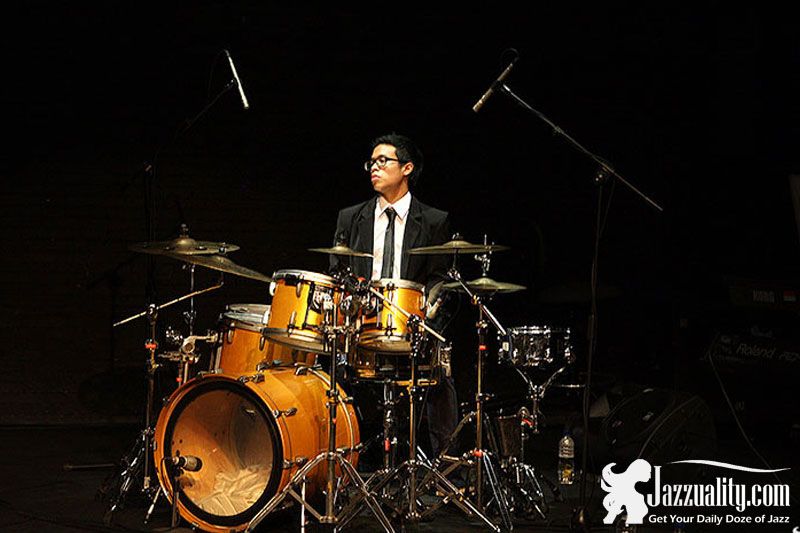 Looking at the previous dummers of Indro Hardjodikoro and the Fingers from Demas Narawangsa to Yesaya "Echa" Sumantri, we know that the band needs someone they can rely on in delivering fusion madness. Now the band has a new drummer, and he's still a teenager. But mind you that eventhough he's still young, he's fully developed in drumming and has no problem to adapt with highly experienced bands. He is Yandi Andaputra.
Indro met Yandi when he was just 17, still in Junior High School, grade 8 when he performed in Jajan Jazz. During the jam session, Indro found the chemistry with him and soon after invited him to be the drummer for the group.
Perhaps you wonder where did he draw his inspiration from. He's a big fan of John Bonham of Led Zeppelin. On the other hands, he favors Vinnie Colaiuta, Dave Weckl and Akira Jimbo. From that wide range of influences, Yandi establishes himself to be a reliable drummer for all season. He was the drummer of Ginda & the White Flowers,  a funky blues band who once reigned the blues scene especially in Bandung. Now Yandi has emerged to be one of the top players from the young generation. You can also see him playing for the recently-resurrected supergroup Emerald-BEX and also a sessionists like with Tompi.
Indro Hardjodikoro & the Fingers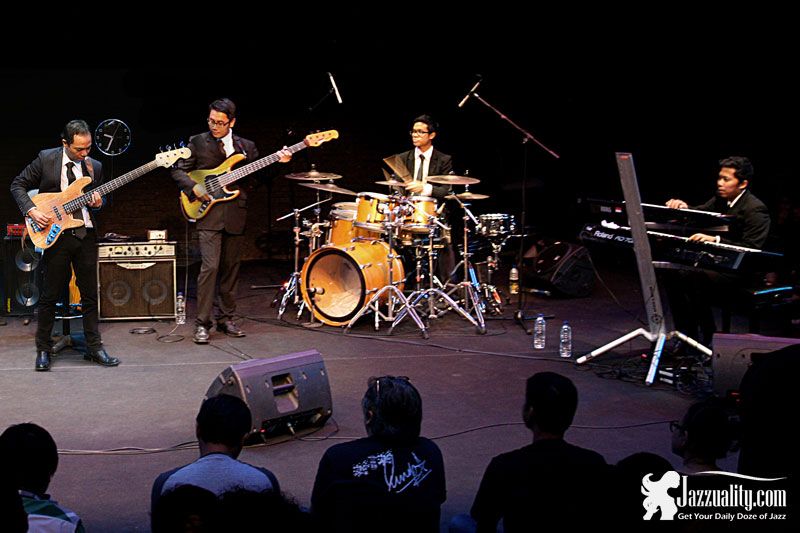 Indro Hardjodikoro & the Fingers was born just a few years ago, but they already bagged many achievements and praises internationally. They have performed many times in the Eastern part of Europe, in Russia and some other countries nearby and never fails to get huge attention wherever they land. This is a group to see when you want to know what difference can a band make by utilizing two bassists at once. Actually Indro started with four bassists in the front row, but later he reduced it to just two, himself and his former student Fajar Adi Nugroho. Fajar inherits all the good things he learnt from his former teacher, including a tight precision and speed.
Indro has tought of using two bassists as the concept for a long time because he believed it would be cool to have two bass guitars at the same time. "Somebody can take the rhythm while I'm running freely with my bass, vice versa. That's why it's going to be cool." he said. "Other than that, something new can appear when two bassists fill in each other..you know, exchanging the expression, responding to one's play and so on." he continued. So two bassists are standing tall like twin tower in this group, Indro himself and his former student Fajar Adi Nugroho.
Other than these bass players, keyboardist Andy Gomez and the most recent drummer Riyandi Andaputra are the names that guaranteed your satisfaction in consuming high amount of fusion. Often featuring Soukma, a fabulous singer with heavy,smokey top-notch voice. Indro and his band loves to keep it friendly even to common ears, but at the same time provides challenging play and rich compositions.
Definitely one of the hottest fusion jazz bands in Indonesia today, one can definitely learn and be entertained with them.
For the opening band we bring Out of 7, a multi-faceted/jazz-acrobatic band from Bandung. Widiyanto Sutanto is the leader/keyboardist. Not only good in playing, he's in charge with the arrangements for the band. On vocal is Erick Gabe, originally has a wide range of soulful RnB vocal but now has been extending his territory to meet jazz, including scat-singing, mouth trumpet, trombone, guitar, drum and so on. A hyperactive 20 year-old girl Marissa Wiguna is seated behind the drums. Daniel Christy and Herman Yulianto are the guitarist and a new bassist Reinhard Woran is going to join the party. We ask them to set the mood for an awesome event and start the fire, let's see how they will make it happen.
It's an honor to present you a very SPECIAL EDITION of TERRAZ JAZZ with top-class national artists and a future legend from France. As we set Terraz Jazz to be a jazz edutainment, this is a golden chance to get the whole package with these brilliant players. Eventhough this is a Special Edition, we still make it FREE of any charge. Oh yeah, you can expect an open jam session too, if there's still time. Don't miss this rare opportunity to watch and learn from some the best players in the field.
TERRAZ JAZZ SPECIAL EDITION
Date: Tuesday, June 3, 2014
Time: 6:30 pm – 10:00 pm
Location: Terrazo Food Venue (foodcourt), Festival Citylink
Jl. Peta 241, Bandung
FREE EVENT!
Featuring:
Hadrien Feraud Trio
– Hadrien Feraud (bass)
– Erik Sondhy (piano)
– Yandi Andaputra (drums)
Indro Hardjodikoro & the Fingers
– Indro Hardjodikoro (bass)
– Fajar Adi Nugroho (bass)
– Andy Gomez (piano)
– Yandi Andaputra (drums)
Opening band: Out of 7
– Widiyanto Sutanto (keyboard)
– Erick Gabe (vocal)
– Marissa Wiguna (drums)
– Daniel Christy (guitar)
– Herman Yulianto (guitar)
– Reinhard Woran (bass)