The magical sound of Big Band has been blowing our mind for around a century. The harmonious sound created by the combination of woodwinds, percussions and brasses played by up to 25 musicians altogether creates a different sensation. It can make your toes tapping, body swinging or even, bring you to the dance floor. Being associated with jazz and huge involvement in giving birth to the great Swing era during the roaring 20's up to the end of World War II, it's incredible that big band somehow stands the test of time. Big Band was the trend decades ago, hitting its peak in the 30's with legends like Benny Goodman, Glenn Miller, Count Basie, Duke Ellington, Dorsey brothers and Artie Shaw just to mention a few. Decades later, we still found many notable bandleaders which preserved the traditional sound of swing to fit each and every era. Today, eventhough Big Band doesn't lead the music industry anymore, it still has its own class. Hey, even Lady Gaga was swingin' with Big Band in 2012, collaborating with Tony Bennett in Cheek to Cheek. Big Band is still alive and kicking, and will keep on marching on for many years to come.
Now, what about Indonesia? Big Band was originated in USA, but Indonesia does have some top notch Big Bands. And they are not only reside in Jakarta. Bandung, the capital of West Java has one of the best named Salamander Big Band. Salamander Big Band was established on September 17, 2006 by Devy Ferdianto at Bumi Sangkuriang Bandung. This jazz ensemble consisted of young jazz talents from the city with good, continuous regeneration process.
Up until now Salamander Big Band has joined many jazz events both national and international such as JakJazz and Java Jazz Festival and collaborated with many big, big names including Benny Likumahuwa, Bertha, Gilang Ramadhan, Sam Bimbo, Margie Segers, Bob Tutupoly, Frank Reinshagen, Dieter Mack, Thorsten Wollmann and Ack van Rooyen. They have regular annual schedule like Mid year Concert and Anniversary Concert which are held in Bandung and Jakarta.
At the end of 2013 Salamander Big Band went on fundraising concert tour visiting Bangkok, Lampang and Krabi, Thailand for Royal Thai National Music Archive. At their 8th Anniversary concert on 8,9 and 10th of September 2014 in Bandung and Jakarta, Salamander Big Band collaborated with legendary Dutch musician Ack van Rooyen (read our report here: http://jazzuality.com/jazz-event-report/salamander-big-band-meets-ack-van-rooyen-a-jazz-life-the-report/). On March 7th 2015, Salamander Big Band performed at the Java Jazz Festival in Jakarta.
Now listen. Soon Salamander Big Band is going to held their 9th Anniversary Concert, exactly on their birth date on September 17, 2015. As before, this concert will take place at their home ground, BP Bumi Sangkuriang, Bandung. If any of you are curious with the song choice, this year you will get many vocal songs in their repertoire from Salamander Big Band's great line of vocalists including Nenden Synitawati, Imelda Rosalin, Gail Satiawaki, Lia Amalia and of course the vocal harmony group Salamander Voices which consists of Lia Amalia, Sekar Teja Inten, Devi Remondi and Adi Sigerra. To answer more of your curiousity, they are ready to bring ageless masterpieces from the likes of Cole Porter, Frank Loesser, Richard Rodgers, Johnny Mercer, Henry Mancini, James Morrison and so on. Many of these legendary compositions were popularized by who's who in jazz, from Ella Fitzgerald, Frank Sinatra and Michael Bublé.
There's one other important info to tell you folks. As you might have known, Salamander Big Band was supported by Goethe-Institut Indonesien since their 2nd anniversary. Unfortunately the cooperation was terminated at the end of 2014. So starting from this year, Salamander Big Band has to cover the concert's expenses by themselves with the help of donors. Since the budget is limited, this 9th anniversary concert will be held only once in hometown Bandung. The concert is FREE of charge as always.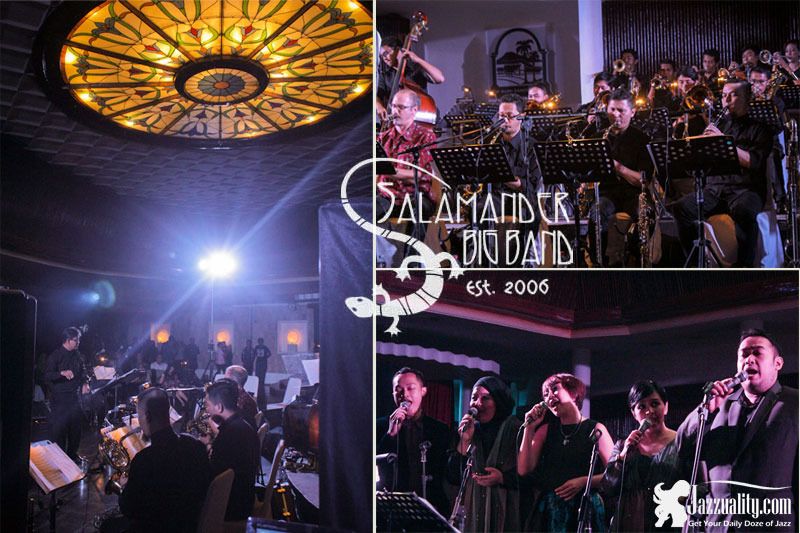 So there, we have said it all. If you're fascinated with the swinging Big Band, you are into classic American songbook or/and the big fan of Salamander Big Band, do come to this party, congratulate them yourself and celebrate it together. Remember, this 9th Anniversary Concert of Salamander Big Band will take place at BP Bumi Sangkuriang, Bandung on September 17, 2015, starting at 7:30 pm. Since it's free, you won't have problem to bring your friends and family. As how we have seen since 2008 when we covered them for the first time, their concert is always grand and majestic, but at the same time friendly and familiar. Their love, passion, experience and history will be shared to all attending guests from one song to another. Mark your calendar and see you there.
Salamander Big Band 9th Anniversary Concert
Date: Thursday, September 17, 2015
Time: 07:30 pm – onwards
Location: BP Bumi Sangkuriang
Jl. Kiputih 12, Ciumbuleuit Bandung
FREE EVENT!
Salamander Big Band are:
Conductor:
Devy Ferdianto
Dicky Ampouw (Alto Sax 1)
Josepha Sinaga (Alto Sax 2)
Matt Ashworth (Tenor Sax 1)
Erik N. Chandra (Tenor Sax 2)
Bonny Buntoro (Bariton Sax)
Brury Effendy (Trumpet 1)
Andri Hadiyono (Trumpet 2)
Eggy Bayu Pratama (Trumpet 3)
Elbana Adrian (Trumpet 4)
Diana Saralely (Trumpet 5)
Andriyanto Haryanto (Trombone 1)
Agus Suherman (Trombone 2)
Afdhal Zickri (Trombone 3)
Arief Budhyana (Trombone 4)
Ivan Imran Indramsyah (Trombone 5)
Imelda Rosalin (Vocal/Piano)
Rika Andriyani (Piano)
Gallang Dalimunthe (Bass)
Bramania Bachtiar (Guitar)
Augustinus (Drums)
Adya Dhivara (Percussion)
Nenden Syintawati (Vocal)
Gail Satiawaki (Vocal)
Lia Amalia (Salamander Voices)
Sekar Teja Inten (Salamander Voices)
Devi Remondi (Salamander Voices)
Adi Sigerra (Salamander Voices)