Happy to inform you that Jazzylicious is back again this year! Last year the first Jazzylicious was held at Sierra Lounge and Resto featuring colorful lineups including Maliq n d'Essentials, SORE, Andezzz, Chalk for cheese, Palm From Moodytunes and Sikuai.  (Read our report on the first Jazzylicious  here). This event got a huge response from the music fans in Bandung and nearby especially for the quality performers, a well done on-time show, and also for the variety they offered. We still remember how great it was and hope there would be the next ones coming.
Following the successful first attempt of Jazzylicious, this year Rookie Production in cooperation with Hi-Melina present the second one. Jazzylicious 2 is on the way, with a very special tagline "Harmony in Fusion with Kevin." You might ask, Kevin who? You'll know him better soon as you scroll down this event info. But first, let me remind you that there will be colorful performers again just like last year. This time the lineup featuring Tompi, 4 Peniti, Mocca, Soulvibe, Barry Likumahuwa Project, Grace Sahertian and Sikuai.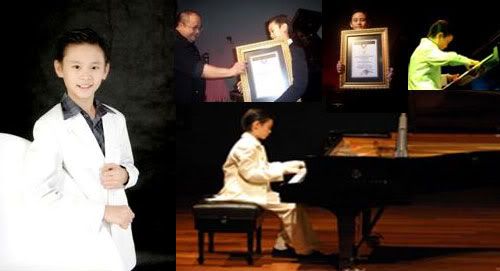 Now let's get deeper with Kanisius Kevin Suherman or just Kevin to make it easier. Born in 1994, Kevin is a wonderkid who we don't see often. He started to play piano since 5 years old, when his fingers hadn't even wide and strong enough to fly over the piano keys. At that early age Kevin joined Yamaha Music School in kid's group. But even then, Kevin could already play the music that amazed everyone. Big encouragement was given by his parents, also by his piano teacher Bambang Nugroho and Stephen Michael Sulungan.
He learned and grew fast. In no time, he received the first prize in Yamaha Piano Contest in 2004. He won again another first prize in 2005, and then remarkably he received a special award from MURI (Indonesian Record Museum) for his first piano recital. In that event he continuously played 50 numbers of world's hits, taking on both the collections from classical and jazz worlds, without taking any break or looking at any notes at all. That impressing achievement was received when Kevin was still 11 years old.
Seing the potential, Kevin got the chance to learn piano in Austria. That was the time when his self confidence increased as he grew up. Right after he came back, he held his first solo piano concert in Indonesia, before he went on making his solo piano recital in Beijing, China. He has got many experiences including having a gig at Classic Care Charity Concert held at the Asian-African Cultural Center. It was special for Kevin, because Delon, the winner of the first Indonesian Idol was also took part in that event. Imagine a very young kid impressively able to play classical and jazz repertoires just as good like a senior. That's the impression you will get whenever you see him.
During the event, Kevin will play together with each performers in a very special collaboration.  It's made big from the start. Jazzylicious 2 is ready to rock Bandung once again with their unique crossover concept just like last year.
Let's see a quick profiles of the performers.
Soulvibe
Nice soulful groovy, that's the music concept of Soulvibe. The name stands for "Sound of Universal Love Various Instruments and Behaviour." Appearing very current in nice blending of various modern music in a fresh soulful groove, Soulvibe is undoubtedly one of the most popular band among the youngsters today.
Barry Likumahuwa Project
If you want to know who's the fastest rising star in Indonesia lately, one candidate for it goes to Barry Likumahuwa. He got a thick music DNA pattern from his father, the legendary Benny Likumahuwa. Holding his own band, Barry Likumahuwa Project, Barry brings bass in front delivering cool groovy and funky songs. Not only the songs, they are also known as the attractive band to grab the attention of their fans.
Tompi
Teuku Adifitrian is the real name of Tompi. He is a native Atjeh son. He is one of the frontliners in male jazz vocalist category in Indonesia today. Unique vocal style with cool falsetto, the ability to scat and interactive performance have never failed to give full satisfaction to his audiences.
4Peniti
4Peniti brings an interesting musical concept that they describe as "connecting dekonstructive logarithm with the touch of live jamming in acoustic instrument." If you confuse with that description, this group consists of highly creative musicians including the explorative jazz violist Ammy Kurniawan, Zaki (vocal/guitar), Arifandi (drum) and Rudy Zulkarnaen (contra bass). If you still confuse, you better not miss this show.
Mocca
Stands between pop, indie and pop jazz, Mocca expands their horizon by giving the retro 70's style on many occassion.  The band was established in 1997 and still running strong until today. A new EP will be released this year, hopefully.
Grace Sahertian and Friends
Known as the singer of Palm From Moodytunes, the soulful singer Grace Sahertian now tries to explore another world, fulfilling her old dreams. She always wants to have a journey on world music, expanding her vocal ability with serious exploration on difficult melodies, and now she finally got the chance with Tesla by her side. A cool tribute to Pat Metheny based on the style of Anna Maria Jopek is Grace's new style.
Sikuai
Sikuai was formed a couple of month before the first Jazzylicious. Taking on the name of a very beautiful island, Sikuai located at West Sumatra, they base their music on current trend to reach the hearts of the youngsters.
JAZZYLICIOUS : Harmony in Fusion with Kevin
Featuring:
Kanisius Kevin Suherman (15 years old pianist)
Tompi
4 Peniti
Mocca
Soulvibe
Barry Likumahuwa
Plus the opening performance by:
Sikuai
Grace Sahertian
Date: Sunday, June 20, 2010
Time: 7:00 PM – onwards
Location: Auditorium Hall Sasana Budaya Ganesa Bandung
Ticket fee:
VVIP: IDR 175.000
VIP : IDR 125.000
Regular: IDR 100.000
Festival: IDR 80.000
Contact person:
Maya : +62 8562180373
Haliman: +62 8562411710