Bandung, the capital of West Java should always be mentioned if we talk about jazz history in Indonesia. Eventhough it's quite hard to find the references, the existance of jazz can be traced at least since the late 40's/early 50's where some young musicians at that time showed their big interest in this particular genre. Many decades ago today, Bandung still stands as one of the cities where jazz pulses strong and never stops producing great talents to become a national stars or even those who received critical acclaims worldwide. Other than the endless talented musicians throughout generations, this city has been providing many places for them to exist ever since. What's amazing is some of this venues are still alive. Isn't it cool if we tell you that one of the venue is a historical location inside a campus? Yes, it's none other than Institute Technology of Bandung (ITB). This campus already had many jazz concerts at least since the 60's, featuring both local heroes and international players. One of the concerts was when Tony Scott performed with Bubi Chen, Jack Lesmana, Dolf Kornmann, Eddy Karamoy, Joop Tiahau and Benny Pablo in ITB which included a jam session, as told by the late Bubi Chen to us.
One of the interesting jazz-related section in the ITB's wide area is the Aula Barat (West Hall). Aula Barat stands as a landmark of ITB building. Built in 1919 by Dutch architect Henry Maclaint Pont, this historical hall has witnessed many art and cultural activities, including jazz. In 1975 the biggest jazz meeting in Indonesia which involved artists from Jakarta, Bandung and Surabaya by the name of Pro Jazz 75 took place at this section, followed by Rendezvous Indonesian All Stars around 2 years after at the same place. The scene was well kept all the way to the 80's when Benny Golson All Stars performed there (on September 28, 1987). Not only live performances, there have been jazz discussions too being held in this particular spot. Due to the high pulse of jazz found in it, Aula Barat was identical with jazz.
But like life that has ups and downs, jazz slowly faded away from Aula Barat due to some reasons. The wish to re-establish the Aula Barat as one of the most important homes of jazz in Indonesia finally happened in 2013. On April 1st 2013, Jazz Aula Barat marked the return of this historical site featuring one of the super trio of its curator the late Riza Arshad, the #3scapes (Trioscapes). The second edition was held on April 14th, 2016 featuring his other world-acclaimed cross ethno-jazz progressive ensemble, simakDialog followed by the third edition on December 2nd, 2016 showcasing Mery Kasiman Big Band.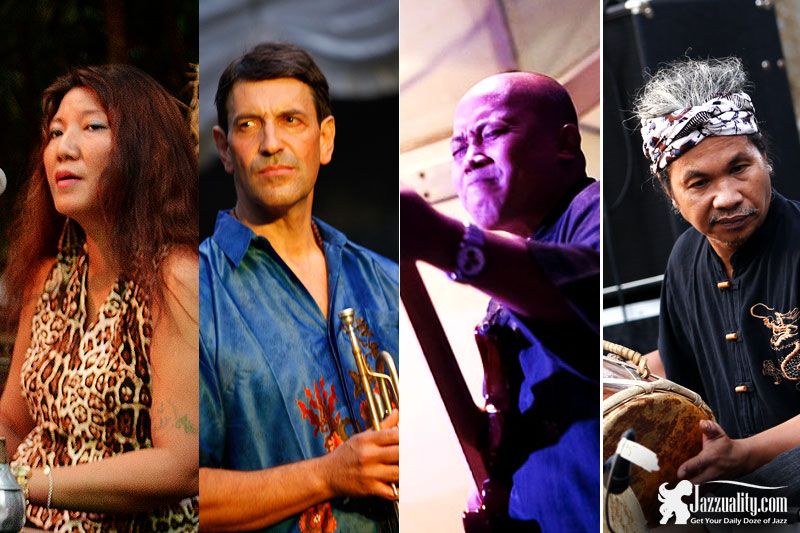 As Riza Arshad suddenly passed away in January 12th, 2016, we were once worried about the future of this event. But the ITB Jazz as a solid official students' activity unit (UKM) of ITB in cooperation with the PR of ITB keep it alive. As an evidence, prepare yourself to have the JAZZ AULA BARAT #4! It's coming very soon on March 10th, 2017 featuring NITA AARTSEN QUATRO. For this band she brings in three of her long time, reliable compatriotes: Jean Sébastien (trumpet, drum, vocal), Adi Darmawan (bass) and Jalu G Pratidina (kendang).
Nita Aartsen learnt piano since she was still 5 year-old, carried on all the way until she graduated from Moscow Conservatory majoring Contemporary Jazz. When she came back to Indonesia, she became the state pianist for Indonesia for a period of 15 years, an experience that gave her privilege of playing for many world leaders, from Bill Clinton, Prince Bernhard of Holland to Sultan Bolkiah from Brunei Darussallam. She is a virtuoso pianist, specializing in the connection between classical, Latin, Jazz and contemporary music. She has performed all over the world with some of the best Latin and Jazz musicians. She is a regular performer at Java Jazz Festival and many other prestigious festivals inside and outside her homeland. Nita has released 3 international solo albums to date and is well known for her own unique brand of high energy, contemporary Latin Jazz.
Up to this moment she has been playing around the world without forgetting her homeland. We have seen her performing with so many other senior musicians from Indonesia (Erwin Gutawa, Dwiki Dharmawan, KLA Project, Indra Lesmana, Gilang Ramadhan, God Bless, Titi DJ just to mention a few) and international jazz cats like Michael Paulo, Pauline Wilson, Israel Varela, Daniele Cappucci, Marcello Allulli, Felipe Gianei, Valerio Vantaggio and one of her quatro for this event which has been playing alongside her so often in the past few years, French-Canadian trumpeter Jean Sébastien Simonoviez.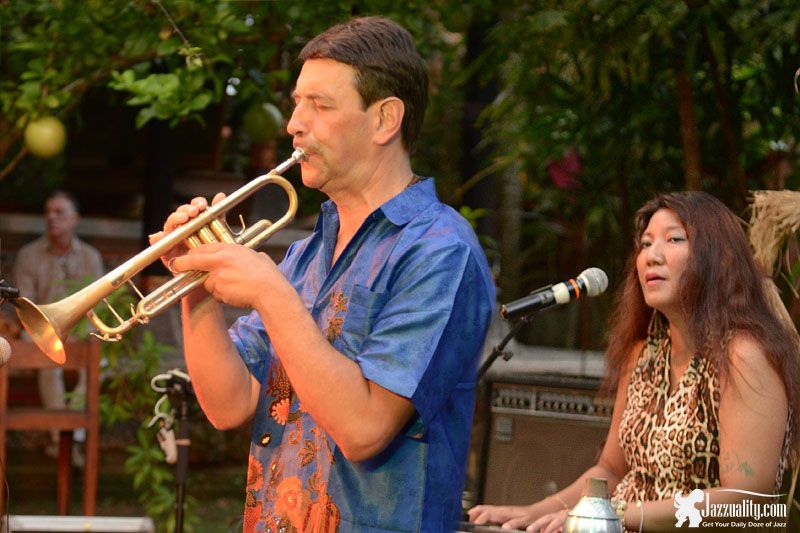 Jean Sébastien plays trumpet, true. But this man is highly capable of playing drum and piano too, other than composing and arranging. About trumpet, from what we have seen he is a unique trumpeter who draws influence from African music and other places he has landed. He has released no less than 10 albums as band leader and performed in many festivals in Asia like Chiang Mai ASEAN One Festival, Prambanan Jazz, Ubud Village Jazz Festival with Nita Aartsen and now he will spread his beautiful explorative horn sound in Bandung.
The other two players in Nita Aartsen Quatro for Bandung are senior and fully experienced musicians: bassist Adi Darmawan and Jalu G Pratidina. Jalu G Pratidina is a master of kendang (the double-headed drums) and percussions who knows how to bridge the traditional and contemporary music and jazz to create a whole new dimension of sound. He was the player when simakDialog decided to use kendang for the first time in Trance/Mission album in 2002 and has become one of the most reliable compatriotes by many legendary and top players whenever they need to enhance their soundscape. You can find him in Keroncong Tenggara and Donny Fattah Project among others. He has been playing with Nita Aartsen for many years. We still remember their great performances in Ubud Village Jazz Festival, also as a trio with Adi Darmawan at Salihara's Jazz Buzz in 2015.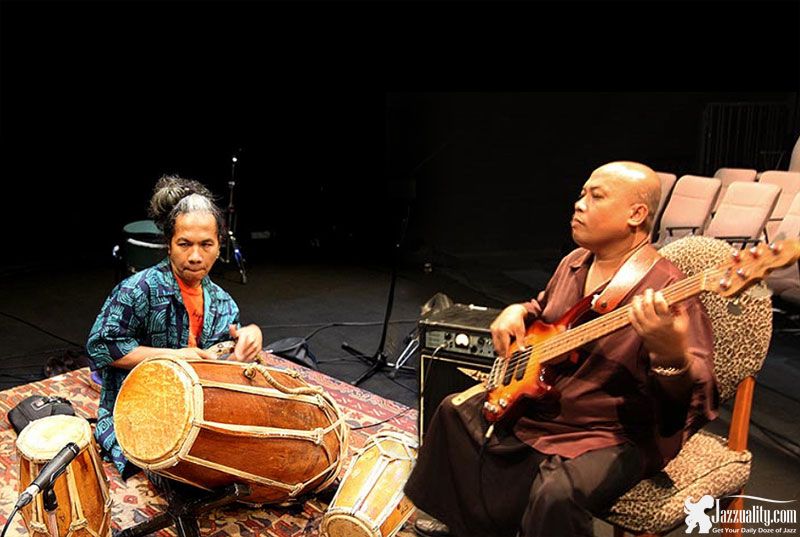 Adi Darmawan, for us is a unique bassist both in style and appearance, an all-rounder who can utilize his instrument more than anyone could ever dream of. Don't believe it? In his band Ligro Trio, he stretches his musical canvas so far by using nails, wood, spatula, iron plate and so on in a gutwrenching song "Bliker 3".  Avant jazz, fusion, progressive, experimental, you name it, he delivers it chilled. Like Nita, he is also a respected teacher.
Considering the connection of Nita Aartsen, Jean Sébastien, Adi Darmawan and Jalu G Praditina altogether as Nita Aartsen Quatro, noticing that kendang will be used to guard the beat and looking at the caliber of artists, this fourth edition of Jazz Aula Barat should not be missed. The toe-tapping Latin Jazz, the slice of classical and jazz, Nita Aartsen has put her spell on so many people throughout her 30 years plus career as a pro. She can translate classical songs into challenging jazz compositions, making it as if Bach, Beethoven or Mozart meant to make it that way. When she goes Latin you won't be able to sit still. This winning formation will bring new experience in enjoying jazz, we have no doubt about that.
So, mark the date! It's coming soon on Friday, March 10, 2017 starting at 7:00 pm at the Gedung Aula Barat, Institut Teknologi Bandung. For you who never see this venue, you will see the combination of art and technology in it, where the architectural and interior design meets the modern technology such as the hall's acoustics, sound and lightings are made to let the audience enjoy any performance inside at the best possible way. The ticket price is as low as IDR 25k, make sure to secure your seat. See you there!
JAZZ AULA BARAT #4 : NITA AARTSEN QUATRO
Nita Aartsen (piano, keyboard & vocal)
Jean-Sebastien (trumpet, drum, & vocal)
Jalu Pratidina (kendang)
Adi Darmawan (bass & vocal)
Date: 10 March 2017
Time: 7:00 pm – onwards
Location: Gedung Aula Barat, ITB
Jl. Ganesha no.10 , Bandung
Ticket Price: IDR 25.000
Contact person:
Kevin +62 822 8444 1802
Agita +62 821 1381 3461
or through ITB Jazz official LINE account: @cgs6618w