Julia Roberts and Javier Bardem's excellent portrait of Elizabeth Gilbert's memoir Eat, Pray, Love has shown the mystical and magical scene of Bali to the worldwide movie-goers 4 years ago. This Hollywood made movie reflected the stunning scenery of Bali almost in every scene. While Bali, just like other cities are developing with modern buildings, the scenes from this movie shows that Bali still preserves the heavenly nature in many locations. It was filmed in Ubud, Bali's cultural heart that's still preserved all the natural essences of how a paradise island should be. It still has strong spiritual atmosphere by the existance of ancient temples and castle, traditional art shows, art/painting museums, sacred forests and caves. Hey, even the rice paddies found in that area can be really relaxing to watch. Since last year Ubud has added another thing that can make it even shinier than ever. It's related to music, it serves cross-cultural entertainment that can be used as a knowledge and experience exchange. And yes, it's very 'jazz.' We're talking about a big move made by the founder of Underground Jazz Movement Yuri Mahatma and the owner of ANTIDA Music Productions, Anom Darsana. Their brainchild added the specific jazz color into the Ubud's heavenly landscape. It's Ubud Village Jazz Festival (UVJF).
Last year it was held for two days featuring the combination of local, national and international artists, divided into 2+1 stages either performing separately or collaborating at the same show. The result was magnificent. The fest got big success by getting loads of praises both from the playing musicians and audiences. Since we are already in year 2014, the festival is ready to launch its second edition. The annual 2nd Ubud Village Jazz Festival will be held, once again, on 8th and 9th August 2014 at ARMA Ubud and will feature a world-class line-up that is guaranteed to be even more impressive than the first.
The co-founder Yuri Mahatma said that he's been wanting to present a jazz festival in his hometown, but it has to be different than any other jazz festivals which have been already running in Indonesia. As we know, there are so many existing jazz festivals in Indonesia, spreading from the Northern end of Sumatra to Ambon in Eastern Indonesia. The atmosphere and spirit of Ubud itself should already give contrasting values, yet as an active jazz musician Yuri knows exactly how to cook it differently. He invites only quality artists in good amount of percentage between original Balinese, Indonesian and international musicians. Furthermore, he also thinks of how to provide enough room for collaborations which, based from last year, created spectacular jazz scenery that's still mentioned by many until now.
So who are inside this year's batch? Acclaimed jazz musicians from Indonesia and Bali such as Musicology, Yuri Mahatma, Astrid Sulaiman, Shadow Puppets, Kirana Big Band, Dwiki Dharmawan, Balawan, Widi Noor Answara, Eko Soemarsono Band are listed among the participants. About Balawan, most likely this time he's going to perform in an interesting project called BID Trio which gathers him with Indonesian drummer who has successfully pursued his career in Australia, Deva Permana and Ito Kurdhi. Think of how amazing it will be if it really happens. Astrid Sulaiman will team up with Yuri Mahatma Trio, and just like last year, the fantastic female singer who has natural jazz breath and distinctive phrasing all over her voice, Dian Pratiwi will perform together with Uwe Plath, her music partner in Germany, the leader of the Glen Bushman Jazz Akademie Big Band where she joined since a decade ago. Ondrej Stjveracek (Czech) is going to join them as they promised to give you a different perspective of jazz. Other cross-nation collaboration will occur between Australian Erica Tucceri and Bali's Underground Jazz Movement.
Now let's check out more international stars. From USA is Gilad Hekselman, an Israeli jazz guitarist who has claimed his position inside the jazz squared-cicrle  in his mid 20s of age. Since he arrived in New York five years ago, Hekselman has set himself roughly up in the line of Pat Metheny and Kurt Rosenwinkel. He has a warm and clean guitar tone, clear articulation, crazily extended improvisational ideas. He can speed when needed plus an advanced understanding of harmony are also known as his major force.  Deva Permana will also play in The GAPP Project (Australia) which features one of Australian Jazz Icon Dale Barlow. Japanese pianist Seiji Endo, Brazilian drummer Alexandre Cunha (Brazil), Ben van den Dungen 4tet with Martijn van Iterson and the swing lady who was born in USA, grew up in Hawaii and Japan and now is living in Netherland, Deborah J Carter have confirmed too.  All will play under the stars in the grounds of the magnificent Arma Museum, Ubud. More artists are still expected to come, so make sure you're updated.
The theme this year is "Awakening Indonesia", in sync with Indonesia's Independence Day celebration in August. The UVJF celebrates the spirit of independence by focusing on Indonesia's young generation of emerging musicians who are the brave, new voices of Jazz in Indonesia. "Our talented young Indonesian artists are the key to the development and future existence of Jazz in Indonesia." said Anom Darsana. The Festival aims to provide important cross-cultural and networking opportunities between International and local jazz musicians and will showcase established and emerging musicians over two days, using three stages just like last year. And the festival will collaborate with local industries, such as handmade drums from Jakarta and double bass from Solo and bamboo installation for the stage decor.
This year the Ubud Village Jazz Festival 2014 is proud to partner with The Jazz Summer School in Korea-Netherlands as an exciting initiative to promote Jazz education in Indonesia. The Bali Jazz Summer School will be held over 5 days before the festival and will be divided into 6 classes featuring guitar, drums, piano, double bass, brass and reed instruments and vocal.  The tutors are Rotterdam-based professional musicians who will also perform in the Festival. "This is a great opportunity for young Indonesians to gain valuable knowledge and improve their skills through classes in theory and daily jam sessions", explained Yuri Mahatma. For more info, please visit: www.balijazzsummerschool.com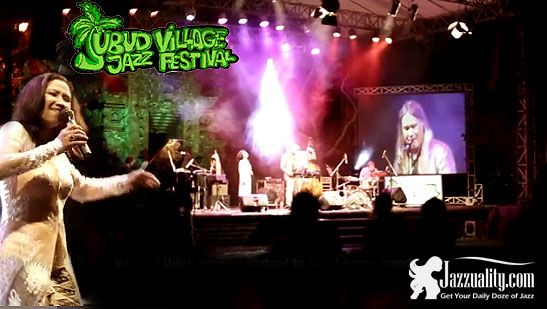 As a pre-runner to the Festival, "The Road to Ubud Village Jazz Festival" uniquely will be held pre and post Festival to strengthen the profile and spread the word of the UVJF. The latest Road to Ubud Village was held at Ayucious in Renon Denpasar on 19th April 2014, with The Bali Ska jazz Syndicate, Ito Kurdhi Quartet and  3 Berkat from the youth community, Underground Jazz Movement. Don't miss the schedule for the Road to Ubud Village Jazz Festival 2014 on 27th June 2014 at alaya, Ubud and 25th July 2104 at Pertiwi Resort, Ubud.
There are so many places to be seen in Ubud that can attract the tourists. Now that there's an annual jazz festival in it, Ubud will surely become more attractive, or even, like what Dwiki Dharmawan said, the positive vibe can turn Ubud into a jazz town in the future. Moreover, this festival is brilliantly set to be like a miniature of today's Ubud. You can find people from all around the world visiting this town, the same thing happen with this jazz festival. It's just nice to see a festival which is focusing in collaborating different cultures inside one universal 'language', jazz. These musicians can always communicate using this particular genre even without knowing each other's mother languages. And that will produce such great energy too that can be felt by the playing musicians and audiences. You will love the atmosphere. You will find people dancing in front of the stages, lovers hugging each other and audiences who are deeply into the acts. It's a scene (and experience) you surely don't want to miss.
Special early bird Ubud Village Jazz Festival tickets are now available online and will be available until June. Don't miss out on this extraordinary deal!
– Early Bird ticket price (Including taxes) February- June 2014 period
Please log on into our website to get the most updated tickets' price.
– Normal ticket price (Including taxes) Aug 2014 period
One day ticket: IDR 350.000
Two days ticket: IDR 500.000
For further information or inquiries, please check UVJF website: www.ubudvillagejazzfestival.com and follow their twitter: @UbudVillageJazz
CP:
Astrid   +62 818173170
Anom   +62 81338669752