As we are in the month of March, the regular monthly jazz event Bumi Sangkuriang Jazz Night #3 is right around the corner. This event continues the historical connection between the venue, Balai Pertemuan Bumi Sangkuriang and jazz which have emerged since the venue was built in 1957. Our mission is bringing jazz back to one of its earliest homes in Bandung. For that we cooperate with Venche Music School who decides the talents and some other supporting partners like 3 Negeri who have been generously providing the sound systems, instruments and other equipments since day one.
Two previous editions got the combination of local Bandung talents and the remarkable jazz representatives from Jakarta. If in both editions we brought in relatively young musicians who have given a lot of contributions toward our jazz scene, this time we will bring in a legend who has been active for more than 50 years. Curious to see who will be featured in this 3rd edition? Let's take a closer look at them.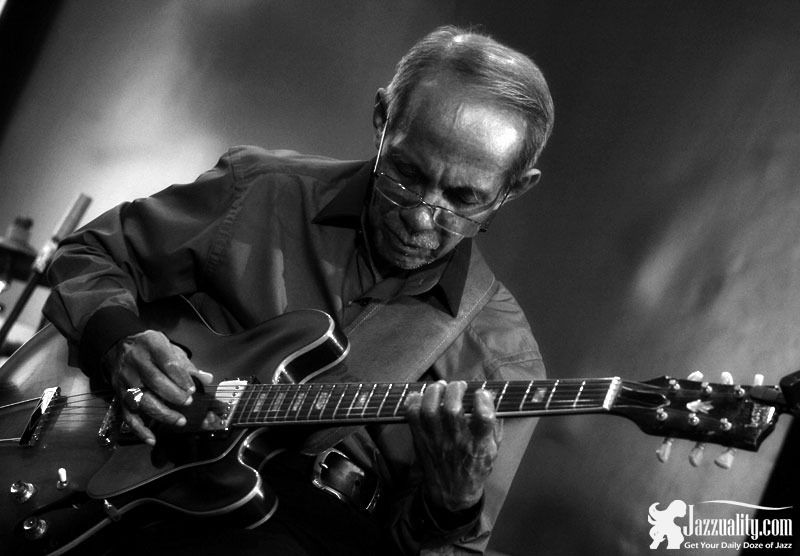 The legend we are talking about is the master of Swing, Oele Pattiselanno. Born in Malang in 1946, Oele grew up listening to his father's collections, from Stan Kenton, Art Tatum to Kenny Burrell. He already started playing in the band since his teenage years along with two siblings, Jacky Pattiselanno (drums) and the late Perry Pattiselanno (bass).
Bandung is not a stanger to Oele. He moved to Bandung from Surabaya in 1968 to play in Savoy Homman Hotel. He called the band Savoy Rhythm. He did move to Jakarta after that, playing with Jack Lesmana in Jazz Riders and involved in recordings in mid 70's. Howebut he keeps coming and playing in Bandung from time to time until now.
Oele plays guitar with strong character. Ellegant, classy, reserved is his playing style. some say he successfully combines Kenny Burrell, Wes Montgomery and Charlie Christian's style. If you are not familiar with these names, just know that he will introduce you to the beauty of swing which always flows naturally from his heart.
Accompanying him are two young musicians representing Venche Music School, the VMS Rhythm Section. They are Alman Naufal (drums) and Aries Ardiansyah (contrabass).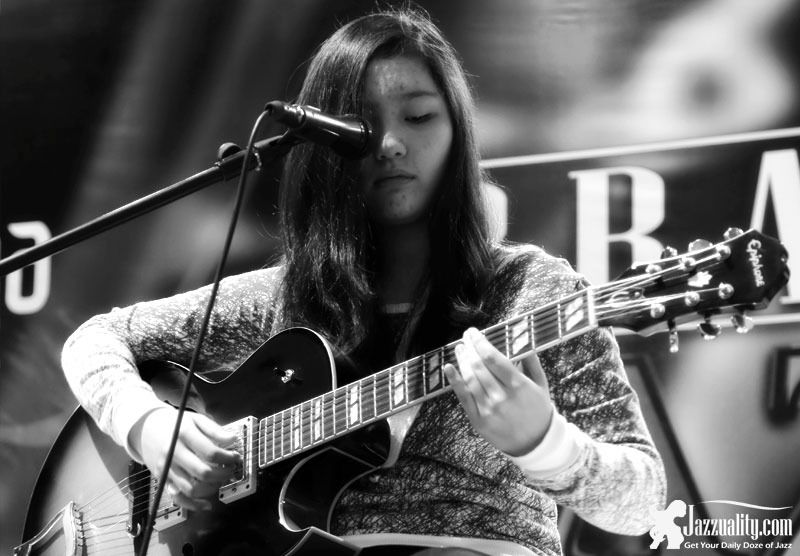 Next, let's see a 15 year-old girl who plays fingerstyle guitar and sings at the same time. That's really not easy to do, but she does that well. You will be surprised even more if you know that she just started learning last May. She is Nayra Dharma.
Nayra is the proud daughter of a bass master who co-found the legendary supergroup Krakatau and the bassist of mind-bending group of gods Kayon, Pra Budidharma. She clearly inherits her father's talent, but that's not the only reason of how she could emerge that fast. another reason which for us even more important is that she is totally focused, determined, hard-working and diligent. She spends around 6-8 hours a day, mentored by Pra himself. Not only she is trained as a guitarist, she also learns to sing. Nayra is not a singer who supports her performance with guitar, she is more like a superb fingerstyle guitarist who sings as well.
What's interesting is the fact that Pra Budidharma actually formed Krakatau in this very building, at the regular event Jazz Break to be exact around mid 80's. So, now that his daughter plays at the same stage 30 years later should make another story. And we are looking forward to see Nayra writes another history following his father's footsteps.
She can still be shy like most of the girls her age, but she has charm. She is compelling when she's on stage. Camera loves her, and you would too. As we are supporting newcomers to introduce themselves, we are proud to invite Nayra. It's not easy to play freestyle guitar in jazz and sing at the same time, especially someone who just started learning not even a year ago. But she is really good. That is why we are happy to present her in this edition.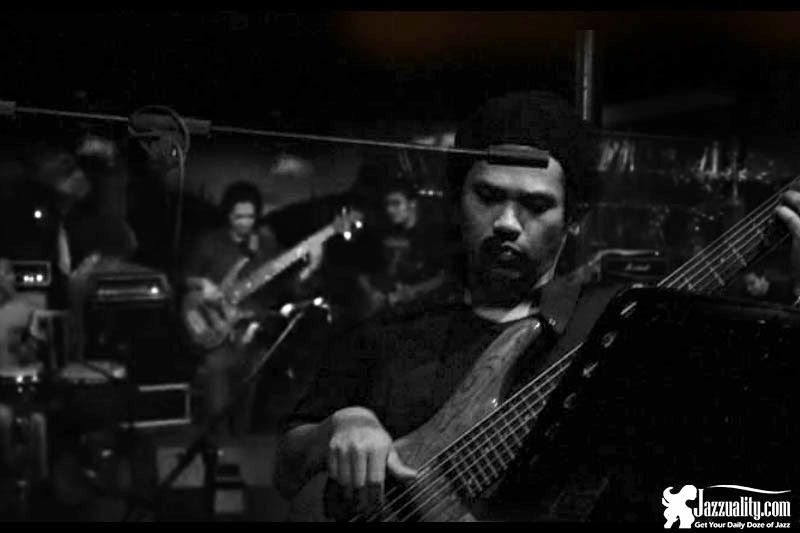 The last to mention is Four Brothers. This band has been running for more than 20 years, starting as a group of high schoolers. The drummer at that time was Bambang Dole, but unfortunately he died because of the car accident. Then they looked for session player to fill the drummer position. Later on when Deva Permana was at ITB, he became their drummer for a while until he moved to Australia. Bassist Ari Firman (the member of The Groove) is now behind the band. We don't know who he will bring to fill the lineup since we receive no update from him up until this very moment. If you wonder what their style would be, it's fusion.
So there, you have it. This Bumi Sangkuriang Jazz Night episode 3 will come next week, on 10 March, 2016 at the Concordia Hall of BP Bumi Sangkuriang, starting at 7 pm onwards. The event is free and open for public. You can also enjoy dinner with special price during the event. Mark your calendar and see you there!
BUMI SANGKURIANG JAZZ NIGHT #3
Date: Thursday, 10 March 2016
Time: 07:00 pm – 09:30 pm
Location: BP Bumi Sangkuriang
Jl. Kiputih 12, Bandung
FREE EVENT!