The holy month of Ramadhan is observed by Muslims all around the world as a month of fasting, also a time of deep contemplation and prayer to Allah, and charitable generousity. This year it began in the early June and will go on until the early July. The question is, can jazz be used to celebrate it? The answer is, of course. We have seen many musicians including those who are breathing in jazz world often injected some spiritual elements into their music concept. There are even some albums used jazz in sending in the Islamic spiritual messages, for example an album of Idang Rasjidi in 2004 entitled "Sound of Belief". Many musicians around the world has embraced the blending of traditional Arab music with westerns like jazz too like Rabih Abou-Khalil, Kamal Musallam and Aziza for instance. The open structures of jazz make all this possible. Jazz is no stranger to the Islamic music, they have been together for many decades.
So, what about our regular monthly events? While the one in Bumi Sangkuriang takes a pause following the regulation of the venue's management, we are happy to inform you that the BRAGA JAZZ WALK is still running. In sync with Braga CityWalk's program during Ramadhan called "Afternoon at ArBaraga", we are ready to launch the Braga Jazz Walk:  Special Ramadhan Edition which will come next week on June 23, 2016, starting at 7:00 pm onwards.  We have specifically asked 4 bands to play their jazz tunes to fit the theme, so you can expect the different jazz color in this edition. To make it even better, we are going to serve an open jam session that allows anyone to join in. Not only you can watch, but you can be a part of the action too.
Now, let us introduce all the participants for Braga Jazz Walk #24, the Ramadhan Edition. First, let's take a look at the YD Nafis Project. This project is the extension of YD Nafis Trio who have been existed since at least two years ago. This group is led by YD Nafis, an accomplished jazz pianist known as a member of the stunning cross-ethnic band West Java Syndicate and also Tesla Manaf ft Mahagotra Ganesha. This man is highly respected by musicians in Bandung including the young ones.
If you remember, he already played for this event before the trio was even completed, at that time still as a duo with the naturally wild young drummer Alman Naufal at the 4th Edition (read it here: http://jazzuality.com/jazz-event-report/braga-jazz-walk-04-the-report/). Later on, he appeared with a solid trio in the 12th edition (http://jazzuality.com/jazz-event-report/braga-jazz-walk-12-the-report/) and once again supporting his dear wife Misty in the 14th edition (http://jazzuality.com/jazz-event-report/braga-jazz-walk-14-the-report/).
YD Nafis has good skill, he can compose very well and an excellent leader too. His way of playing is cool. Often with smile, he plays efficiently with lively dynamic. Alman is going to accompany him as usual, and on bass is Aries Ardiansyah who serves melodious rhythm with both contrabass and electric. In this extention called YD Nafis Project, he features a female singer named Hera. If his trio already brings jazz pleasure, a vocalist will enhance it even more.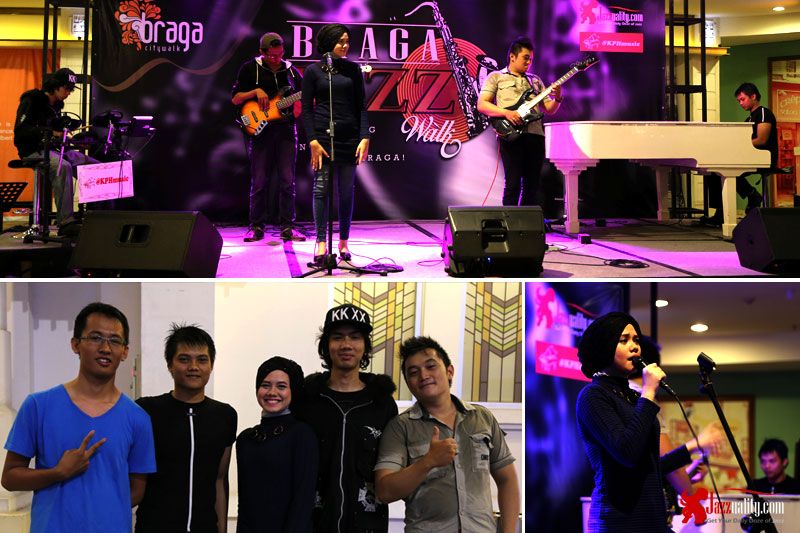 The second band to mention is Chakraborty. As you have probably seen in their logo at the flyer above, the band was born in 2013. Using the Sanskrit word originated from the North Indian ancient mythology meaning 'the best/the ruler' which for them meant 'becoming or doing the best', the band have been proofing its strength for 3 years despite all the turbulences they have ever experienced.
Today Chakraborty found its solid existance by having reliable personnels including the leader Joo Yang (drums), Nicodemus Horisson (piano), Jere Fernando (bass), Jerry Gates (guitar) and a beautiful girl with expressive stage appearance Tamara Sayidina, replacing Ayu Sara on vocal. The have made one EP "Seven Sense" released last year, sold out in Jakarta, Bandung, Palembang, Medan all the way to reach Hong Kong and China. Their single "Kepahitan Termanis" (The Sweetest Bitter) became the 3rd winner of the International Music Crowd Challenge 2015, plus managed to place two other songs in the list of Best 10 tracks and mentioned in 15 Best Band in the same competition. A little change on the concept by going more pop made them acceptable to wider audience, but they do still have some jazz fusion inside their veins that could go stronger if needed.
This band is among the ready and commited bands that could suit themselves in any concept. When we offer the chance to play in Ramadhan theme, Joo directly took it happily. A good band with good musicianship, a dear friend of us, Chakraborty will participate in our special Ramadhan edition for the very first time. Let's find out what they are going to bring on their plate.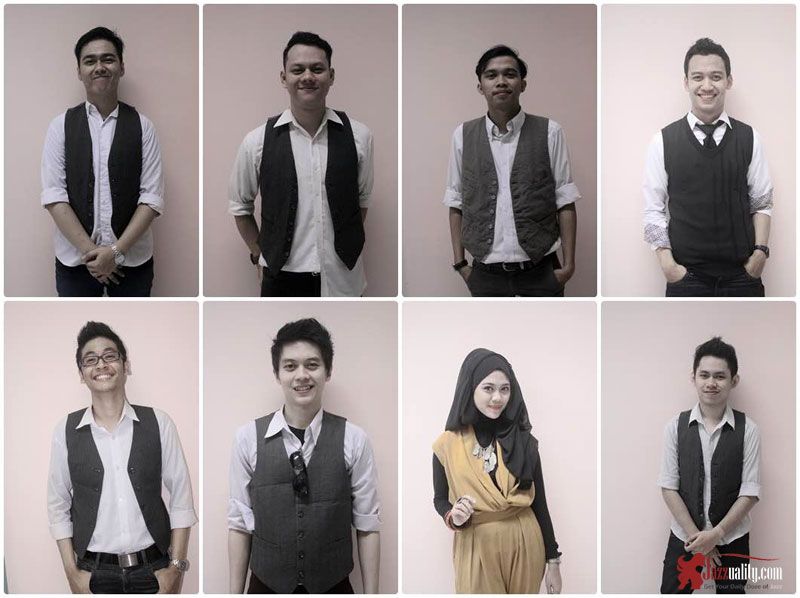 In 2011 we met a band in the audition for Kampoeng Jazz. At that time the band displayed a modern jazz groove in an attractive way, using synthesizer with two vocalists in front. They didn't win, but their music and performance caught our attention. That band is D'Sas.
D'Sas was established in 2009 cored in creative pop jazz. The name stands for De'Seven Art Soul which give pretty clear description of their music. With young players inside including Yuyu Yulia and Rizky (vocals), Tegar and Rudi (guitars), Fachri (bass), Dovie (synthesizer) and Ilham (drums), they already marked cool achievements in the early stage of their career such as winning the Java Jazz Festival audition for Bandung region in 2010 and one of the top 15 bands from Bandung at LA Light Indie Fest at the same year. In 2013 Welly joined the band, positioned on keyboard.
Unfortunately, Yuyu resigned due to her decision to do business in the same year. Not wanting to stop, the band brought in new vocalist, Felicia. It should have worked, but in early 2015 D'Sas decided to quit.
But, here's the good news. The band is going to make its comeback at this event! And what's also interesting is that they are returning with the first formation. Knowing their potential in grooving on pop jazz, we are happy to be the stage where they mark their return. With 7 years of friendship between the personnels, we believe it won't be difficult for them to continue what's left back then.
The magical 9 year-old girl will give a beautiful opening. Yes, it's Nadine Adrianna. This girl is more than talented. The way she embraces jazz in her life as if she is a reincarnation of a long-time pro jazz pianist from the past. Imagine this: even before her age reaches two digits and while studying in elementary school, she already lead her own trio, writing original songs which are clearly rooted in modern jazz and actively performs everywhere, from small to prestigious events, including playing in front of the world leaders at the 61th Asian-African Conference which brought her to receive a Token of Appreciation from Directorate General of Information and Public Diplomacy of Ministry of Foreign Affairs Republic of Indonesia.
If last time she played in trio at this event, this time she is going to bring her new group called Nadine Adrianna & Friends. Joining her are also young talents including Praga Sabrani Tony (violin, 18 years old), Raihan Ardisoma (drums, 12 years old) and Sean Zuffar, 18 years old). Unique formation, all young musicians, we are curious to see how Nadine will lead this new team of her.
She was featured in our special Christmas edition in December 2015. Now she is going to play for Ramadhan. We are proud to present her as the symbol of tolerance which becomes more and more difficult in this country. Other than that, we are excited to see her playing a different color. Some religious nuances are to be expected, and most probably she will present her originals too. Whether she's playing solo or with group, she is just as wonderful to watch. We have featured her several times since last year. Do come if you have seen and loved her performance, and if you haven't got the chance to that, do come and see why we call her a jazz wonder girl.
As usual, jam session will be open after all the bands done their session all the way until the mall closes. You can participate no matter what your musical background is, or even if you just wish to sing. Either you want to just watch or becoming a part of the show, you are very welcome. We have been wishing to celebrate Ramadhan the jazzy way, this year we finally got the chance. So join us. For all our Muslim friends, may this holy month of Ramadhan brings you a lot of blessings. See you on 23th of June, 2016!
BRAGA JAZZ WALK #24: Special Ramadhan Edition
Date: Thursday, June 23, 2016
Time: 07:00 – 10:00 pm
Location: Braga CityWalk
Jl. Braga 99 – 101, Bandung
FREE EVENT!
FEATURING:
:: D'SAS ::
Yuyu Yulia and Rizky (vocals)
Tegar and Rudi (guitars), Fachri (bass)
Dovie (synthesizer)
Ilham (drums)
Welly (keyboard)
:: CHAKRABORTY ::
Joo Yang (drums)
Nicodemus Horisson (keyboard)
Jerry Gates (guitar)
Jere Fernando (bass)
Tamara Sayidina (vocal)
:: YD NAFIS PROJECT ::
YD Nafis (keyboard)
Aries Ardiansyah (bass)
Alman Naufal (drums)
Hera (vocal)
:: NADINE ADRIANNA & FRIENDS ::
Nadine Adrianna (piano)
Praga Sarani Tony (violin)
Raihan Ardisoma (drums)
Sean Zuffar (bass)