Tjut Njak Deviana Daudsjah is one of the most famous names when we talk about the importance of music education, particularly jazz in this country. She spent her life for many decades in Germany, but then she came back home and established the Institut Musik Daya Indonesia together with the late jazz legend Nick Mamahit. This school adopts international curriculum in their education system but still holding tight to keep our own cultures and all its values.
[flickr id="6805809778″ thumbnail="medium" overlay="false" size="medium" group="" align="center"]
Back then when she was still in Germany, she once established her own group Deviana Daudsjah Trio with Karoline Höfler  (Double Bass) and Béatrice Graf (Drums) playing all over Europe during 1990 to 1993, they became one of the best-known outstanding Female Jazz Trio in European Jazz scene. Now they are having a wonderful reunion in the name of Deviana und Freunde, and how fortunate it was for us to taste this special moment of reunion by watching such a beautiful show on stage.
[flickr id="6952166511″ thumbnail="medium" overlay="true" size="medium" group="" align="center"]
From learning classical before he reached his teenage years then changed the course to jazz by studying with Indra Lesmana, then shortly after won the Jazz Goes to Campus Competition and arrived at the first ever Java Jazz Festival in 2005 was just some of the highlight you'll find if you trace an amazing young pianist named Sri Hanuraga's history.
This young man has the complete skill like a pros who have done it for decades. His fingers can float amazingly fast when needed, so fast that your eyes won't able to see the them anymore. That's what he got after pursuing more education in Conservatorium van Amsterdam. While learning in there he already bagged many achievements including winning the soloist prize at the East of Eastern Jazz Festival in Nijmegen, one of the famous oldest cities located in the east of Netherlands (2006), runner up at the YPF Jazz Piano Competition, The Indonesian Young Talent Award by Java Jazz Festival and The European Keep an Eye Jazz Award 2011 for "Best Band" category. Staying in Netherlands enables him to go playing all over Europe as well as enriching himself with loads of experiences to become a world class piano player.
Speaking of recording, we have heard Aga's tremendous playing with Riza Arshad, Indrawan Tjhin and Sandy Winarta in a group called "W/H/A/T". (The album is available at our online store here:). Now Aga (that's how his friends call him) steps higher by releasing his brand new album "Just Braggin'" as the debut album of his group named The Brag Pack this month. Other than himself on piano, for the festival Aga brings Slovenian drummer Kristijan Kranjcan and German bassist Theo Balbig. Just Braggin' features lots of stunning free improvisations with mixtures of genres from Bebop, Post Bop to 20th Century Classical Music, pop and to rock. Other than the original compositions, the album contains original arrangements of Polish and also Indonesian traditional songs/anthems such as "Cublak Cublak Suweng" and "Bangun Pemuda Pemudi" in the style you've never heard before. (The album will be available at Jazzuality Online Store soon). Since the album's still fresh from the oven, Aga and his trio used the album as their repertoires for this occasion.
Sri Hanuraga Trio's show was a sheer extacy for 'hardcore' jazz lovers who always expect a manic improvisations over varied rhythms, melodious compositions in tight harmony. What Aga showed tonight was amazing, just as his new album that we've listened eariler. We admire his worldclass skill and braveness in presenting jazz in such challenging, jaw-dropping way like this. Way to go, Aga!
[flickr id="6806049138″ thumbnail=medium" overlay="true" size="medium" group="" align="center"]
Manna, a harmonious quartet which has fusion as their indirect power in music, consists of a marvelous bassist A.S Mates, multi-colored guitarist with delightful touch Achmad Ananda (Nanda), a superb drummer Jessilardus (Jessi) Mates, and an additional vocalist/rapper Fajri Rusani. After watching their performance several times in some other stages and listening to their debut album produced independently (the album is available at our online store: http://store.jazzuality.com/products/cd/manna/), it's about time for us to see them again gracing the prestigious event like this.
After several years in business, this cross-generation band becomes more solid in harmony. One of the secret ingredients of this band is the way they keep each of their technique without making their music sounds difficult to the common listeners. About the vocal, Fajri stated that in this band vocal is functioned as the filler for the music which comes out from the instruments held by the rest of the band. "Guitar, bass and drums are not used just as the instruments to back the singer up, but they all go hand in hand with the vocal. We fill in each other, wrapped as one. That's what Manna's is about." said Fajri.
From Nanda we got more insight info about the concept of Manna for Java Jazz Festival 2012. "We are trying to build a new concept of blending acoustic and groove sound with electronic music." He gave an example of that with one of his composition called "Cross Culture" which they combined Asian melody, modern harmony and electronic groove with the ellegant touch of contrabass.
It is a contentment to had them on stage, a great group who creatively fuses jazz, rock, blues, funk, and other kinds of tune into one epic performance. Other than the song mentioned above, they played the light progressive song "Whatever", "Something Different" which played with a little "odd meter" and rock touch, "Blues for Yan" and their winning song from Monk's repertioire "In Walked Bud", a cool tropicalistic song with some Michael Jackson's "Black or White" and GnR's surprising twist in the middle. If you are a big fan of jazz, rock and blues, if you love to see the combination of acoustic and electronic, these people are really into you. Java Jazz Festival 2012 is one of a promising event for Manna to show their musical characters, and we are happy to see them landing on this event. Keep up the good creation guys!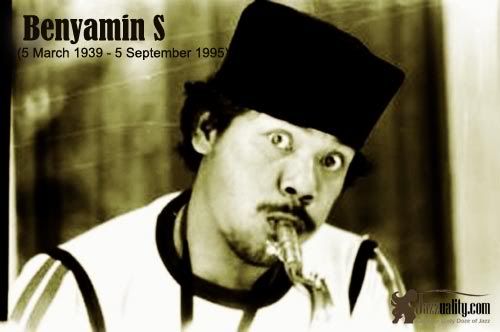 Do you still want to dive in jazz and feel ambience of this event? Some tributes highlighted this year's Java Jazz Festival 2012. One of the special them was served grant at Kementrian Pariwisata (Ministry of Tourism) Stage 1 in paying the respect to a legendary Batavian artiste, Benyamin S. Born as Benyamin Sueb at Kampung Utan Panjang, Kemayoran, he pursued his career in many fields, from movie/television actor, comedian, singer and song writer. Benyamin often wrote funny lyrics, but make no mistake, he could give more than just entertainment with that. He could bring some reflections, critics or inspiring things along with the content. He's made/involved in more than 75 albums (the last one was Al-Haj with Keenan Nasution), played in 53 movies and some populer soap opera for television. When we talk about his song style, he always stayed true in having his own culture exposed. He sang and wrote some songs dipped in gambang kromong style, some keroncong and dangdut were included, but amazingly he also infused wide arrays of western genres like soul, blues, funk, rock, latins, seriosa and even rap. His openness was supported with his love of improvisation, and there we see the connection between him and jazz.
Is that the only connection between Benyamin and jazz? Actually not. There was a time when he got encountered with jazz during the 50s and 60s. In his Melody Boys era in 1950s he did jazz with legend Jack Lemmers (the real name of Jack Lesmana) and Bill Saragih at Hotel Des Indes Jakarta. He passed away of heart attack in 1995, but his contributions, works and legacy will live forever.
[flickr id="6952009817″ thumbnail=medium" overlay="true" size="medium" group="" align="center"]
To honor Benyamin S, some musicians joined hands together in paying him a special tribute. This idea is also appear in the shape of album through collaboration project consists of Indra Aryadi and Friends and as a surprise the CD launched today. Benyamin on Jazz – Tribute to the Legend was the name where they brought full respect to Benyamin S. The personnels are Indra on music director and accoustic guitar, Demas Narawangsa on drums, Zoltan Renaldi on electric bass, Yoseph Sitompul on keyboard, Reno Cast. They did several massive collaborations on stage. They greet the audience with a collaboration with Didiet on violin in "Sang Bangau", next featuring Subway Heat they played "Nonton Bioskop", then Indra Aryadi and Brinets Idol nicely served medley "Perkutut" and "Hujan Gerimis", together with Indro Hardjodikoro they played "Nangke Lande". Next stop was with Yessi Kristianto on "Superman", then in harmony with Kristian Dharma Kriskruise on "Keluarga Gila",  "Badminton" was brought by Krishna Balagita, Brinets ft IYR's Albert Fakdawer sang on "Janda Kembang", Soundshine ft. R2Rythm and all artists prominently closed their performance together on medley "Yang Paling Enak" and the most famous song of Benyamin S, "Kompor Meledug". Many flavors, many vibrant colors, musical exploration in full variation of styles were performed by these talents. Thank you for an amazing show, guys! Rest in peace, Benyamin S, we will carry on your legacy.
[flickr id="6806041438″ thumbnail="medium" overlay="true" size="medium" group="" align="center"]
In Bromo Serambi Jazz Room, another part of European – German jazz was ready to serve. Franck Amsallem is a French singer, conductor, composer, but well-known as jazz pianist who has already been in this environment for more than 35 years. No doubt for many famous artists he has colaborated including Maria Schneider, Charles Lloyd, Bobby Watson, Joe Chambers, Tim Ries, Gerry Muligan, Jerry Bergonzi, Harry Belafonte and Blood Sweat and Tears, but on the top of it, he always loves more to play by his own. His own way, his own composition, and his own concept. but on the top of it, playing alone in jazzy playground is more excited for him because of the deliberacy in exploring, creating, and having fun. Eventhough he gave up on classical piano at the first time, but afterwards he has proven that his decision now is the right one.
Franck who is on behalf of Serambi Jazz has performed in many major festivals and got a lot of experiences with other musicians. As the result, he earned many commendations and has released eight CDs under his name until now. We could clearly see how important the role of composition is for him by watching his show. Franck Amsallem on stage delivered the beauty correlation between him and the piano under lovely compositions, resulted one intimate moment for the people coming to his show. Perhaps music is never enough for him to explore and it is a positive profit for Franck's lover to see his existency more and more.
[flickr id="6806308388″ thumbnail=medium" overlay="true" size="medium" group="" align="center"]
For many years we've hooked into Chante Moore's mesmerizing soulful voice through some songs in our playlist directly from C2 Hall. Her seductive vocal touch in "Wey U" from Waiting to Exhale OST, the lovely collaboration with Kenny G in "One More Time" or her debut single in 1992, "Love Taken Over", these songs have accompanied us for many years. She's best known as a soul and RnB singer, but we'll easily find some jazz splashes in her songs. It's really a privilege for us to finally able to see her performing live right in front of our eyes.
Chante has been doing it for no less than 15 years. She grew up singing chruch, filled with lots of gospel music plus jazz albums from the likes of George Duke to Lee Ritenour. Being havily involved musically made her come to an important decision in her teens, that is to be a singer, especially after her peformance in the high school rendition of The Wiz. Outside the music career, she was also a successful beauty pageant contestant.
She joined El DeBarge in "In the Storm" before she made her debut album. More album came up after that such as "Precious, Love Supreme", "This Moment Is Mine" all the way to her glorious duet album with husband Kenny Lattimore in "Uncovered/Covered". After that she still released more albums such as "Love the Woman" and the upcoming "Changed".
With the sparkling vocal quality that can easily be distinguished from other singers plus the over a decade career, Chante brings back the beauty of soulful RnB the way it was before this genre got 'contaminated' by far less melodious and profane lyrics. Moreover, her simple and natural jazzy touch is always a winner. For Java Jazz Festival she surprisingly brought Everette Harp along, so not only we got the chance to hear her wonderful voice, we also got the tasty sax lines from Everette as well. Thank you Java Jazz Festival for bringing this soulful songstress to Indonesia!
Those all for this section and do not forget to keep your mind updated in this last day of Java Jazz Festival 2012.
See more pictures:
[flickrset id="72157629144353738″ thumbnail="square" photos="" overlay="false" size="medium"]
Reporter: Riandy Kurniawan, Ata Michaella, Mellysa Anastasya, Ghea Sagita, Bintang S Tania, Fardhani Ramadhana, Daniel Irawan, Vierna Mariska, Muhammad Fadhly
Photographer: Omar Arif Maulana, I Putu Surya KB, Praditya Nova, Dwi Ratri Utomo, Febrian Dirga, Bayu P Warjiyo