Have you ever been to Purwokerto? Purwokerto is the capital of Banyumas regency located in Central Java region, lies on the south side of Mount Slamet, the tallest and still active volcano in Java island. Purwokerto has been famous as one of the favorite cities for tourists due to many beautiful sites to visit and variety of delicious local food,  a transit city that connects major cities in Java and so on. Speaking of music, not many people know that music has been living healthy in this relatively small but bustling city. There are many musicians live in or come from it, and if you need more proof, the city even has its own annual music festival that runs in the fasting month for Muslims called RAMADHAN BLUES. This blues oriented fest is presented by Gasebu UMP (Galeri Seni & Budaya, Muhammadyah University of Purwokerto) with Aziz No End  of Demajors Purwokerto branch as the promoter. They created this event as a form of apprecation towards art, especially blues. As we are now in the fasting month, the 2014 edition is ready to roll! The 5th RAMADHAN BLUES 2014 is coming to you on Tuesday, July 15, 2014 taking place at the Halaan Rektorat (the Rectorate's Yard) of Universitas Muhammadyah, Purwokerto, starting from 3:30 pm until 11:00 pm.
One of the loyal fans said in "There's always something interesting in Ramadhan Blues." Looking at the number of attendance and the participants, we can also see that this event has borne fruit quite impressively. What's it going to be for this 5th edition? The theme explains all: Cross Over The Blues. This theme allows the participating bands to showcase their point of blues according to their own perception. That can be shown by the variety of participating bands/musicians in this soon-coming edition. There will be Pop Blues, Rock Blues, Delta Blues (the Mississippi Blues), Dirty Blues even the more jazzy-oriented progressive acoustic experimental and a lot, lot more!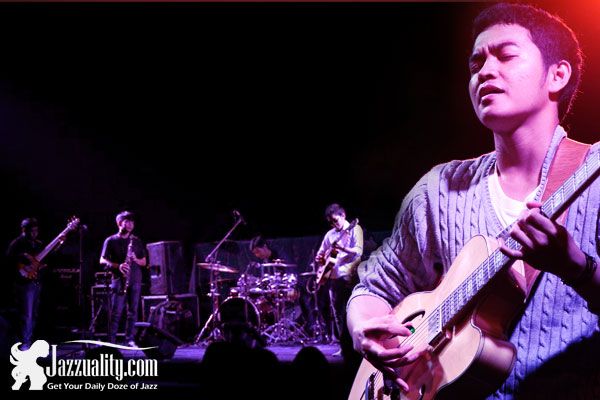 Tesla Manaf Quartet at Braga Jazz 2013 (photo by Mia Damayanti)
This progressive acoustic experimental case will be rested by the recently go-international artist, Tesla Manaf. This young man originally from Bekasi but now resides in Bandung is working on the album that will be distributed internationally by MoonJune Records, USA. Just a month ago he just released the Reissue version of his successful album with Mahagotra Ganesha, "It's All Yours" with two extra songs added (http://jazzuality.com/jazz-news/tesla-manaf-feat-mahagotra-ganesha-its-all-yours-reissue/). But for his international debut, he's going to play under Tesla Manaf Quartet. This is the group to perform at the Ramadhan Blues 2014. The quartet consists of Tesla Manaf (guitar), Krishna Alda Radiansyah (bass), Desal Sembada (drums) and  Hadis 'Hulhul' Hendarisman (clarinet/sax).
Being a brilliant musician as he is, you can clearly see the difference between his quartet and the collaboration with the Balinese ensemble from ITB, Mahagotra Ganesha. With his quartet, Tesla plays more 'hardcore' than usual, in a platform that we think already can stand in a worldclass standard. Not everyday you can get Tesla and his team to visit Purwokerto, make sure you won't miss this act.