Is it possible to make Braga Jazz Walk – a regular event  that's been held regularly inside  a mall in Braga street named Braga City Walk —  stand as one of the jazz destinations in Bandung? That's the wish of Braga City Walk that we have to answer. We believe it can happen. If we keep on doing it on regular basis and cook every edition with rich flavors and varieties, one day Braga Jazz Walk will be a favorite jazz spot for everyone who are in Bandung.
While we are working on it, here comes the third edition of Braga Jazz Walk. Three bands to blast the showcase session and an open jam session will provide more than enough space to party for every musician who come over. Free to watch, free to jam, free to have jazzy fun. Together with the venue Braga City Walk and KPH Music, we Jazzuality.com are trying the best we can to introduce the wide variety of jazz colors to the society.
Let's see the performing bands. First, say hi to a band originally from Sukabumi, a city in West Java, located about 80 km south of Jakarta. The band is AllVoices. This band is definitely not a newbie since they were formed three years ago when the personnels were still in highschool.  Today the personnels stay in different cities. Some of them are still in Sukabumi, some are in Jakarta and some are in Bandung.  Amazingly, they're still able to keep the band on.
We first knew them as one of the Kampoeng Jazz Band Auditions. They won and got the shot to play at the main event. But that's not the only big event they were in, because they have also participated at the Tangsel Jazz Festival and Ramadhan Jazz Festival just to mention a few. AllVoices consists of Boy Hylmy and Simplicity (vocals), Dori wirawan and Trisna Wiguna (guitars), Yudansyah (bass), Elko Nurul (keyboard), Aldi (sax), Rizfan Zulkifli (percussion) and Puji Belmanda (drums). Pop jazz/Groove is their thing. The existance of AllVoices proves that Jazz is indeed alive in Sukabumi. We are happy and excited to have a jazz-oriented band from Sukabumi. Let's give them a warm welcome by coming and supporting them.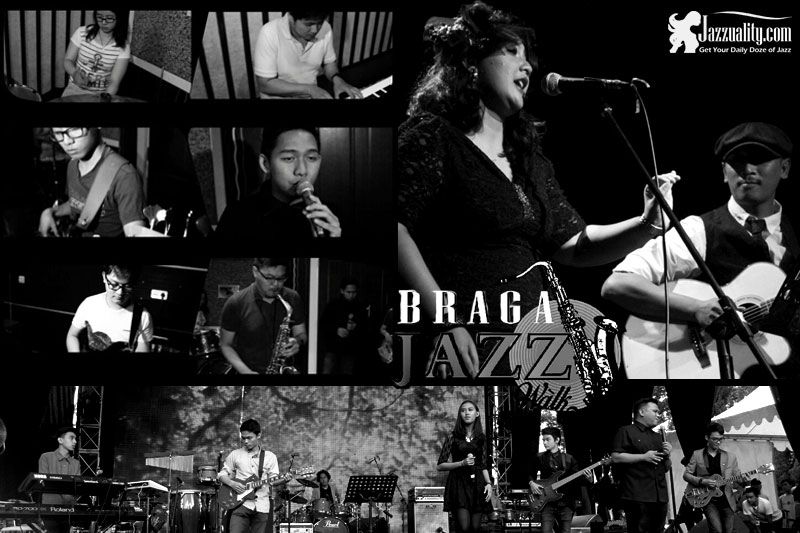 Lumiere is a French word means "Light". Or, maybe you will refer this word to the Disney character found in Beauty and the Beast — a candle with a French accent. Now, here's a band from Bandung that has it as a name. The band's like two bands melt as one, a blend between Out of 7 and Final Script. Hendike (saxophone), Widiyanto Sutanto (keyboard), Marissa Wiguna (drums), Robert Daniel (bass), Daniel Christy (guitar) and Gerry (vocal) established Lumiere just some months ago in June 2014, but they do move fast. So far they have one recorded track that they promised to let us hear in this gig. Hendike is currently working on his solo project and already has his materials. Well, shine the light on, Lumiere. Make the stage bright with your jazz bites.
One question: can duo make an impact in the midst of mainstream's requirement of full (sized) band and lots of singers? We say yes, a duo definitely can! True, it won't be easy since the two players have to work harder to fill up the empty spaces and to make a composition stands just as good as being played by full team, but once they find the way, they can shine as bright, or even brighter.
Just a couple of weeks ago Klab Jazz highlighted this 'smallest' collaborative work of musical pairing into a grand Duo Tone concert http://jazzuality.com/jazz-events/duo-tone/.  Klab Jazz selected/initiated the birth of 4 standout duos that have their own killing punches. We hope to be able to invite each and every one of them, but hey, let's start first with a premium combination of Soul and Swing courtesy of Agis Bape.
This is a slice of a 'small' group that plays French Gypsy Jazz, Satura ft Agis Kania. This time two members from this group: Agis Kania and Opik Bape will go deeper into Soul Jazz. This is a good choice since Agis has a strong, 5-star soulful vocal character while Opik is a fine swing guitarist that would have been a huge success had he be born 80-90 years ago, in Paris or Chicago. Step aside from the Django Reinhardt's style that Satura is into, Agis and Opik will definitely give something tight, clean and connected. You can expect some monumental works of Marvin Gaye, Stevie Wonder, Etta James and the likes to appear from their show. If you like the kind of musics that grow in between the field of Soul, Jazz and Swing, the songs from the Billie Holiday, Etta James to Motown, you really got to see Agis and Opik. Just two of them, but they will wow you. No doubt about it.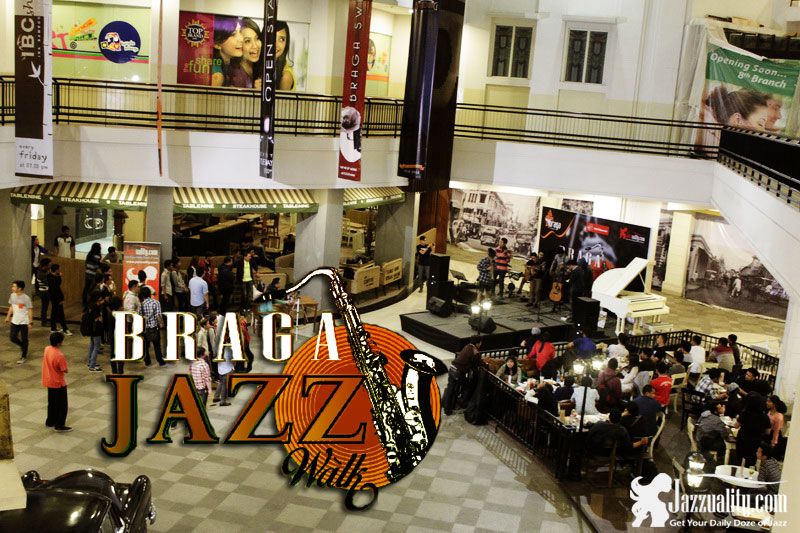 In any of Braga Jazz Walk you can have the jazztertainment, relaxing hours while hanging out with friends and families without having to pay even a penny. But that's not it, because this event can always be a good source of training ground and jazzpression. You can express your soul and train yourself to deal and interact with other players (especially those you didn't know before) on stage. The jam session is totally open for any musicians. Bring your own gear and swim with other sharks.
All said. Calling all jazz lovers, music students and everyone who are looking for a jazzy entertainment to support this event and the performing musicians. No charge once so ever, so it costs nothing but many to gain. Groovy pop jazz, funky fusion and soul swing are ready to blow your mind. All come to you this Thursday, October 23, 2014. See you there.
Braga Jazz Walk #03
Date: Thursday, October 23, 2014
Time: 07:00 pm – onwards
Location: Braga Jazz Walk
Jl. Braga 99 – 101, Bandung
FREE EVENT!
Featuring:
:: ALLVOICES ::
Boy Hylmy and Simplicity (vocals)
Dori wirawan and Trisna Wiguna (guitars)
Yudansyah (bass)
Elko Nurul (keyboard)
Aldi (saxophone)
Rizfan Zulkifli (percussion)
Puji Belmanda (drums)
:: LUMIERE ::
Hendike (saxophone)
Widiyanto Sutanto (keyboard)
Marissa Wiguna (drums)
Robert Daniel (bass)
Daniel Christy (guitar)
Gerry (vocal)
:: AGIS BAPE ::
Agis Kania (vocal)
Opik Bape (guitar)
ps: The photo of Agis Bape and AllVoices courtesy of Mia Damayanti Sjahir