"An amalgamation of Parahyangan valley's exoticism with the charm of jazz improvisations, that is Tiwi Shakuhachi's musical persona. Rarely does a pianist also vocalize, a female accordion who can sing as interestingly as Tiwi does is even rarer." – Widyasena Sumadio
A fine set of sentences above clearly describes who Tiwi Shakuhachi is in the simplest way possible. She is multi talented, exotic, charismatic, beautiful and carries a strong spirit that reflects the land she came from. Combine them all, then you got something unique. And that's Tiwi. Probably you will understand it better when you catch her on stage. She's captivating when standing in front; singing whilst playing her accordion and sometimes piano; you will easily spot her when she plays the role of sideman. Simply put, she knows how to make her performances memorable.
She is not a new comer at all, but soon we believe you will see and hear her more often. Here's why. Tiwi Shakuhachi recently releases two singles prior to her upcoming album, set to release some times in February next year. The first one is "Can't Be Happier" and the latest one released just a couple of days ago on December 21, 2015: "Magic in Your Eyes".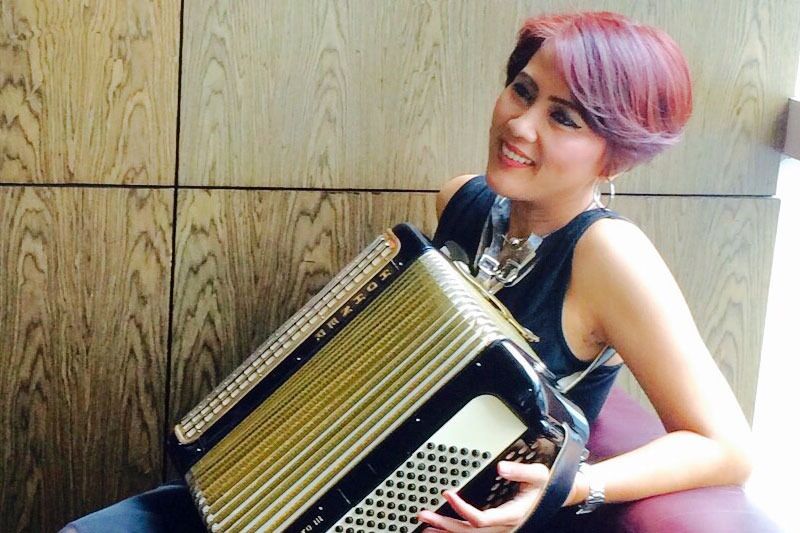 Photo is provided by Tiwi Shakuhachi
We will get down to it later, but first, let's get deeper with Tiwi. Tiwi graduated from Indonesian Art College (STSI) Bandung, majoring Karawitan Music which pretty much enliven her musical journey. The degree she holds complemented by her broad mastery in various musical instruments enables Tiwi to ride long and colorful musical career either as solo performer or with groups and ensembles in many venues and events, as well as taking up additional player roles in concerts and recordings of several high-profile Indonesian artists and bands.
She got her breakthrough in 1996 by being involved in the recording of Franky Sahilatua's popular single, "Orang Pinggiran". She then participated in an album called "Anak Tarsan" by Bombom Records. Among those involved were her father – one of the founders of Aktuil magazine and also a singer- Janto Diablo. Then in 1998 she released an album, "Reformasi", consisted of Janto Diablo's songs that shouted loud of love to the nation and protest against the injustices of the regime back then. She began appearing at the Java Jazz Festival since 2007 (as Bambang Nugroho's team with Rien Djamain) then a year later Tiwi got the shot to perform with her own group (with Titi RajoBintang, Sheila Permatasaka and Rieke Astari) collaborating with Dutch saxophonist Tineke Postma. Since Tiwi has also been performing on the acting stage; such experiences resulted in Tiwi being invited to collaborate with non-music artists, one of which was the former poet W.S. Rendra. Her collaboration with Saung Angklung Udjo brought her to Netherlands, playing in Tong Tong Festival. The same group marched on to reach Frankfurt Museum (2009) and World's Islam Nation International Festival, Algiers (2010).
We still remember her memorable performance at the Java Jazz Festival in 2012 when she appeared with Dip'Ah and Tjut Njak Deviana. In 2014 she formed a ladies group named Ina Ladies that again, graced that biggest jazz festival in the world in the same year. Step aside from this festival, Tiwi has tasted numerous prestigious events including Locafore Festival and Jazz Traffic in Surabaya (playing and acting as the A&R Director). She frequently appeared everywhere, happily supporting jazz communities everywhere, and just a couple of weeks ago, she landed big on Motion Blue, Jakarta.
Tiwi has previously made and involved with 3 albums. But note that she didn't write and compose the songs before. Now finally she is ready to introduce her own craft. Looking at her experiences and illustrious career which spans for almost 20 years, perhaps one would think that she should have done it earlier. What took her so long? "I need to know the right way to make music. So that my work could be musically analyzed and accountable. For that, I learned a lot through the years", she giggles. After listening to these songs, we understand what she meant. If the results are like these, it's really worth to wait.
Tiwi's performance at Motion Blue, Jakarta (photo by: Amalfi)
Now let's talk more about her first single, "Cant Be Happier". This single has everything to be loved about and should have no problem to meet the taste of wide variety of music lovers due to its friendly nature, ear catchy melody, medium but infectious beat and simple lyrics. While the feel of jazz style is eminent through the song, Tiwi simply avoid being trapped to any specific genre. Moreover, she claims the patterns of guitar rhythm frequently played by her close acquaintance is her main source of inspiration.
According to Tiwi, this song describes what she felt at the time of writing and she simply dedicates it to just anyone who is willing to listen. The song is written – both composition and lyrics – as well as arrangement by Tiwi herself. However the production process of this single was far from easy and in fact took quite a while to complete; which would never have been finalized without help from a number of good friends.
One of the supports was coming from Ari 'Aru' Renaldi, a highly acclaimed music producer whose advises were indeed essential to the completion of the single. Another notable contribution was also provided by Simon Costworth, a good friend of Tiwi with remarkable backgrounds and experiences at international stages including one tenure at the US-based jazz band Incognito, who assisted in mixing and mastering the single. When you listen to the song, you will find some mood-uplifting tunes ala incognito with splashes of ethnics from the sound of tabla and French bites from accordion.
While Tiwi did all the vocal parts as well as providing delicious accordion sounds, other musicians who contributed in the recording are Andreas Nandiwardhana (the guitarist of now-inactive Sekapur Sirih band) on acoustic guitar, Taufan Wirzon on bass, Dion Subiyakto on tabla, and Andy Gomez on keyboard. The entire recording itself were carried out in Donny Hardono's DSS Studio, Jakarta. This is the kind of single that you would love to hear when you wish to keep on feeling happy while getting caught in the traffic jam.
The most recent single she released is the more jazzy "Magic in Your Eyes". Also produced by Tiwi, this song which was written three years ago tells her thoughts about the stars shine brightly up in the sky.
You will easily notice the stream of notes from piano in this song. That's because Tiwi wrote the musical composition of "Magic in Your Eyes" mainly with piano, an orchestral instrument that she claimed as very accommodating to the need for broader imagination in music-writing. While the melody is built rich with variative changing of chords, Richard Oh wrote a solid lyrics for it.
Like in her debut single "Can't be Happier", for "Magic in Your Eyes" Tiwi is still assisted by a number of experienced collaborators. Simon Costworth, Andy Gomez Setiawan, and Ari Renaldi once again lend their hands with sound engineering, piano and drum respectively; while Rudy Zulkarnaen in upright bass and Lanlan Strangers as operator. Aside from vocal, Tiwi also played accordion and string in the song, which was recorded at ARU Studio, Bandung and at DSS Studio, Jakarta. A winning song this is, not simple to execute yet somehow easy to land beautifully in the heart of listeners.
With still in perfect age to shine, Tiwi is looking forward the opportunities to take much further steps in her career. With songs like this, we think she can go further than just gracing the Indonesian music industry. Going abroad, or international, we think is a good choice for her. We always knew her as a cheerful and ellegant lady, charmingly sings whilst playing her accordion and connected to the audience. Now we should add some more about Tiwi, that she is capable to compose songs brilliantly, crafting pieces that could be musically analyzed and accountable but far from being difficult to chew even by the most common listeners.
It doesn't cost a fortune to get them, only IDR 7k per song! They are just one click away.
Let's wish the best for Tiwi Shakuhachi. Looking at her almost 2 decades journey in music, With the birth of these long-awaited singles, it's about time for her to establish herself higher than ever. Tiwi hopes her songs would be acceptable, that the listener would love and feel happy whenever they listen to each one. A long jump up is naturally to be expected, may 2016 be her year.
Written by Riandy Kurniawan