There are always important moments in the course of history. Moment when an event must be recorded for being a first time achievement that's related to sequence of next achievements that goes on all the way until now. A few weeks ago we heard the news from Demajors Independent Music Industry (DIMI) that they are about to release a gem from the past which stands as one of the most important milestones in Indonesian music and jazz history. This is a totally surprising news that makes our 48 years of waiting finally over. The album is: DJANGER BALI, featuring a dear friend of Indonesia,  Tony Scott with five Indonesia's greatest jazz legends: Jack Lesmana, Bubi Chen, Jopie Chen , Maryono and Benny Mustafa.
Two great nations, Indonesia and Germany have been tied in jazz for so long, at least from the mid 60's. In 1964 there was a German music journalist/author/jazz specialized producer, Joachim Berendt who came to Jakarta and met the 'singing Commodore', Suyoso 'Mas Yos' Karsono, the owner of Irama Records. Berendt was soon introduced to Jack Lesmana and Bubi Chen. He had heard their names through Tony Scott, an American clarinet that had visited Indonesia earlier. Joachim Berendt then was interested to see the skill of Indonesian jazz musicians, so he suggested Indonesian All Stars to perform at JazzFest Berlin.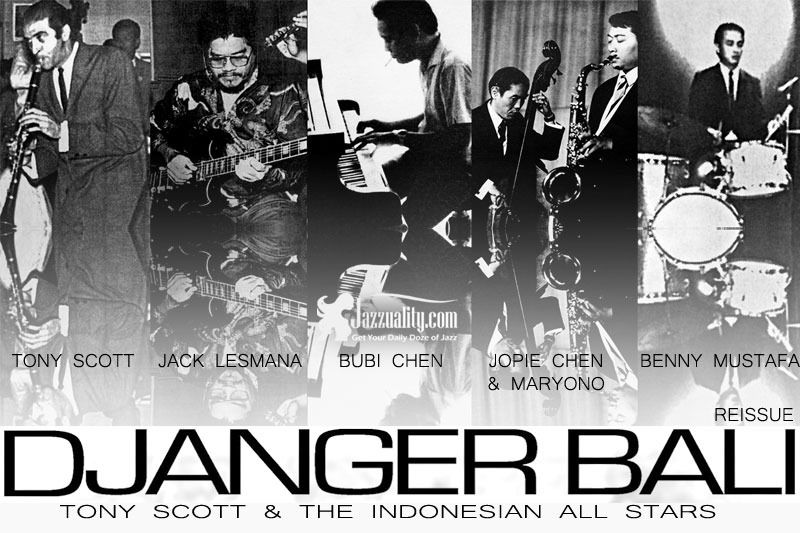 So in 1967 Jack Lesmana (guitar), Bubi Chen (piano), Jopie Chen (contrabass), Maryono (saxophone, flute, bamboo flute) and Benny Mustafa van Diest (drums) went to Germany, performing at the JazzFest Berlin as a part of their Tour in Germany. What a moment it was, knowing that not only they bagged enormous positive response from the crowds, many legendary cats also watched them, including Miles Davis and Herbie Hancock.
But the success story didn't stop there. What actually happen was, more than just performing, the Indonesian All Stars and clarinetist Tony Scott got a chance to enter the recordings at Saba Tonstudio, Villingen, Black Forrest, Germany on October 27-28th, 1967 with Rolf Donner as the sound engineer and Joachim Ernst-Berendt as the producer. The album's titled "DJANGER BALI". That's the first time Indonesian-made compositions, played by Indonesian musicians in collaboration with an American musician served chilled, with jazz, on the other side of the globe and went into the recording. A history was instantly made. It was 48 years ago.
This vinyl recording was released under SABA label, Germany in the same year. This album was once rereleased still in vinyl by MPS Records, Japan and MPS Records-BASF, Germany in 1971. Both releases were limited editions and never distributed in Indonesia.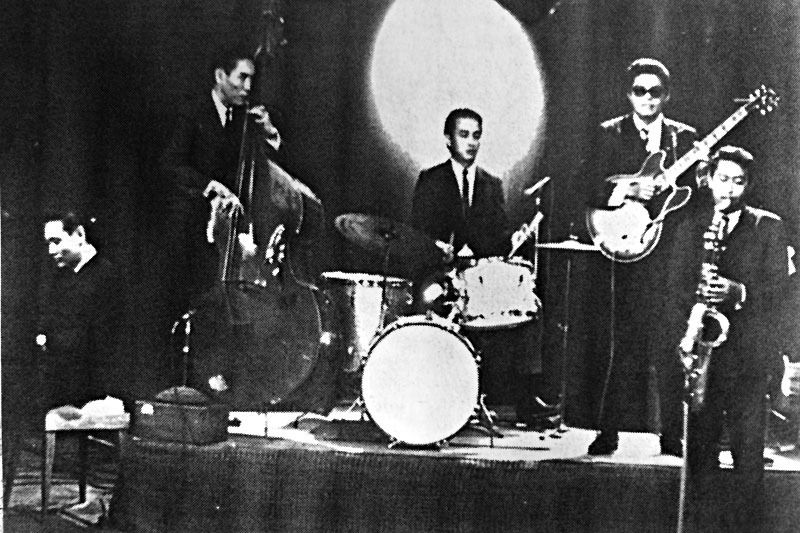 At many online international recording stores, Djanger Bali is categorized in rare vinyl records. There's an info that stated one copy was sold US$325 in an online auction in 2014. Then in 2015, this auction price starts from US$ 170. This album was included in "Jazz Meets the World", a series of recording project of Joachim Ernst-Berendt and SABA.
Djanger Bali is an important elements of Indonesian All Stars' as well as Indonesian jazz musicians' success story in Europe. After playing in some cities in Europe to finally reached JazzFest in Berlin – one of the oldest jazz festivals in the world initiated by Joachim Ernst-Berendt in 1964. Joachim is also one of the figures that introduced world music; the traditional musics from different tribes in the world; to the international music industry. He united various traditional musics from Asia and Africa with jazz during the 60's. And the Indonesian tradiitonal music was proudly represented by The Indonesian All Stars. Modal jazz style that was introduced by Miles Davis was said to be perfect in bringing traditional music compositions into jazz arrangements. Tony Scott who once lived in Indonesia for many months and played with many Indonesian jazz musicians during that time really understood how to bring it on in harmony with The Indonesian All Stars. The album contains 6 songs, including 4 of Indonesian folk songs like Djanger Bali, Gambang Suling, Ilir Ilir and Burung Kakaktua, one song inspired by novel-based movie (spielfilm), "Katz und Mous" titled "Mahlke" and last but not least, a mind-bending rendition of George Gershwin's "Summertime" in Sundanese spirit.
Their appearance at the JazzFest Berlin surprised many critics and jazz musicians who happened to be there. At that event, Bubi Chen was announced as the pianist for JazzFest Berlin All Stars. His name was mentioned in the American jazz magazines as world class pianist.
At October 27, 2015, exactly the same date when Djanger Bali went into the recording 48 years ago, Demajors Independent Music Industry (DIMI) officially announced that this super rare album that stands as the key moment of Indonesian jazz success story in the world is ready to be released in CD format. What's also cool is that Demajors keeps the original cover of the album, a photo of Borobudur relief.
This is an important album. Back then this album was far ahead of time. It recorded the awesomeness of our jazz fathers, the inspiring figures who helped to shape our jazz scene today. This recording also stands as a living historical evidence not only for Indonesian jazz journey, but also in global jazz scene. For more than 4 decades it was really difficult to find and very expensive, but soon you can have it in a very, very considerate price. Even better, if you pre-order the album from 27 October to November 3rd, you will get 50% discount. Only IDR 50k from the normal price IDR 100k. So hurry up! Purchase the album and listen to the one of the most unbelievable moments ever recorded in our jazz history!
Watch Djanger Bali teaser video:

Album : DJANGER BALI
Artists: Tony Scott & the Indonesian All Stars (Jack Lesmana, Bubi Chen, Jopie Chen and Benny Mustafa van Diest)
Label: Demajors Independent Music Industry (DIMI)
Release Date: December 2015
Tracklist:
Djanger Bali (5:35)
Mahke from "Katz und Maus" (6:05)
Gambang Suling (7:08)
Ilir Ilir (3:58)
Burung Kakak Tua (5:18)
Summertime (Gershwin) (8:07)
Pre Order date: October 27 – November 3, 2015 via http://www.demajors.com
Pre Order Price: IDR 50k
Normal Price: IDR 100k