Erucakra & C Man is ready to blast the 1st Yongin Global Jazz Festival (YGJF) 2015 in Seoul
Isn't it cool to see more and more Indonesian jazz artists taking huge step, marching into the international jazz scene and make us all proud? Just a couple of days ago it was SimakDialog who landed big in Japan, performing at the Promenade Jazz Fest Tokyo and two solo concerts in Tokyo. Now here comes another group heading to Korea. What's great is that the band doesn't come from Jakarta but from Medan, the capital city of North Sumatra. The band is Erucakra & C Man.
Erucakra and the band has successfully held North Sumatra Jazz Festival for five consecutive years since 2011 in Medan. The last edition also featured a famous jazz drummer from South Korea, Phil Yoon (http://jazzuality.com/jazz-event-report/north-sumatra-jazz-festival-2015-the-report/). Now it's their chance to go to Korea through the invitation from Global Green International Jazz & Cultural Exchange Center (GIJCEC). The purpose is to perform at the 1st Yongin Global Jazz Festival (YGJF) 2015, Seoul, South Korea on October 17, 2015.
Eventhough the festival will be held fo the very first time at the Leading Edge Future City Yongin, this event directly attract the attention of jazz musicians all around the world, especially since this festival is filled with alumnus of Berklee College of Music, Boston, USA. The classic problem, it's never easy for Indonesian band to go abroad considering the expenses, but thanks to North Sumatra Provincial Acting Governor Ir. T. Erry Nuradi, M.Si, Erucakra & C Man gets the chance to blast the Yongin Global Jazz Festival stage on October 17, 2015 as stated by Erucakra Mahameru to the pers.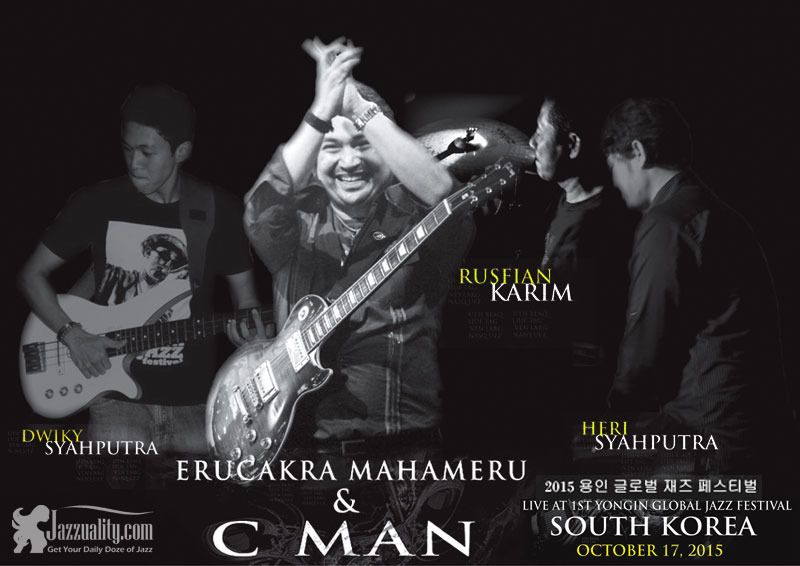 With solid formation consisting of Erucakra Mahameru (Lead Guitar/Synthesizer and Vocal), Dwiky Syahputra (Bass), Heri Syahputra (Keyboard/Synthesizer) and Rusfian Karim (Drums), C Man Band will focus in introducing their winning composition "Aranti's Code" and their NeoProgressive Jazz style as a special appreciation for the future city of Yongin. "We will also intorduce the blending of Malay (Melayu) Jazz, Javanese, Batak, Karo (both are the tribes found in North Sumatra)", he added furthermore. According to the history, Korean Jazz began around the late 50's, existed in clubs that catered to US military troops after the Korean War. "The 50's is the golden era of Bebop, Charlie Parker and the likes were doing great in USA, so that becomes the important part of NeoProgressive Jazz's history." said Erucakra who re-released Edie Zam's arrangement "Aranti's Code" at the legendary Abbey Road, London, England with Mastering Engineer of Abbey Road Studios Adam Nunn in 2010.
Berklee Reunion
As stated in the invitation to WEM Indonesia as the producer of North Sumatra Jazz Festival as well as the official management of Erucakra Mahameru & C Man is that, the reason why they are invited by Phil Yoon, the Chairman of YGJF and the CEO of GIJCEC is based on two things: Erucakra is the alumni of Berklee year 1995, and also because this NeoProgressive jazz band is listed in "The Most Extraordinary Bands from Indonesia" category.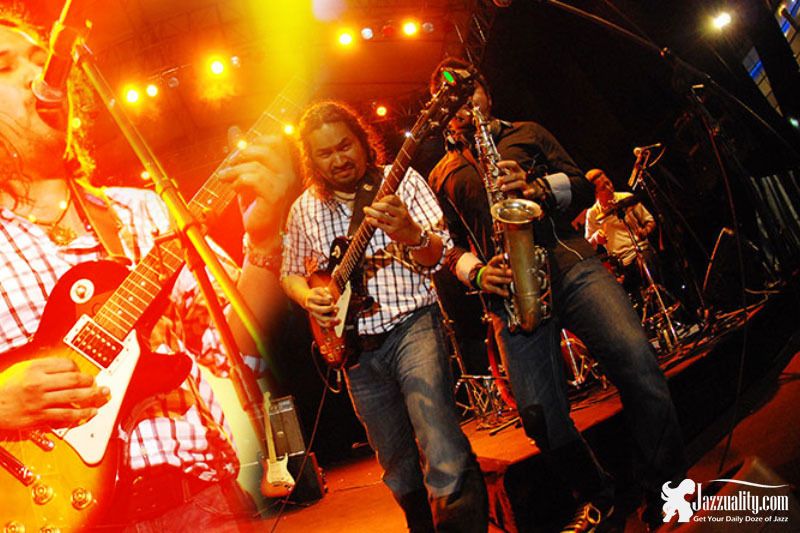 Erucakra & C Man at the Java Jazz Festival 2011
At the main stage of YGJF, Erucakra and Mahameru will share the stage with international jazz artists also graduated from Berklee such as Jerry Cecco (professor, jazz trumpeter of Aretha Franklin), Nana (jazz singer from New York, USA originally from South Korea) and of course Phil Yoon Group. "After leaving the campus for two decades, this will become the biggest reunion of Berklee alumnus," said Erucakra. While in Seoul, Erucakra & C Man will perform at top Jazz Club in Seoul as a part of All That Jazz on October 19, 2015.
The Story and achievements of Erucakra
Before Erucakra established C Man Band in 2011, he produced his first mini album (MP3 format) in 2009 titled Marathon Journey C Man. He became the first Indonesian Jazz Composer who placed the works online iTunes/Amazon/emusic/Rhapsody and Europe (Reverbnation/Marathon Journey Music). Following the success of single "Aranti's Code", Erucakra formed C Man Band and directly set the course towards the NeoProgressive Jazz. They gained the chance to participate at the Java Jazz Festival 2011 not long after that.
In November 2012 Erucakra produced his innovative album NEV-CD titled "Live Under the Sun" in Norway (WEM/NCB). He successfully found a new live recording method and Multisurround Holographic for NEV-CD that he called HTX (High Tolerance Xpander) inside the Sound Technology research named NEV Sound Research. This hi-tech discovery attracted the attention from HARMAN SoundCraft Engineers Indonesia as Audiophile in a function of Live instrument callibration at a jazz event in Medan. Then at the NSJF 2014 "Miles Davis Tribute", Erucakra was asked by Steve Thornton (who once joined Miles Davis in the 80's) to produce and market the Innovative Miles Davis Jazz Album in Indonesia along with the engineer and Latin Percussion founder Martin Cohen at his studio in USA.
Erucakra Mahameru and Phil Yoon at North Sumatra Jazz Festival 2015
In 2015 Erucakra received an award from the Consulate of the United States of America at the Medan Jazz Nite concert with Anthony Stanco Ensemble and Partners at the City Hall Club (March 12) and Binjai city (March 13) for Cross-Cultural Collaboration that defines the spirit of jazz even stronger. At the NSJF 2015 "Jazzversity Culture (Tribute to John Coltrane)" Erucakra brought in Phil Yoon Group. The NSJF 2015 was inaugurated by Rotterdam mayor Ahmed Aboutaleb. In September 2015 he participated in the Heritage Pop Up Art & Music event at D'Heritage Balai Kota Grand Aston City Hall Hotel Medan every Tuesday, presented by In Conjunction with the Netherlands Honorary Consulate Medan. This event also featured a world class pianist from Budapest, Hungary, Adam Gyorgy.
While there are so many problems found in Indonesia right now that make our image suffer more and more in the global world, a good news like this should make us all relieve and proud. It's also nice to know that Korea is not all about K-Pop, but jazz is also alive and kicking in it. Let's congratulate and wish Erucakra & C Man Band the best for making another huge step performing in Korea. Time to burn the Seoul stage!