Attention Surabaya, are you ready for a special jazz event? We are happy to inform you that the Jazz Legacy 4 is coming very soon this week, April 9, 2010. The previous Jazz Legacy 3 (check out our report on the event) was held on last November 2009 and now the fourth one is ready to be held for all Surabaya's jazz lovers.
Jazz Legacy 4: The Series this time brings the tagline: Gonna Rock This Town!!! You can see the strong spirit just by seing the tagline, and yes they mean serious. As what Lee Ritenour said to us in the interview that "The best way to hear jazz music is to hear live" (check out our exclusive interview with Lee Ritenour at the Java Jazz Festival 2010 )   we really need to have more jazz events to let all the music fans know more about jazz, and only by then they can start to understand and love jazz better. Jazz Legacy The Series is an consistant event that has been held regularly at least twice a year in Surabaya. This is an event that holds some important missions on their agenda: to bring the jazz hype back again in Surabaya and to re-establish Surabaya as one of the most important jazz city in Indonesia. The using of the word "Legacy" is meant to carry on what the jazz founders of Indonesia has built before. They hope that everyone who involves in this series will be fully responsible in fixing all the wrong perceptions about jazz. With all that's been said, we should support it.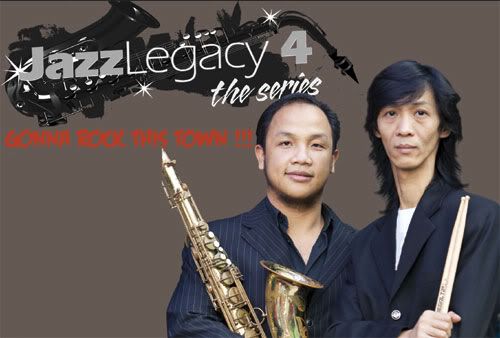 This fourth edition of Jazz Legacy series is featuring C&G Project once again. This is the skillful duo consist of Yason Gunawan (piano) and Benny Chen (drums). Both names should already be familiar to the jazz lovers in Surabaya for their consistency and contributions in many fields of jazz. This is a strong duo that we believe will contribute a lot for jazz development in Indonesia. Let's see their profiles.
Benny Chen
He's well known among the educators and music practicians. Having a background of formal education in Computer Science, he started at the very young age to learn classical piano with Widya Kristianti for 6 years. When he reached 12 years old he began to show his interest in drum, and he continued to learn drum from Ian Hay, a stand out rock drummer. Benny inherits a special gift in music from his father, the maestro and the living legend Bubi Chen, one of the finest pianist in Asia and in the world as well. As jazz runs thick in his blood from his father, he is known as someone who's been very good at analyzing music, and that brought him to be the jury in many music contests even before he reached his 17 years of age.
When he continued his study abroad he took many private lessons from various musicians. He decided to focus on jazz since 1993 and soon got the chance to play at many events. From there he got many valuable experiences, including from his own father and his colleagues, including world class drummers such as Tony Buck, Prof. Gary France, Grant Collins, Billy Cobham and Ronald Shannon Jackson. His passion in education, especially jazz has brought him to form C&G Project together with Yason Gunawan.
Yason Gunawan
This amazing pianist and saxophonist was graduated from Royal Conservatory of Music and Jazz Performance  in Capilano College, Vancouver, Canada, majoring Commercial Music. He was guided by many great musicians such as Bob Murphy, Ross Taggard, Mike Allen and many more. He has appeared in many events like Vancouver Jazz Festival, Langley Music Festival and Nelson Music Festival to say the least. Yason has also collaborated with many world class jazz musicians including Jimmy Heath, Phil Nimmons, Regina Carter, Jane bunnet and Nite Cap. He has participated in many albums: Art of Time, Nimmons n' Nite Cap, Alone Grad Recital and Project Dim Sum.
Besides his activity as a lecturer, Yason is still learning privately with Bubi Chen. Yason is called "The Rising Star", and he surely is. Establishing such a great duo C&G Project (Chen & Gunawan Project) together with the marvelous drummer Benny Chen will definately give something for the jazz movement in Indonesia, especially in Surabaya.
Wismilak Jazz Legacy 4: The Series
Gonna Rock This Town!!!
Featuring:
C&G Project : Benny Chen and Yason Gunawan
Special Appearances:
Desy Agustina
Yerry Adams
Supported by talented musicians:
Krisna Setiawan (keyboard)
Dyfan Alvin (keyboard)
Timothy Putra (guitar)
Rio Kurniawan (bass)
Howie Chen (percussion)
Date: Thursday, April 9, 2010
Time: 7:30 PM – onwards (Standard Western Indonesian Time)
Location: Gramedia Expo, Surabaya
Entrance Fee: IDR 50.000
For reservation, please contact:
+62 31 7764 1270
+62 83 854 11 3493
Be there and let's continue the jazz legacy together!