The Papandayan Jazz Bandung Festival – The First 6-day Fest Ever in Bandung
Bandung is one of the most important cities to mention if one wants to talk about the history of Indonesian jazz. Jazz has been spotted early in this city, at least it could be traced since the 30's and amazingly, jazz never fades away since then. Today there are several jazz communities established their existance in Bandung. Once of them is TP Jazz (The Papandayan Jazz) . The TP Jazz Weekend, that's the name of the regular twice a week event started in 2013 by the cooperation between The Papandayan and veteran blues/jazz harp man Mr. Hari Pochang. Located at the Mirten Lounge of The Papandayan hotel, TP Jazz Weekend is held on Friday and Sunday night, served totally free of any charge. This event has become one of the most favorite jazz destinations in Bandung. Comfy luxurious place but friendly and so jazzy. Many great local and international musicians have left their marks and brought good impressions back to where they came from.
Now, here comes the good news. After 2 years of steady run, it's time for TP Jazz to take another higher step or even better, huge leap: a jazz festival. It's simply called The Papandayan Jazz Bandung Festival or TP Jazz Bandung Festival (TPJBF). The first edition is going to take place no longer than next week. What's amazing is that this festival isn't going to be a 1, 2 or 3 but 6 day fest. It will involve no less than 6 stages, more than 30 shows and more than a hundred of artists, ranging from legends, seniors, today's headliners, future stars and potential young talents. The 1st TP Jazz Bandung Festival 2015 will start next Monday until Saturday (26-31 October 2015). You can see the complete schedule for 6 days at the end of this article.
A press conference was held on Monday, 19 October 2015. Representing the festival were Bobby Renaldi (the Grand Manager of The Papandayang Hotel), Hari Pochang (the curator of TP Jazz), Imelda Rosalin (representing the artists) and Aat Suratin (senior bandung's cultural expert), plus Venche Manuhutu, the owner of Venche Music School who takes care of talents for TP Jazz Bandung Festival. They explained the background of this festival. According to Bobby, TP Jazz Weekend was established 2 years ago to answer the lack of jazz playground in Bandung. He met and talk with Hari Pochang, and voila, the event was born. Since "Musicians need arena to express themselves," says Imelda Rosalin, this regular event experienced fast growing. From once a week to twice a week, presenting famous musicians from local Bandung, Jakarta and other nearby cities, all the way to international artists. As they desire to provide an 'address of jazz' for musicians and jazz lovers, they came out with the idea in having a bigger and more spectacular event which is set to be an annual event.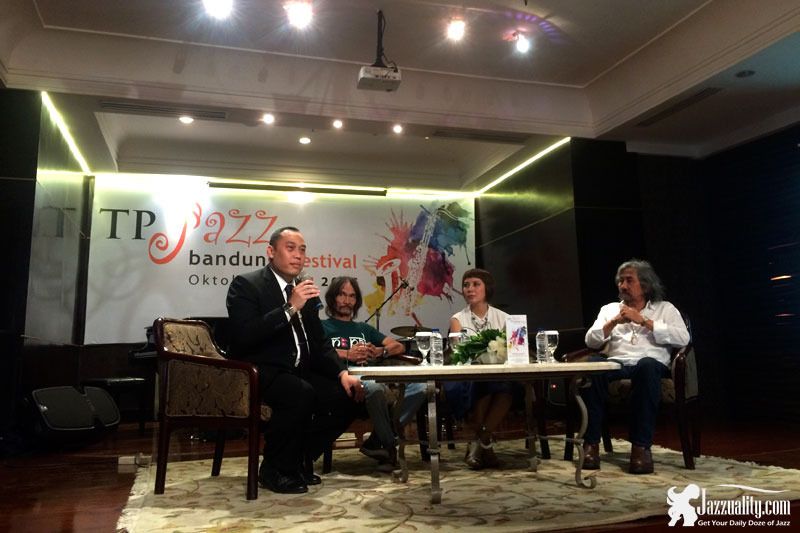 Aat Suratin explained why jazz keeps its existance in Bandung. Other than the atmosphere and climate of Bandung which is also known as the city of art, he also believed that 'jazz is not invented, but birthed.' He also told us that with this event he wishes to bring back music to art, where it originally belong. Imelda says the passing of knowledge has been kept really well in Bandung. "That's why the seeds never dry out." she continues.
Winning Lineup
With all these thoughts in mind, they made such a winning lineup. First, Dwiki Dharmawan is coming with his World Peace Trio, featuring saxophonist/composer/author Gilad Atzmon from England, the Jordanian-Arabic guitar/oud master Kamal Musallam and UK guitarist/composer Mark Wingfield. The team is small, but just this project alone reflects the real and true world peace and harmony. As Dwiki always have the passion to include ethnic especially Sundanese in his show, you can expect that too in this fest.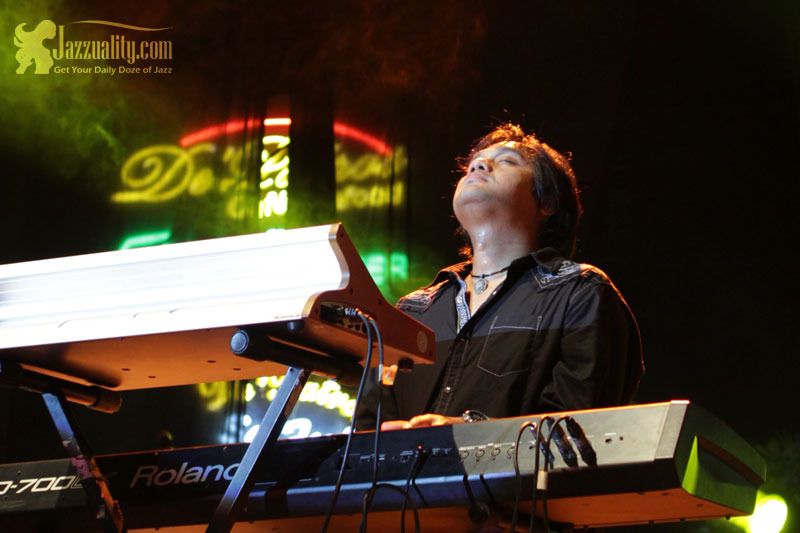 Dwiki's partner in Krakatau, Donny Suhendra will team up with Agam Hamzah. They have their own style, but they can perfectly blend in harmony once they join forces. They have fun on stage, and that creates something interesting for the audience. That's what they told us during the interview 5 years ago. (http://jazzuality.com/interview/exclusive-interview-with-donny-suhendra-and-agam-hamzah/). Speaking of duo, the showdown between a pianist who successfully build his career in both USA and Indonesia, Nial Djuliarso and the legendary swing guitarist Oele Pattiselano. "Such an interesting combination, something special will come out of it." said Pochang about this pairing. We agree. Although Oele has done similiar collaboration a decade ago with Riza Arshad resulting one album "Talks", surely it's going to be different this time. Riza Arshad himself will also participate, said to be in quartet formation. Will it be the simakDialog, the band that brought him into the international scene under USA label MoonJune Records? Maybe. We still don't know exactly just yet, but whatever he bring would be a catch. There's a Bandung-based musician who's now enjoying his international career also under MoonJune Records. Yes, it's Tesla Manaf. He called his concept as progressive acoustic experimental music, that makes him as one of the youngest jazz guitar phenoms in the world today. You can listen the songs contain in his debut album and find out why he receives more and more positive reviews from medias around the world.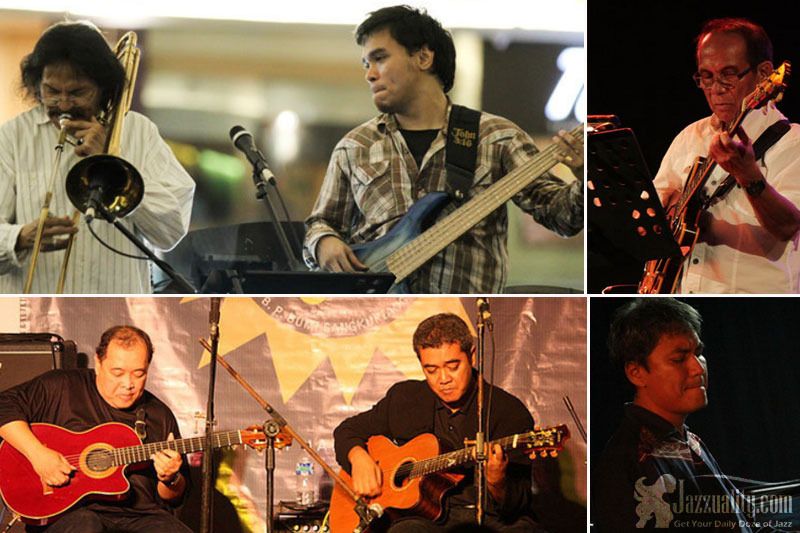 Like Father Like Son is the name when legendary jazz musician Benny Likumahuwa plays alongside his son, Barry Likumahuwa. They are also set to sail featuring senior jazz guitarist, Freddy Prandi. Four boys graduated from Netherlands as The Jongens will spread some neat modern jazz with some European jazz scents. Ramadhani Syah (piano), Johanes Radianto (guitar), Donny Sundjoyo (double bass) and Elfa Zulham (drums) will feature Dira Sugandi with them. If you want to be flipped upside down in spontaneous, unpredictable musical concept which they describe as 'connecting deconstructive logarithm with the touch of live jamming in acoustic instrument', make sure you won't miss 4 Peniti. Four men behind the band: Zaki Zakaria (vocal & guitar), Arifandi Renaldi (drum), Rudy Zulkarnaen (contra bass) and Ammy Kurniawan (violin) are all fully experienced after being active for quite a long time in the music industry, both collectively and individually. As a team, they go beyond limit in tight chemistry. Kelompok Suara Parahyangan (KSP) consists of a big cast including 4 vocalists in front. Lucky Soeryo, Uchy Amyrtha, Marthin Saba and the rest of the band brought huge skills and attractive stage act under the lights, pouring strong RnB feels, such style that inspired youth jazz hip along with tasty brass lines.
The Cum Laude holder from Berklee College of Music, Robert Mulyarahardja and Irsa Destiwi's group Shadow Puppets is recently making big news by making an album with Harvey Malaihollo, titled "Indonesian Songbook", singing timeless Indonesian songs from the likes of Ismail Marzuki and Mochtar Embut. As this album is on the way to the market, here's your chance to get the complete picture of the album. One of the newest big stars in Indonesia with so, so many fans originally from Bandung, Yura Yunita is making her way too into this festival.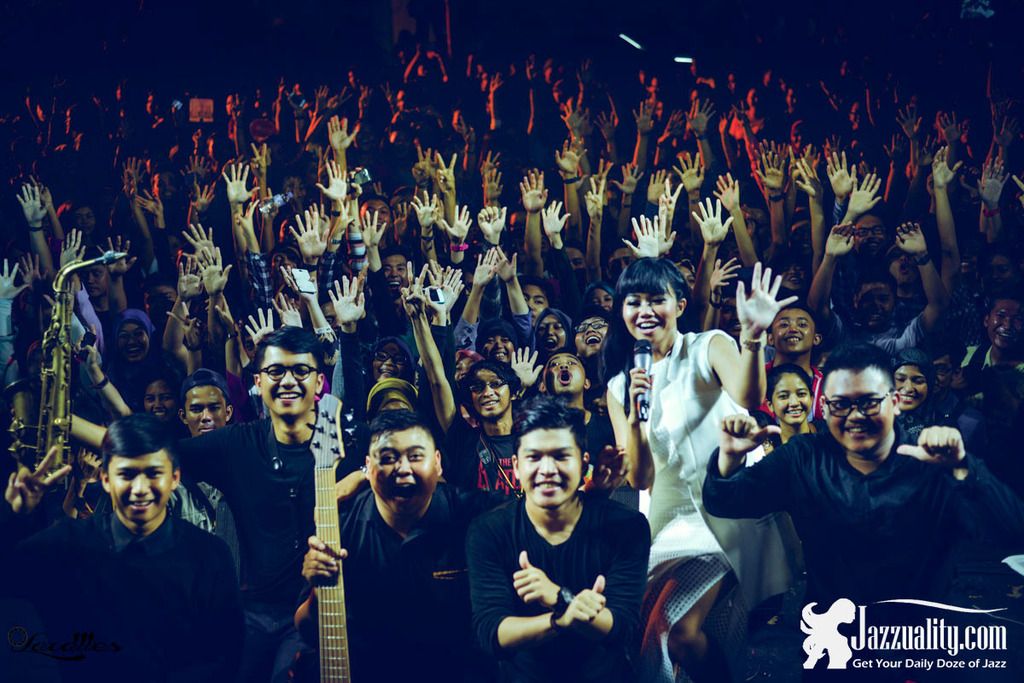 Representing blues is the amazing Blues Libre where Hari Pochang is in. This band doesn't play just blues but they like to play it naughty, totally free with surprising arrangement and expression. Famous MTV host in the 90's Jamie Aditya will also bring the blues alive and entertaining in this festival. on Also don't miss the uniquely creative Iman Jimbot with his concept Torotoot Jimbot which combines the thick Sundanese traditional elements with modern music. Pianist Glen Dauna is on the list.
A few years ago there was a group of kids around 15 years of age made big wave in Bandung called Fifteen Plus. Since each personnels became busy with their own agendas, the band was put to sleep. It's great to finally see them back again in action. This band uses violin too in front, which makes their music different than most of the bands with young players. The ABG Trio: Arief Setiadi (sax), Bintang Setiadi (bass) and Gerry Herb (drums) are all highly skillful and experienced. Tasty funky free jazz, natural improvisation can be found in any of their show, the kind of session that you can learn and be entertained from. The acoustic street musicians from Rumah Musik Harry Roesli (RMHR), the 57kustik also got their own show. These boys have played high, including performing with Dave Koz 3 years ago at the Java Jazz Festival. If you haven't seen them yet, make sure this time to see them and be surprised. TP Jazz All Star will serve a cool jamming mode.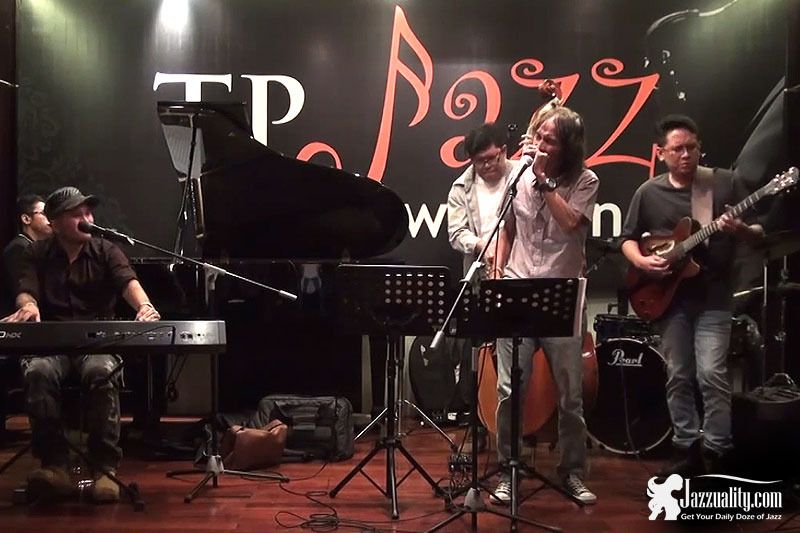 Some music schools are participating too. Venche Music School, the pioneer of jazz school in Bandung since 1988 is sending New Equinox to represent them. Alman Naufal (drum), Yohan Gunawan (piano) and Ezra Manuhutu (bass) are still young but they can play good jazz already. The Do to Do Music Edutainment in Bandung presents the A to Z Big Band. At the press conference the pers  the reporters and cameramen got a shot to see them in the Jazz on the Street segment. They all played bravely on the street, right in front of The Papandayan Hotel. Many passersby stopped their vehicles on the side of the street and watched them. It was really fun, just as shown in the photo below.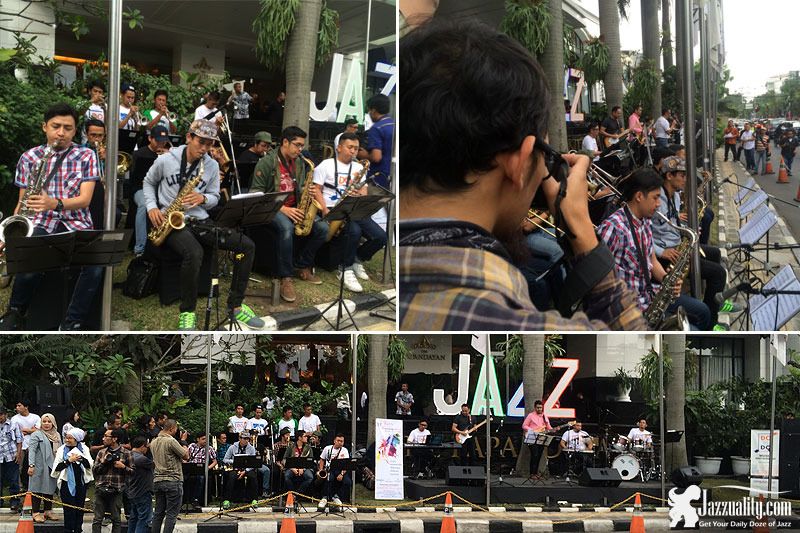 BSV, Jackfruit band, T42 Indonesia, the stunning ladies jazz band Jazzy Juice are in the lineup, plus Agis Bape, the dynamic duo who will play in the lovely, cozy T Garden stage. Comic Mo Sidik will serve stand up comedy right before the closing, featuring the good ol' Salamander Big Band. We also heard there will be 4 ministers from the Cabinet of Indonesia to play on stage. How cool is that.
The Festival with the Spirit of Togetherness
The spirit of friendship and togetherness is pulsing strong from this festival. They kindly invite other local communities too to participate in the festival by sending performers. The 10 year old jazz community in Bandung Klab Jazz is in, also our own community, Jazzcom (Jazzuality Community) which regularly runs in Braga CityWalk.
For this event we will be represented by the rising star Pangeran Muda. He has launched one single "Terpaku" last March 2015, one solo concert in Jakarta and currently busy in finishing the album. For you who love pop jazz, do come to this act.
Music Clinic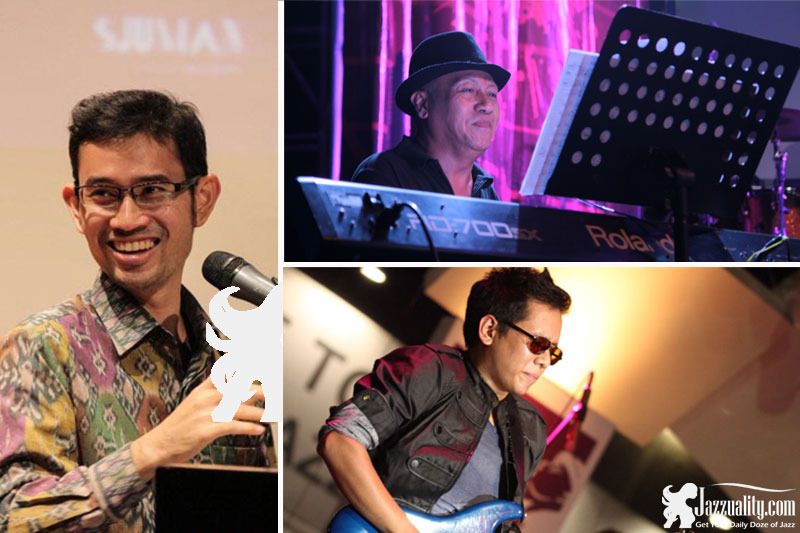 For Bandung musicians who desire to increase their level of skill and knowledge, there will be music clinic on Tuesday for you. 3 great musicians are happy to share what they have: the senior pianist better known as the member of Gong 2000, Harry Anggoman, Indonesian pianist with shining career in New York, Nial Djuliarso and proud Bandung son, a lethal blues man who is looking forward to shake the music industry with his new solo album, Ginda Bestari. This jazz clinic will start at 3:30 pm located at Cimanuk Ballroom.
Other Highlights (Jazz Talk, Photo Exhibition, Jazz Market)
If the lineup already shines bright, this festival won't give you only performances. There are many other highlights that you should also see.
First, Jazz Talk. This is an open forum discussion with competent speakers from different profession and background such as Frans Sartono (senior Kompas journalist), Dwiki Dharmawan, Imelda Rosalin, Nazar Noeman (KLCBS), Agus Basuni (Warta Jazz), Riandy Kurniawan (Jazzuality) and Dwicahya Yuniman (Klab Jazz). The Jazz Talk will be held on Monday (26 October) starting at 4:00 pm. The theme is "Bandung in the Development and Future of Jazz".
Second, Jazz Photo Exhibition. This is the place where you can see some of the greatest moments being captured from jazz stages through the camera of Mia Damayanti, Hari Pochang, Aryono Huboyo Djati and Krisna Satmoko.
Third, theJjazz Market (Pasar Jazz). This jazz market will provide items that you might have been looking for. There will be bazaar, cd booth, music instruments, souvenirs, apparels and also music schools where you can get any informations regarding the education.
How to Get in?
Here's another important news. Due to the limited space (capacity of 400 people, approximately) , you have to register first to The Papandayan Hotel. Only by buying food and beverage voucher, IDR 100.000/pax/day (for 26-30 October 2015) and IDR 150.000 for the final day (31 October 2015) you can already secure a seat to see your favorite artists.
Quoting Imelda Rosalin, a festival should be a celebration. Everyone, from the performers, organizers and audience should be able to enjoy the jazz-mosphere throughout the whole 6-day shows. Check out the schedule, reserve a seat right away and enjoy the festival!
TP JAZZ BANDUNG FESTIVAL 2015
Time: 26-31 October 2015
Location: The Papandayan
Jl. Gatot Subroto 83, Bandung
More info and registration:
+62 22 7310 799 ext 169   |  Uma: +62 859 5627 4988   |  Iyong: +62 82 129 129 569
Website: http://tpjazzbandung.com
Facebook: TP Jazz Weekend
Twitter: @TPJazz
Full Schedule (the latest update, received on 19 October 2015)
PROGRAM
TIME
VENUE
TALENT
Monday, 26 October
Jazz Talk
16:00
Mirten Lounge
Frans Satrono, Imelda Rosalin, Agus Basuni (Warta Jazz), Riandy Kurniawan (Jazzuality), Dwicahya Yuniman (Klab Jazz), Dwiki Dharmawan, Nazar Noeman (KLCBS)
Band Performance
19:30
Mirten Lounge
BSV
Music School
20:30
Mirten Lounge
Venche Music School(New Equinox)
Band Performance
22:00
Mirten Lounge
Dwiki Dharmawan World Peace Trio
Gilang Atzmon, Kamal Musallam & Mark Wingfield
Tuesday, 27 October
Jazz Clinic
15:30
CimanukBallroom
Ginda Bestari, Harry Anggoman, Nial Djuliarso
Music School
16:30
Mirten Lounge
Do to Do
Band Performance
19:30
Mirten Lounge
Jazzuality Presents: Pangeran Muda
Band Performance
20:30
Mirten Lounge
Fifteen Plus
Band Performance
21:30
Mirten Lounge
Nial Djuliarso & Oele Pattiselano
Band Performance
22:30
Mirten Lounge
Riza Arshad
Wednesday, 28 October
TP Jazz Dance
16:00
HBGG
Band Performance
16:30
Mirten Lounge
T42 Indonesia
Band Performance
19:30
Mirten Lounge
Trio ABG
Band Performance
20:30
Mirten Lounge
Donny Suhendra & Agam Hamzah
Band Performance
21:30
Mirten Lounge
Jamie Aditya & Friends
Thursday, 29 October
Pasar Jazz
13:00
CimanukBallroom
School Band
Garden Jazzcoustic
15:00
T Garden
DKSB/57 Kustik
Garden Jazzcoustic
16:00
T Garden
Tesla Manaf
Band Performance
19:30
Mirten Lounge
KSP
Band Performance
20:30
Mirten Lounge
4 Peniti
Band Performance
21;30
Mirten Lounge
Barry & Benny Likumahuwa ft Freddy Prandi
Friday, 30 October
Pasar Jazz
13:00
CimanukBallroom
School Band
Band Performance
16:00
Mirten Lounge
Jackfruit Band
Band Performance
19:30
Mirten Lounge
TP Jazz All Star
Band Performance
20:30
Mirten Lounge
Glen Dauna
Band Performance
21:30
Mirten Lounge
The Jongens featuring Dira Sugandi
Saturday, 31 October
Pasar Jazz
10:00
CimanukBallroom
School Band
Band Performance
14:00
HBGG
Torotoot Jmbot, Blues Libre, Klab Jazz, Jazzy Juice
Opening
19:15
Suagi Ballroom
Mo Sidik / Stand Up and MC
Band Performance
19:30
Suagi Ballroom
Yura Yunita
Band Performance
20:30
Suagi Ballroom
Harvey Malaiholo & Shadow Puppets
Stand Up Comedy
21:30
Suagi Ballroom
Mo Sidik (preparation for Big Band)
Band Performance
22:00
Suagi Ballroom
Salamander Big Band
Closing
23:00