Candi Prambanan is a majestic Hindu temple built some times in the 9th century (circa 850 AD) by the kingdom/dynasty of Mataram. As a masterpiece of Hindu culture and said to be one of the most beautiful Hindu temples in the world, Candi Prambanan is characterized by its towering and pointed architecture became a UNESCO World Heritage site in 1991. For many decades Prambanan has been holding variety of events, both traditional and modern/contemporary. Speaking of modern, imagine what kind of spirit and experience you are going to feel when jazz being served grand in this majestic ancient site for more than a day. Wouldn't it be something?
Well, if you agree with us, get yourself ready because a huge jazz fest will really be held in there. NL Productions in cooperation with PT Taman Wisata Candi Borobudur, Prambanan and Ratu Boko present the first edition of PRAMBANAN HERITAGE JAZZ FESTIVAL 2016 (PHJF 2016), July 29-30, 2016.
This festival comes with a tagline: "It's a national festival". According to the press release, the tagline shows the concept to rise jazz musicians across the nation towards not only the jazz fans but to all the music lovers in general.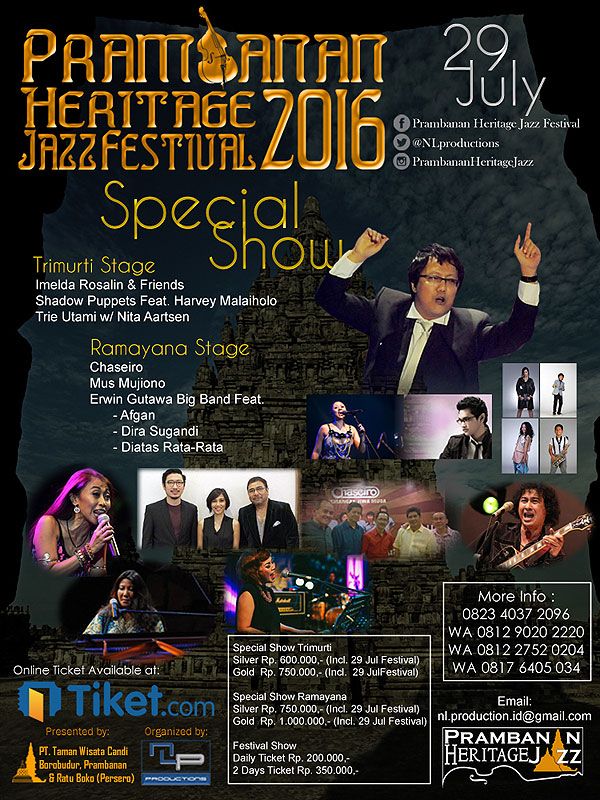 Jazz has been growing rapidly in Indonesia during the last decade. If before there were many people got the wrong perspective and thought jazz as music that's difficult to enjoy and old-fashioned, today we can be happy to see how jazz become acceptable to all ages and backgrounds. The committee acknowledged the phenomena and used it as a reference to make this event. One of their mission is to invite jazz musicians, both the long-time/highly experienced and the younger ones to participate in the PHJF 2016 so that the musicians can be known much wider than only among the jazz fans.
About the lineup, this festival features a mouth-watering large number of participants. So many, it's almost like, you mention a name or band, they are there. Some names that have confirmed including Komodo (Gilang Ramadhan), Barry Likumahuwa Experiment, Dewa Budjana, Trigonia, JOC (Jeffrey Tahalele, Oele Pattiselano and Cendy Luntungan), Tohpati and Friends, Rio Moreno, Tiwi Shakuhachi, Jilly Likumahuwa, Totong Wicaksono feat Rien Djamain, West Funky Rhythm, Revival Generation Project, Devian Zikri, Fusion Stuff, Aboda, The Daunas, Eddy Syakroni Project, Matthew Sayersz, HajarBleh Big Band, Riza Arshad, Indro Hardjodikoro Band, Ary Juliyant and Folks and Emerald, just to mention a few.
You can enjoy so many great performances spread over couple of stages, but there will also be some Special Shows presenting Erwin Gutawa Big Band featuring Afgan,  Dira Sugandi and a group of extraordinary talented kids Di Atas Rata-Rata, Bandung-based amazing jazz pianist and her band Imelda Rosalin & Friends, Shadow Puppets feat Harvey Malaiholo (read our interview with them here: http://jazzuality.com/interview/exclusive-interview-with-shadow-puppets-quartet-and-harvey-malaihollo/), Nita Aartsen feat Trie Utami, the legendary band who has been in business for 38 years, Chaseiro and also a legend in jazz guitar and scat-singing, Mus Mujiono. You can see the long list of bands in the picture below.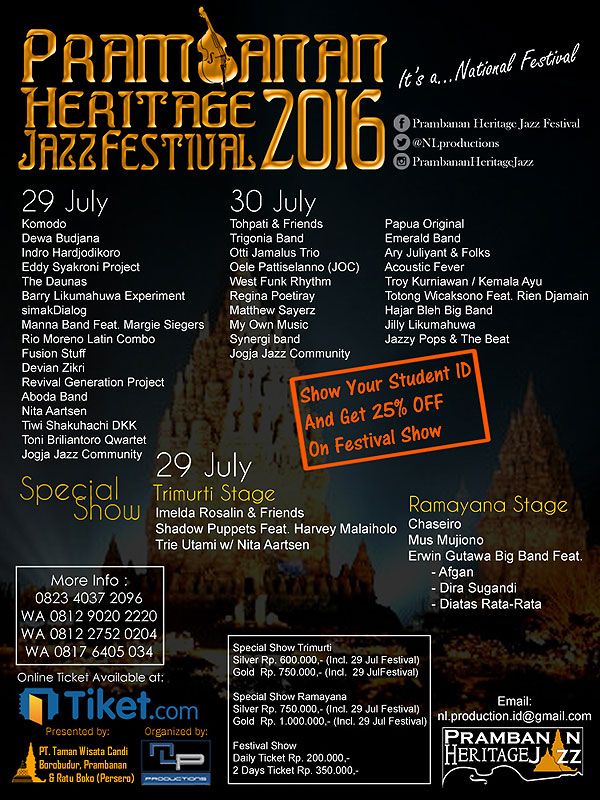 If you are living in another city, make sure you take care the transportation and accomodation first. Set to come annual, the Prambanan Heritage Jazz Festival could become one of the most favorite jazz festivals in Indonesia. Be a part of the first installment, because other than you can enjoy long list of who's who in Indonesian jazz, you can also experience the moment when jazz lands on the ancient +/- 1.160 years-old temple!
Official hotline: +62 823-4037-2096 (Rachma)
Special Show Trimurti:
Silver: IDR 600.000 (including July 29th Festival)
Gold : IDR 750.000 (including July 29th Festival)
Special Show Ramayana:
Silver: IDR 750.000 (including July 29th Festival)
Gold : IDR 1.000.000 (including July 29th Festival)
Festival Show:
Daily Ticket: IDR 200.000
2 Days Ticket: IDR 350.000
For more info, check out the official social medias:
Facebook: Prambanan Heritage Jazz Festival
Instagram: PrambananHeritageJazz