A  big breakthrough came by surprise yesterday, March 31, 2011. Indra Lesmana has successfully gathered  81 Indonesia Jazz Musicians for the purpose of filing the force of today's jazz heroes of Indonesia. This has never happened before. A huge ensemble of artists, from the legends, today's frontrunners to the young guns mingled in a really beautiful and relaxing garden. He successfully brought Titiek Puspa, Bob Tutupoly, Bubi Chen, Ireng Maulana, Kiboud Maulana, Benny Mustafa, Oele and Jacky Pattiselano, Benny Likumahuwa, Margie Segers, and Idang Rasjidi among other legends  joining their successors in this mega jazz musicians gathering. While we have announced the Indonesia Jazz Movement a couple of times since at least 6 months ago, Indra Lesmana made another big step by inviting all these jazz stars. They all responded very well by attending this informal gathering. It was big since this clearly shows that jazz is really going on very well in Indonesia, and the artists are living harmoniously too in close friendships to one another. The hype should still be felt by the whole 81 attending jazz artists and will be remembered for a long time to come.  Let's talk about the continuation of Indra Lesmana's Mostly Jazz, a weekly event that has become a tour de force of this nation's jazz scene.
Besides the young groups and artists, some legends have been participated in this regular event either as the special guest stars or joining the joyful jam sessions. Indra Lesmana, Riza Arshad, Benny Likumahuwa, Jeffrey Tahalele, Oele Pattiselano, Yance Manusama are just a few names among these legends. Different flavor for each week seems to be the consideration of Indra and Honhon in creating the concept for each episode, except of course the availabilty since the artists should be busy with their schedules as well. Last week at the Mostly Jazz XXIII it was Tompi, one of the few popular male jazz singer who blasted the Red and White Lounge with his fully entertaining gig. This week for Mostly Jazz XXIV it's confirmed that another legend will be there, making her first ever collaboration with Indra Lesmana Quartet officially. It's none other than the legendary songstress, the jazz/soul/blues lady who's blessed with such an unbelievable vocal quality, the one and only Margie Segers.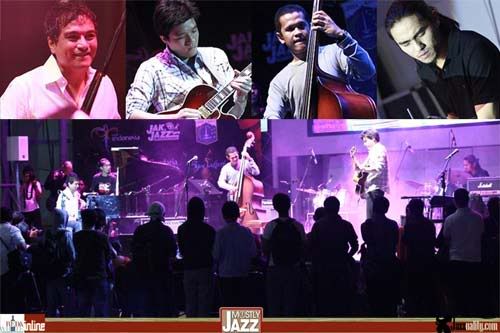 First let's take a look at Indra Lesmana Quartet. Apart from Indra Lesmana's most recent group LLW which has been receiving tremendous success through Reverbnation, Itunes and Amazon, in fact Indra Lesmana has another group comprises of young but highly talented musicians called Indra Lesmana Quartet. In this group Indra teams up with a contrabassist with big amount of experience Doni Sundjoyo, the cool, calm but confident guitarist graduated from Netherland Johanes Radianto and his partner in LLW, the phenomenal drummer Sandy Winarta. This group has made their first appearance big time at the JakJazz Cares last December 2010. At that time Indra led the boys to bring something really entertaining in total freedom as if they were having fun in a jam session. (Read our report from that event here). With the comeback of this group, surely we will catch all the action once again just like their gig at JakJazz Cares.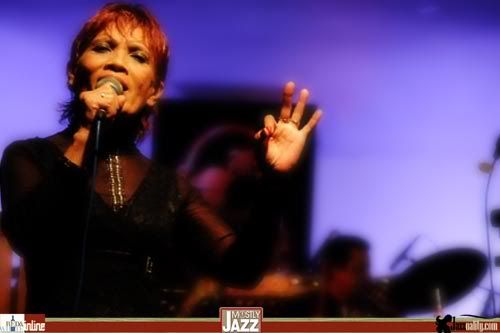 Margie Segers is historically related to Indra Lesmana's family, especially with his parents, Jack and Nien Lesmana. Born as Margaretha Getruida Maria, Margie Segers is believed to be one of the best female jazz singers Indonesia has ever had. Stage has been her home for more than 40 years. Just like wine, she just get better with age. Her natural talent came from both her parents, Anton Segers who was famous as a keroncong and hawaian singer in Netherland and Maria Rina Pietersz, a gospel singer. In 1968 she came back to Indonesia after leaving the country for 18 years due to the incondusive political turmoil back then. Once when she appeared on tv, Nien Lesmana spotted her talent and called Jack to watch her. Concidentally they lived nearby, and one day Margie met Nien and Jack by surprise. Realizing her talent, Jack immidiately sent her many recordings. "He gave me lots of vinyls and 'forced' me to learn from those." Margie recalled with a laugh. It wasn't long for them to collaborating in recordings. From there, Margie emerged as a powerful force of jazz in the 70's all the way up to this day. Without these influential figures, our music scene especially jazz would turn out to be different and wouldn't be as good as it is today. "Jack Lesmana is a really inspiring figure. He was the one who spotted my talent and made me as who I am today." said Margie. Being closely related to Jack Lesmana and Nien Lesmana family made her know the children very well, including Indra Lesmana. "Indra was already amazing since he was still a kid. He already wrote songs when he was still at the elementary school, and I actually sang some of his songs." Margie continued. One of the song was "Terlena" which Indra wrote sometimes in the late 60s/early 70s and appeared in Margie's 1975 album, "Terpikat" which featured all stars cast. She remember one funny story of Indra's childhood. "Once his piano teacher said to me that he didn't know what to do to this kid (Indra). He said he was confuse, and that's because according to him, Indra was actually better than him in playing the piano." she laughed again. Among many praises, Margie said that Indra Lesmana really has a good ear and ecentric. "He really knows the 'ears' of our people. Usually it's not easy for the musicians who had studied abroad to understand the taste of the local music listeners. But Indra understands them." Then she added, "Oh yes, one more thing, he really means it when he plays.. you know, all the improvisations.. all come straight from his heart."
It's kind of funny that eventhough they have known each other closely for ages, they never had the chance to play together as a unit. They did it once when Indra performed at Jl Sabang long time ago, but it was only as a jam session. "I don't know…maybe we just never crossed path before. I've been waiting for the moment to play with him at least just once, and now finally I got that chance." she said excitedly. There's a special request too from madam Nien Lesmana for her to sing, it's "What a Difference a Day Made". Most likely this song will be one of the playing list for this Sunday's Mostly Jazz. Whether it's swing, blues, standards, Latins or soul, the fields that Margie loves to be at, or a tasty set of bop as the style of Indra Lesmana Quartet back then, they are going to give one spontaneous session that surely will be a moment to remember for them as well as the coming audiences. The jazzman Indra Aziz will once again guard the jam session featuring whoever artists available at Red and White Lounge this Sunday.
Indonesia Jazz Movement has been brought higher than ever. The consolidation of artists on March 31, 2011 will always be remember as one important milestones throughout the jazz history. We are still waiting what move Indra will do next responding to this breakthrough, but while we're waiting, let's enjoy a special package of Indra Lesmana Quartet featuring the legendary Margie Segers at the Mostly Jazz XXIV edition. Catch the action by attending the show!
MOSTLY JAZZ XXIV: Indra Lesmana Quartet ft Margie Segers

Date: Sunday, June 5, 2011
Time: 09:00 pm – onwards (door opens at 8:00 pm)
Jam Session starts at 10:30 pm
Location: Red and White Lounge
Jl. Kemang Raya 16B, Jakarta
Entrance Fee: IDR 50.000
including first drink cover
Limited Inlines Music & Friends' CDs are also available
RSVP: +62 21 7183184/71792252/81932337226 (sms only)