Following the huge success of In Bass With Trust last August, Bumi Sangkuriang Jazz Community is back again with another great installment of Jazz Break, October edition of 2010. This time they invite us to take a visit to the wonderful world of singing by presenting the special event named "VOCAL VIBES".
Cool and colorful selection of prime singers has been set to bring this edition as special as it can be. Surprise, surprise, the legendary IMANIAR is on the list! This should be a big news for the adult music fans who has been following the Indonesia's music scene at least from the 80's and also for her long time fans as well. She was one of the top star during the 80's, especially when she went duo with her own sister as Lydia & Imaniar and the time when she decided to go pursuing her solo career. She actually started her career long before that. Imaniar started at the age of 4 years old by being one of the singer of a band named The Kids with her siblings: Idham, Iromy and Lydia. Later when her other brothers Inang and Iwang joined in, the name was changed to The Kids Brothers which brought them into higher popularity by appearing often on TV. Many people compared them to the Osmond Brothers at that time for being a family band which wasn't only know how to sing and play music, but they also knew how to entertain their audiences interactively. When they grew more mature, the name of the band changed again to The Big Kids. Finally in 1985 the band was put to end. Imaniar continued her career by teaming up with her sister Lydia and reached another height of success together. Later she decided to continue her path alone, and again, Imaniar reached a huge success on her solo career. She released 5 albums after that, including the very famous album "Kacau" in 1989. Even with the fact that she's been inactive in recordings for many years after, she still have so many faithful fans behind her. Imaniar still appear here and there until today, and now all her fans in Bandung will get the chance to see her again up close and personal. Bringing a special Tribute to Stevie Wonder, Imaniar brought an all-star band including her brother Inang Noorsaid (drum), Harry Toledo (bass), Donny (keyboard) and Karty Rosen (guitar).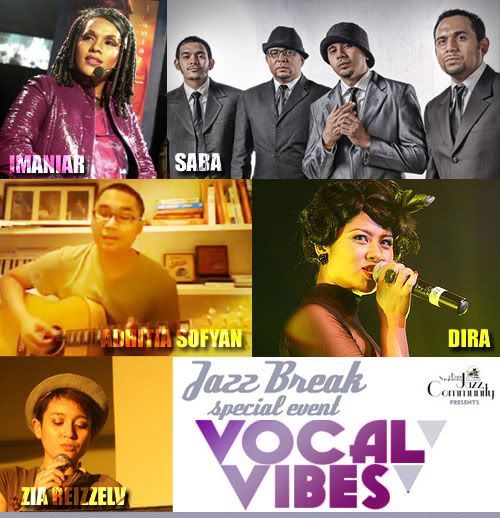 Not only Imaniar with the all stars, Jazz Break still bring many highlights. SABA family will also be there. Having many experiences from different groups and their childhood times when they used to sing together as the family, SABA has emerged as a great vocal group with the unique style of each personnel. Carlo (Kahitna), Marthin (KSP Band), Denny (ME Voices) and Ivan (R42) now merged as a solid team with one released album, "Hidup Ini Indah". The carrier single "Kembali Untukmu" has become a hit everywhere. It's going to be great to see the performance of this very soulful brothers live.
Dira Sugandi is indeed one of the fastest rising star with international reputation. We still remember when Bluey of Incognito introduced a very soulful lady with amazing voice at Java Jazz Festival 2008. The next year the crowds saw her again doing a special duet with Jason Mraz. And the rest is history. Dira has emerged as one of the force representing Indonesia internationally. Her debut album will become an instant hit in no time. She will surely be happy to perform in her own hometown, and for us who live in Bandung, it's a chance not to be missed as well.
The list continues on with a soft and tender voice over a beautiful acoustic guitar courtesy of Adhitia Sofyan. Adithia Sofyan was originally a Creative Director at an online marketing consultant firm, yet music has been his passion ever since. His name became popular in 2008 when he sent his songs to an indie chart of a major local radio in Jakarta (Prambors) in where his song stayed for three weeks. He has been playing in so many stages all over Indonesia, and he hit the spot when his song "Adelaide Sky" filled the "Kambing Jantan the Movie" OST. Cool, soothing and inspiring, he extends an intimate connection with his fans anwyhere with his guitar touch and heavenly voice. Last but not least, the very beautiful lady with lovely soulful voice Zia Reizzelv is a performer that you should not miss.
It's time for us to celebrate the vocal side of jazz through some of the finest singers. Jazz Break October 2010 Edition: Vocal Vibes will surely appear as a tribute to the singing voices as one of the most important power in music including jazz in particular. Don't miss the event and let's have a big party, vocal style!
Jazz Break October 2010 Edition: Vocal Vibes
Featuring:
– IMANIAR : Tribute to Stevie Wonder
with:
Inang Noorsaid (drum)
Harry Toledo (bass)
Donny (keyboard)
Karty Rosen (guitar)
–  SABA (Carlo Saba, Marthin Sabba, Denny Saba, Ivan Saba) and SABA Band
– DIRA SUGANDI
– ADHITIA SOFYAN
– ZIA REIZZELV
Date: Friday, October 1, 2010
Time: 07:00 PM – onwards
Location: BP Bumi Sangkuriang
Jl. Kiputih 12, Ciumbuleuit, Bandung
Entrance Fee: IDR 50.000
Information and ticketing: HOTSPOT ART PRODUCTION
Room 300 Concordia Hotel, Bumi Sangkuriang
Contact Person: Chikuy (+62 22 91871439) and Marketing Bumi Sangkuriang (+62 22 2032661)