The pioneer of international-scaled jazz festival in Indonesia, the Jakarta International Jazz Festival, better known as JAKJAZZ is coming again in 2013! Just like what you see in the flyer, in this 14th edition JakJazz as one of the most respected jazz festivals which is critically focused on jazz as an art form is stepping up a gear to expand its high calibre image. For this mission, they are ready to extend the festival's position as a one-of-a-kind jazz festival, without necessarily having the mind to compete with other well-established jazz festivals in Indonesia. The preparation is really short, since they just started to spread the flyer at the Indonesian Jass Festival a month ago. But still, as one of the historical jazz festivals and as they have promised, you can expect many great things in this edition. JakJazz 2013 is ready to go on 18,19 and 20 October 2013 at the Istora Senayan Jakarta.
JakJazz is a brainchild of senior guitarist Ireng Maulana. Since the first edition in 1988, JakJazz has featured thousands of artists, both national and international. It was already held 13 times: in 1988 and 1991 at Ancol, 1993, 1994 and 1995 at Plaza Timur Senayan, 1996 and 1997 at Pasar Festival Kuningan, 2006, 2007. 2008 at Istora Senayan. In 2009 JakJazz came with a special theme: A Touch of Jazz served at Airman Planet, Sultan Hotel, in 2010 appeared as a charity show called JakJazz Cares at Gandaria City and since 2012 it started to settle in Istora Senayan Jakarta. All the way, JakJazz has successcully gained hundreds of thousands or might even be millions of jazz aficionados either from the Jakarta residents, other cities or around the world. Just like life, this legendary festival also has its ups and downs. But the efforts to keep it alive is always intense, just like the words came from the official committee, Sharkindo Komunika. "What's important is we keep it running, keeping the existance this year and for more years to come." they said. This year JakJazz 2013 still holds the theme of "Jazz the Way You Are".  Plenty of actions for 3 days straight, all kinds of jazz from assorted jazz artists, ranging from the legends, big cats, today's toppers, rising stars and promising newcomers, all of these will answer your needs in good quality jazz fiesta.
As how most of international jazz festivals are, this 14th edition of JakJazz in 2013 will feature international artists to join the local ensemble. So far some of the international lineups that are already confirmed. Indoneia's closest neighbouring country Malaysia fills some slots:  the sweet Malaysian Bossanova artist who, just like our own Jilly Likumahuwa, has spent several years in Brazil to absorb the authentic local music and culture, Xiong Lee and one of the most accomplished drummers in Asia and a close friend of Indonesia Lewis Pragasam. Lewis Pragasam will bring his Asiabeat Project featuring jazz/RnB singer, Richard Jackson.
French guitarist Jeremy Tordjman also joins the fest. The last time we saw him was at last year's Asean Jazz Festival when he teamed up with Barry Likumahuwa, Erik Hargrove and Kyriz Boogiemen. It's going to be interesting to see his distinctive 'fuzzy jazz groove' once again in this festival. If you wonder how it is, you should check his session. From Brazil came the amazing lady who knows how to combine poetry, singing, dance and visual art with her multilingual jazz vibe, Lica Cecato. Lica is not a stranger to JakJazz since she's been supporting the event, for example at the JakJazz 2008 when she teamed up with Zarro. Came all the way from Netherland is Rene van Helsdingen. Rene was born in Jakarta but resides and builds his career in his homeland. Even so, he never forgets Indonesia as he's been visiting the nation many, many times. Afronesia is a world music band fused with Afro jazz, salsa, reggae and bossanova is led by Vieux Aliou Cissokho from Senegal. Although Vieux came from Africa, the band actually based in Bali, Indonesia. An album Tama Silo – The Journey which tells about the story of his journey from Africa to Indonesia has become an important content in their profile. It's going to be interesting to see the combination between Africa and Indonesia that definitely will spice up this year's festival. Helga, a violist player also resides in Bali will join with the  band.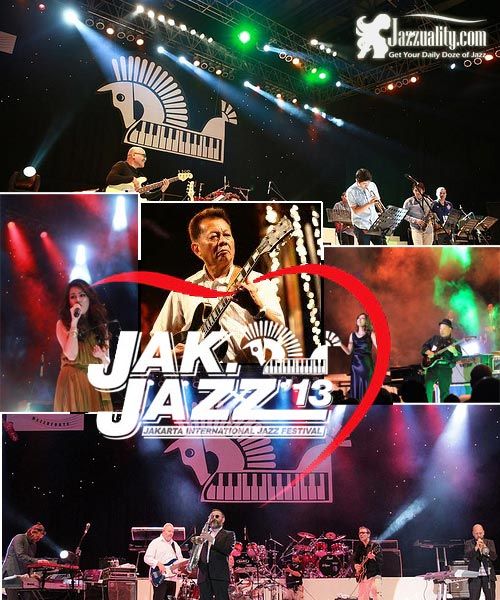 Last year's JakJazz (2012)
From our own land the JakJazz 2013 will be filled with who's who in the jazz scene. Legends like Ireng Maulana, Kiboud Maulana, Idang Rasjidi, Margie Segers, Ermy Kullit, Mus Mujiono, Oele Pattiselano, Jeffrey Tahalele, Yance Manusama, Benny Likumahuwa are already on the lineup. Then the experienced  musicians/bands like Jilly Likumahuwa, Eramono (ft Witsqa), Eddy Syakroni, Cendi Luntungan, Nita Aartsen, Tohpati (and friends), Balawan Bifan Trio (ft Didiet Violin), Syaharani and the Queenfireworks (ESQI:EF), Andi Wiriantono, Indro Hardjodikoro and the Fingers, Didiek SSS, Once Mekel, Otti Jamalus, Emerald/BEX, Beben Jazz, Harry Toledo, Yuyun George and her Jazzmint Band ft Grace Simon, Lana and GI, Lala Suwages are there too. From the source of today's popular bands/young lions come Barry Likumahuwa Project, Sierra Soetedjo, Matthew Sayersz, Endah N Rhesa, Shadu Rasjidi Band, KulKul, Abdul and the Coffee Theory and Andre Harihandoyo.  More names filled the lineup such as Maera, Rio Sidik Quintet, Aimee Saras, Speak Easy, Fusion Stuff, the young drummer Nathan Gulo, Danilla, Bagong Big Band, Time Warp , Bexxa, Higher D, Soukma, Grooves n Roll and Suave.  The sensational 10 year old pianist who won the international  Master-Jam Fest Competition in Ukraina Joey Alexander is in too, also the pianist who made a recordings in Budapest, Hungary Boby Limijaya and his 8 Horns Band. Some jazz communities from Jakarta and other regions are projected to be there too such as Komunitas Jazz Kemayoran (KJK), Rompok Bolong Malang, Komunitas Jazz Lampung, Komunitas Jazz Serpong, SoJazz (Solo), BJF (Batam), Margo Rising Star (Depok), Jajan Jazz BSD (Tangerang), Jazz Ngisoringin (Semarang), Etawa Jazz (Jogja) and FJazzC (Surabaya). The senior keyboardist from Surabaya Yohanes Gondo will bring his trio consists of much younger team, then Bandung is represented by new but explosive Out of 7.  Many more names are said to be announced.
Another important thing to mention is that there will be JAM SESSION, placed at the end of each day. The free-for-all jam session will start from 11:15 pm until 11:55 pm. During these 40 minutes time every musician can climb the stage and have fun. Not all festival has it inside the rundown, so if you're a jazz musician, you better use this chance.
It's less than two weeks to go, so get yourself ready to join the party. Pre-sale tickets are as low as IDR 250.000/day (normal price IDR 400.000) and the fully 3 days passports are IDR 750.000. Full ticketing info is listed below. See you there, jazz on!
Jakarta International Jazz Festival (JAKJAZZ) 2013
Date: 18,19,20 October 2013
Time: 4:00 pm – drop
Location: Istora Senayan, Jakarta
Ticket box: http://www.jakjazzfestival.com/jakjazz/index.php/tickets/ticket-box
Special Price for Student: http://www.jakjazzfestival.com/jakjazz/index.php/tickets/special-price
For more info, log on to:
Website: http://www.jakjazzfestival.com
Facebook: JakJazz Festival https://www.facebook.com/pages/JakJazz-Festival/161659620697474
Twitter: @jakjazzfest
DAILY LINEUPS
FRIDAY, OCTOBER 18TH, 2013
RENE VAN HELSDINGEN(HOLLAND)
LICA CECATO (BRAZIL)
JEREMY TORDJMAN (FRANCE)
ENDAH N RHESA
ABDUL & THE COFFEE THEORY
SIERRA SOETEDJO
ESQI:EF SYAHARANI & QUEENFIREWORKS
ANDRE HARIHANDOYO
KSP BAND
BEXXA
EMERALD BEX
SOUKMA BLUES & SWING
ANDI WIRIANTONO
YOHANES GONDO TRIO SURABAYA
YUYUN JAZZ MINT feat. GRACE SIMON, LANA & GI
CENDI LUNTUNGAN & THE FUNKY STUFF
TIME WARP
OELE PATTISELANO
HIGHER D
KJK JAKARTA
BAGONG BIG BAND
ETAWA JAZZ JOGJA
FJAZZC SURABAYA
ROMPOK BOLONG MALANG
SATURDAY, OKTOBER 19TH, 2013
LICA CECATO (BRAZIL)
LEWIS PRAGASAM – ASIA BEAT – RICHARD JACKSON(MALAYSIA / USA)
IRENG MAULANA & FRIENDS (ERMY KULLIT, MARGIE SEGERS, MUS MUJIONO, DIDIEK SSS, etc)
JILLY LIKUMAHUWA feat. XIONG LEE (INDONESIA / MALAYSIA)
TOHPATI & FRIENDS
ONCE MEKEL & YANCE MANUSAMA
LALA SUWAGES
ERAMONO SOEKARYO feat. WITSQA
IDANG RASJIDI
HARRY TOLEDO
MAERA
FUSION STUFF
SHADU BAND
BEBEN JAZZ & FRIENDS
SPEAK EASY
THREE SONG LAMPUNG
OTTI JAMALUS
RIO MORENO
AIMEE SARAS
JAJAN JAZZ BSD-TANGERANG
NGISORINGIN SEMARANG
JUICY JAZZ BANDUNG
MARGO RISING STAR DEPOK
NATHAN GULO
DANILLA
SUNDAY, OKTOBER 20TH, 2013

AFRONESIA feat. HELGA VIOLIN(AFRICA/ HUNGARIA)
LEWIS PRAGASAM – ASIA BEAT – RICHARD JACKSON(MALAYSIA / USA)
BALAWAN BIFAN TRIO feat. DIDIET
BARRY LIKUMAHUWA PROJECT
BENNY LIKUMAHUWA
INDRO HARDJODIKORO THE FINGERS
MATTHEW SAYERSZ
YANCE MANUSAMA
EDDY SYAKRONI
JOEY ALEXANDER
BOBBY LIMIJAYA 8 HORNS BAND
NITA ARTSEN
RIO SIDIK QUINTET
KUL KUL ETHNIC BALI
GROOVES N ROLL
SUAVE
BJB BAND BANDUNG
KOMUNITAS JAZZ LAMPUNG
KOMUNITAS JAZZ SERPONG
ENSAMBLE SOJAZZ SOLO
OUT OF 7 BANDUNG
BJF BATAM
PS: Subject to Change