There are many ways to express our grief at the passing of Bubi Chen, a truly beloved maestro who had uncountable contributions to his own nation, but perhaps what the way Indra Lesmana expressed it can be an example of how much we missed him and how important he actually is to us and our history. "Indonesia has lost one very important figure. Bubi Chen was one of the first men who brought good news about Indonesia to the international scene, showing that Indonesia was already modern at that time. Imagine this, we already had such modern pianist in the 60s like the virtuoso Bubi Chen. Indonesia could already showed it during 1967-1968, thanks to him. I think it's a big achievement that we should always remember and look up to. He's a figure that we should always consider as one of the greatest artistes like Affandi for example. I witnessed what he had done for all his life, so I know for sure how important Bubi Chen is in our history."
Just a little flashback, on February 16, 2012 we got the text message from his son, Benny Chen, telling that his father passed away just a couple of minutes earlier. (read our article: In Memoriam Bubi Chen here: http://jazzuality.com/jazz-news/in-memoriam-bubi-chen-9-february-1938-16-february-2012/). We got shocked, because actually he looked a lot better after he got his legs amputated due to the massive pain caused by the diabetic wound he suffered. We could see it at the last concert we covered, also the last big event Bubi Chen was in, the Jazz Traffic Festival 2011 in Surabaya. We thought since he looked better, he would play more often, since stage was one of the happiest places for him to be. But God has His own plan.
One year's passed, we still missed this figure who was born in Surabaya but spent the rest of his life in Semarang. In his glorious hey-day he was called the Art Tatum of the East. It's not difficult to figure out how he was mentioned like that since he actually had quite the same quality that Tatum possessed. For example, he could play piano really fast with excellent precision, his improvisation lines were floating naturally and always fell in the right spots, and he could play just about any song in pure jazz, spontaneously.
He's not here with us anymore, but his legacy continues on. There are many of his friends, ex-students or artists who got inspired by him sending him respect by tributing him in their gigs, especially in his hometowns Surabaya and Semarang. Just a month ago we covered the latest tribute by bringing jazz into the high school, presented in both performance and coaching clinic (read the report here: http://jazzuality.com/jazz-event-report/justjazz-goes-to-school-tribute-to-bubi-chen-the-report/) as one of the most recent tributes to Bubi Chen. Now here comes another event, which we heard first from Bubi's son, Howie Chen. Brought Trinity Production and the main sponsor Djarum Super MILD, a special tribute titled "An Homage to Bubi Chen" will be held at The Square Ball Room C, Surabaya, on April 26, 2013, starting at 7:30 pm, presenting Sandy Winarta Quartet (Sandy Winarta-drums, Johanes Radianto-guitar, Doni Sundjoyo-contrabass and Fanny Kuncoro-piano). To add more color into the quartet, Monita Tahalea is joining the team.
The opening band will be given to The Bagus Adimas Trio, consisting of potential young talents from surabaya,  Bagus Adimas (piano), Kevin Pieter (bass), Kelvin Andreas( drums), also the line of vocalists such as Thya Anhar, Benny Kartono and Gilly. Bagus was one of Bubi Chen's students who's now ready to shine. Possessing the good jazz playing technique from the maestro, surely this young man has no problem to follow his teacher's footsteps.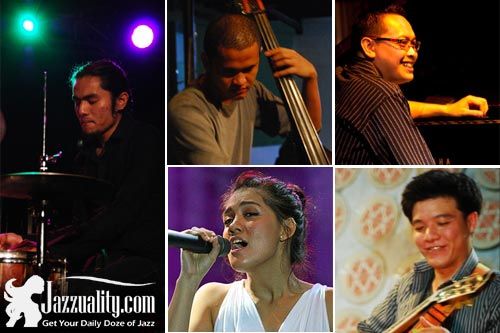 This concert is made along with the recording process of Sandy Winarta in which he play the works of Bubi Chen, also as a continuation of the previous one in Semarang, the place he lived until the last moment of his life. Other than the event organizer and main sponsor, this special tribute is also supported by Radio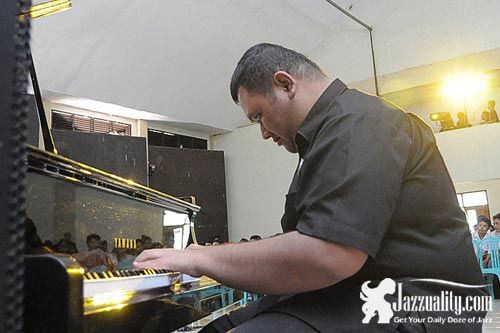 Suara Surabaya (SS). The participation of this Radio is due to the fact that historically, Bubi Chen was involved in SS' program, one of them is Jazz Traffic which once
hosted by him.
Having Sandy Winarta Quartet to carry this concert promise quality. No one would argue that Sandy Winarta is the front runner of modern jazz drumming today in Indonesia. His skill is exceptional, with soul and emotion attached in every beat. His team mates are all great too. They are still young, but already gained a lot of experiences from their frequent activities in the jazz scene. The beautiful songstress with 'lushy' jazz vocal character is one of the newest shining stars. From Indonesian Idol contestant when she was still in high school, receiving success in her debut album, now she's listed among the most wanted artists in many jazz events. The combination of Sandy Winarta Quartet and Monita Tahalea will surely give the best of entertainment where beauty sparks all over.
Surabaya, it's time for you to join hands in honoring a man who has done many things to the Indonesian jazz history, who actually came from your own city. An Homage to Bubi Chen with Sandy Winarta Quartet ft Monita Tahalea and the opening act by Bagus Adimas Trio is an event that you shouldn't miss. Let's honor him, send our biggest respect and keep supporting the Indonesia's jazz movement.
Djarum Super Mild Presents: An Homage to Bubi Chen
Date: Friday, April 26, 2013
Time: 7:30 – onward
Location: The Square Ballroom "C", Jl. Basuki Rachmat 16-18 Surabaya
For Ticketing Info, please contact: +62 31 72957470