Surabaya, the capital of East Java was once one of the most important cities where jazz found its home in Indonesia, historically speaking. There are many legendary names started their precious contributions from this city such as Jack Lesmana, Didi Pattirani, the Chen brothers (Bubi, Teddy, Nico and Jopie), Suweileh brothers (Awat, Karim and Dullah), Fam Pattiselano (Oele, Jacky, Perry and auntie Merry), Maryono, Andi Syaifin, Abadi Soesman, Lodi Item and Bob Tutupoly, just to mention a few. Some of them are still alive and active today. It was big back then, but then Surabaya was kind of quiet from jazz. Some jazz artists were still making their best efforts through this 'dark hours' by presenting jazz events occasionally, but then again Surabaya was in need of bigger scale jazz events in the shape of festival. Many jazz lovers in Surabaya have stated their concern, and of course wishes to have better and bigger jazz scene in Surabaya. While we are getting closer to the end of 2011 finally Surabaya's jazz fans got their wishes come true. With holding the spirit of bringing jazz back home to Surabaya, here comes Djarum Super Mild Jazz Traffic Festival 2011!
"Jazz has to go back home to Surabaya!" That's the strong opening line in the press release we received earlier. While Surabaya had lack of events, actually jazz has been growing very well in there. The role of medias, that includes radios are highly important, so important that some of them can even establish the community. Suara Surabaya (SS) Radio with Errol Jonathans in charge is a straight proof of how jazz been blooming in this 'city of heroes'.
Jazz Traffic was started as a specific jazz program in the SS Radio. How lovely it is to see that from a regular radio program Jazz Traffic now has made themselves existed in a live performance, featuring some of the best Indonesian jazz artists from different generations.
According to Errol, Surabaya has to go back to its spirit as the city of Indonesia where jazz was born. "This is our dream from long time ago, started with an informal discussions with idealism in mind. We need big event that can accomodate the variety of jazz." Errol said.
From that idealism, Djarum Super Mild Jazz Traffic Festival 2011 was born. This event is going to be held next week, Sunday, November 27, 2011 located at the Grand City Surabaya, starting at 12:00 noon up until midnight, 12 hours straight. Half Day, Full Jazz, stated the organizers, featuring jazz in all kinds of variety, spanning from the soulful groovy Maliq n D'Essentials to the maestro Bubi Chen which is very well known for his very mainstream and fundamental approach.
Meanwhile, Wahyu Widodo, the chairman of Djarum Super Mild Jazz Traffic Festival 2011 said that the communication between artists and their audiences will become the attraction as well as the key of the success. The artists will be divided into 3 stages; one outdoor (at the parking lot of the mall) and two indoor stages (at the Exhibition Hall). (Check out the complete rundown here: http://www.suarasurabaya.net/adv/jazz/rundown.php). "Some of the artists can create magic on stage. They are capable to make their audiences sing with them, laugh with them or even get deep into the state of melancholic all in one session.
"Coincidentally, Djarum Super Mild and Jazz Traffic Festival were born at the same time and get along very well since the beginning." This stated by the Project Officer of Djarum super Mild, Andry Swaputra in accordance to this brand's participation as the main sponsor. "We noticed that Jazz Traffic Festival has the class and quality. That can be seen by the artists' lineup and packaging. So we know that this event is really something, and decided to support it right away." he continued.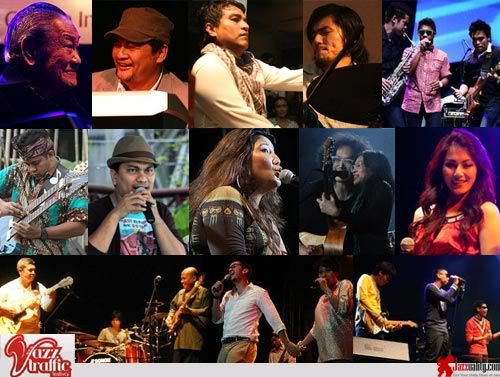 Now it's time to take a peek at the lineup. The combination of who's who in our jazz scene today and the local jazz musicians/groups are ready to join hands to do some actions. The shining new group of Indra Lesmana with Barry Likumahuwa and Sandy Winarta called LLW will show their magic in capturing the scene of boppin' modern jazz with touches of soul and the urban DJ and rappin' sound. One album, Love Life Wisdom become the best sellers in many outlets, including the international e-commerce companies such as Amazon, iTunes and The Reverbnation. Newly wed Dira Sugandi will join the trio in their quest to East Java.
The virtuoso and native Surabaya's pride Bubi Chen will come to give the unforgettable moment too in this festival. This time Bubi Chen will bring the very beautiful songstress Sierra Soetedjo in. They met in Semarang a while ago, where they did a jam session. Right after that, Bubi Chen asked her to join him, and the rest is history. They have played together at the Java Jazz Festival 2011, and now they will appear together once again in the Jazz Traffic Festival 2011.
Another legend or fully experienced musician to perform is Idang Rasjidi. Being a true entertainer, he has the ability to make all the audiences attached into the play from start to finish. He's known for his interactive approach, making spontaneous jokes as well as the genuine and pure jazz with cool improvisations. The popular male jazz singer that has a unique voice with the ability to scat Tompi is also listed. The younger but highly popular groovy groups like Barry Likumahuwa Project, Maliq n D'Essentials and RAN are joining them at indoor stages.
There will be loads of action too on the outdoor stage. There will be the extreme dare-devil rollercoaster ride Ligro Trio (Agam Hamzah, Adi Darmawan and Gusti Hendy of GIGI) and the guitar master with rare tapping/touching technique Balawan, most likely will offer his fusion with Balinese ethnical nuance as he used to do. The lady pianist who is highly capable in bringing her seductive taste of Jazz-Latins with her classical background Nita Aartsen will once again captivate your mind from her seat behind the piano. The real life and stage couple with ear-catchy story telling concept Endah N Rhesa will perform on the outdoor stage too, along with Judy Barlean ft Sandy Winarta, Van Java and Komunitas Korek Jazz.
Djarum Super Mild Jazz Traffic Festival 2011 is set to be the biggest jazz festival to land on Surabaya. Not only the shining lineup, 40 thousands watt sound power and cool lightings on each stage will accomodate your needs of a big jazz fest. One more thing to add, Suara Surabaya Radio is cooperating with Rita Noya, a jazz event promoter from Surabaya that has established several jazz communities such as in Semarang and Surabaya.
Well, all said. This is the moment for us to see Surabaya fully painted with jazz. If you're living in the city or planning to experience the brand new day of Surabaya's jazz scene, make sure you won't miss this one. Half Day Full Jazz, 12 hours straight of high dose of jazz in variety is going to be yours. It's time to bring jazz back home to Surabaya! See  you there.
Djarum Super Mild Jazz Traffic Festival 2011
Date: November 27, 2011
Time: 12:00 noon – Midnight
Location: Grand City Surabaya
Featuring:
LLW (Indra Lesmana, Barry Likumahuwa, Sandy Winarta) feat. Dira Sugandi
Bubi Chen feat. Sierra
Tompi
Maliq & D'essentials
Idang Rasjidi
Barry Likumahuwa Project
RAN
Ligro Trio
Nita Aartsen
Endah N Rhesa
Balawan
Judi Barlean feat. Sandy Winarta
Van Java
Komunitas Korek Jazz
Ticket price:
Normal:
Full-show ticket (tiket terusan): IDR 300.000
Entrance ticket: IDR 100.000 (valid only for Outdoor Stage)
Students:
Full-show ticket (tiket terusan): IDR 250.000
Entrance ticket: IDR 80.000 (valid only for Outdoor Stage)
Session ticket: IDR 50.000
– only for 1 (one) session
– can be used only if you have the entrance ticket
– The ticket will only be available on the spot
For complete ticketing info (outlets, online ticketing and how to's)  please refer to this page: http://www.suarasurabaya.net/adv/jazz/tiket.php
Find the rundowns and complete list of performers on each stage here: http://www.suarasurabaya.net/adv/jazz/rundown.php
More info, log on to Jazz Traffic Festival's official website: http://www.suarasurabaya.net/adv/jazz/index.php , follow their twitter: @jazztraffic or facebook: http://www.facebook.com/pages/Jazz-Traffic-Festival-2011/106037789506114