As we are now in the month of September, the Bumi Sangkuriang Jazz Night episode #7 is around the corner. And yes, together with our partner Venche Manuhutu and Kanggep Kusuma of VMS, we are ready to launch it, featuring the combination of renowned artists from Jakarta and local Bandung, ranging from potential new talents, experienced, today's popular to legends. The Bumi Sangkuriang Jazz Night #7 will be held on Thursday, 8 September 2016 at the vintage, historical Concordia ballroom of BP Bumi Sangkuriang which has been running since 1957. The show will start on 7:00 pm until 10:00 pm. The event is like before free from any charge, open for public.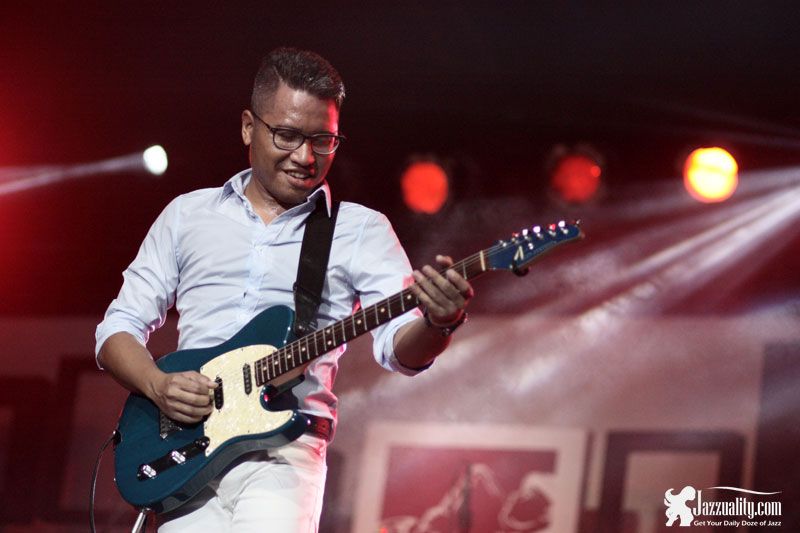 So, who are in the lineup this time? For this edition, we are inviting the man previously spent most of his time 'behind the curtain' but has been appeared to the surface for around two years by focusing on his solo career. His name is Andre Dinuth.
For quite many years he has been showing his ability on guitar playing and arranger for many big stars of the nation. You would find him in the studio and/or on many stages with big stars such as Glenn Fredly, Rossa, Afgan, Sandhy Sondoro, Andi Rianto, Rio Febrian, Marcell, Trio Lestari, Erwin Gutawa and Once just to mention a few. But lately he decides to think of himself, stepping up establishing his solo career.
A solo album became an evidence, released in mid 2014 distributed by Demajors. In this album he reflects his true-self, idealism and the track of his journey in 10 songs ranging from pop, rock, classical to jazz, from progressive to fusion, also involving a traditional intrument from the eastern part of Indonesia. He leads his own band, The Andre Dinuth Group along with Adhitya Pratama (bass), Yandi Andaputra (drums) and Marthin Siahaan (keyboard). Speaking of prestigious jazz festival he's been in, he has landed on many including Java Jazz Festival, Indonesian Jazz Festival and Freedom Jazz Fest. As a teaser, if you haven't heard or watched him yet, do check one of his songs below.
While claiming his passion on blues, rock and jazz, he can't denied that he got influenced too from playing as a part of big orchestra. What's also important to mention is that he joins Dewa Budjana Tohpati, Baron, Baim and Erros in a stunning six guitar heroes' project, Six Strings. Then, just two months ago he released his second solo album titled "Here With You" which featured many stars like Indra Lesmana, Andi Rianto, Ricad Hutapea and Rayendra Sunito among others. As he is currently busy with touring schedule with his band, we managed to 'steal' him to this event. His skill is undeniable, but for us, what we like the most is when we capture his musical journey throughout the years in every song he plays. His music is colourful, make sure you won't miss him.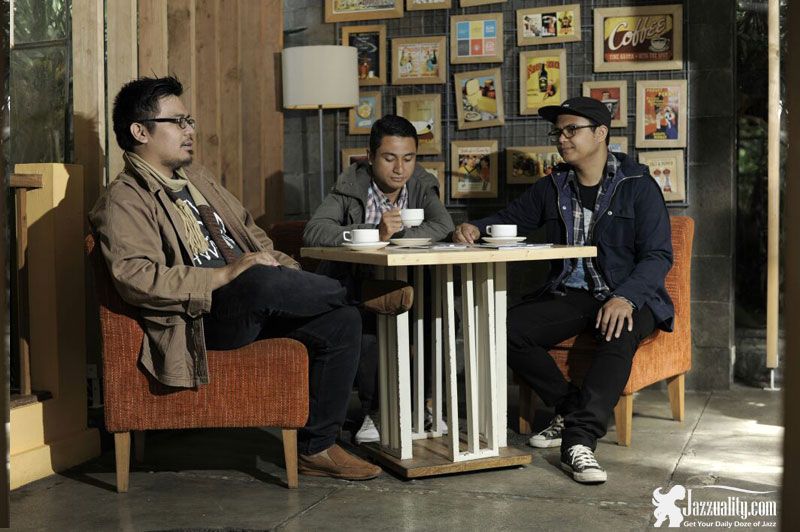 For the first time playing for us, we are proud to present you the Half Whole Project. This is a band which had its birth 7 years ago and grew on the Klab Jazz's soil. The project was established to answer their interest in jazz. At first they comprised of four personnels: Christ Stanley Khoewell Kainama (piano/keyboard/synthesizer), Gallang Perdhana Dalimunthe (bass: upright and electric), Edward Manurung (drums/percussions) and Kenneth Timotius Djaja (sax). For many years these highly talented boys have been labelled the best jazz quartet from Bandung by Klab Jazz. But later on they settled as a trio, minus Kenneth.
All the way until now they have been learning and playing jazz with various styles, digging and exploring the modern jazz and beyond. They have different musical background, that should make them eager to keep on trying new things. It wasn't easy for them to keep the pace, since they all busy in establishing their career in the national scale. While the trio exist together as a part of Danilla's band, they have their own schedule too. Stanley now plays for Barry and Benny Likumahuwa, Gallang also plays with Sarasvati, and Edward is a part of Lantun Orchestra and a lot of TV appearance. What's amazing is, with all those busy schedule, they managed to release an album more than a year ago titled "Yes, We Meet Again" containing 6 original songs and somehow still able to appear as Half Whole Project occassionally in events including this one. Their versatility, knowledge and outstanding skills make them so unique and powerful. Individually they are some of the best jazz musicians Bandung has ever produced in recent years, and as a band, the Half Whole Project can be a model of how a jazz band should be. we are proud to be able to present them for this 7th edition of Bumi Sangkuriang Jazz Night.
From time to time we see the emergence of new figure who we believe has all the potential to be a future big star. One of them is a young man named Fabian Winandi, better known as just Fabian. He is good in playing guitar, sing and also write and compose songs. He moves fast in pursuing his career by releasing his debut album more than a year ago produced by Ari 'Aru' Renaldi, the man behind many successful artists like Tulus and Yura who also helped arranging the tracks foun in the album.
Today he performed mostly solo. Yes he is alone, but that doesn't mean that he's quiet. Thanks to the Loop Station inovation, his music can be heard merrily as if he is with full band. The use of Loop Station fits him perfectly since he doesn't only sing but also a multi-instrumentalist who loves to make his own music. In the early minutes you will see him play loop layer by layer and recorded them directly on stage. Then when he starts performing, you will find out that the combination of each layer produces a jolly, eclectic appearance. Different than the previous singles like "Bisakah Kuhentikan Waktu" which got many airplays and entered charts over the radio stations plus got more than 350.000 views on Youtube, he recently relesed a new single titled "Sturara", a bossanova song made fully by using Loop Station. The single is now available on iTunes. Watch the official video clip of "Sturara" here:
Curious to check this young man out? If you are, do come and let's see his innovative performance and enjoy his jazz-oriented music.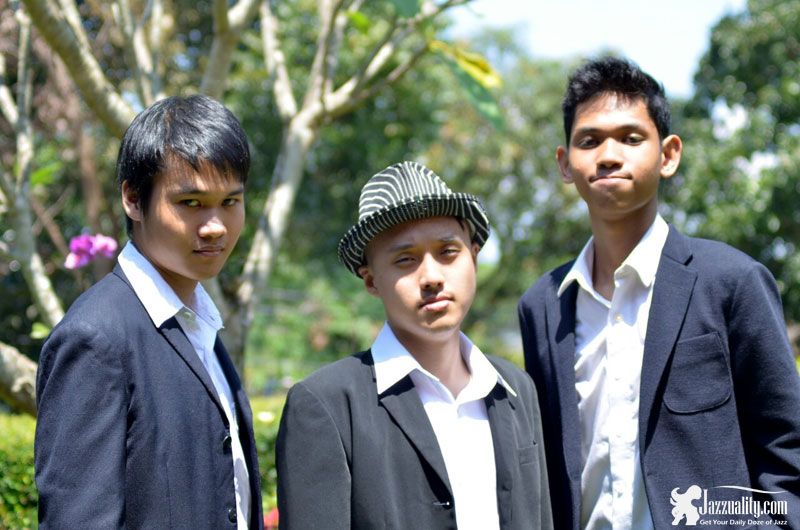 Set to perform with Andre Dinuth is New Equinox. This group is consistent with the format of three ever since it was born several years ago. The personnels have changed a couple of times, and sometimes it could become a collective unit. They mostly play jazz standards in quite complex arrangement made by Imam Pras, but from what we heard, they are currently finishing their debut album. The most recent personnels who are also working for the album are Alman Naufal (drum), Ezra Manuhutu (bass) and Indonesian pianist who resides in Singapore, Jason Limanjaya. They are all still young, often appear wild on stage, but they know the exact pace to do when they are serving a guest star, something that they have been doing constantly whenever needed since the first edition. It's time to check out the core formation of New Equinox.
Once again, this event is totally FREE of any charge. All you have to do is come and enjoy the live jazz performances from selected artists. The 7th edition of Bumi Sangkuriang Jazz Night will come soon on 8 September 2016 at the Concordia Hall of BP Bumi Sangkuriang. Andre Dinuth, Half Whole Project, Fabian and New Equinox will show you how rich the color of jazz really is. Mark your calendar and see you!
BUMI SANGKURIANG JAZZ NIGHT #7
Date: Thursday, 8 September 2016
Time: 07:00 pm – 09:30 pm
Location: BP Bumi Sangkuriang
Jl. Kiputih 12, Bandung
FREE EVENT! .
Supported by: Classoundsation, AB Production, Tiga Negeri, 106.7 Mara FM, Pikiran Rakyat, Ron88, Ultima Music Indonesia and Roemah Enak Enak