It's really great to see Bandung's jazz movement recently. There are many jazz community events appearing everywhere, featuring potential talents dominated by young guns. Other than that, we see more and more experienced musicians from Jakarta who happily take part in the movement. Jazzuality.com currently involves with two monthly jazz community events in two different locations per month, Braga Jazz Walk and Bumi Sangkuriang Jazz Night. On the surface it might look like a competition, but we never thought that way. We actually happy to see how things goes for jazz in Bandung today. We are also happy with the fact that all the organizers actually work in synergy. We support each other, help promoting each other and cooperate since we all share the same vision and mission. At the end of the day, it will give benefit to jazz movement in Bandung and Indonesia, including the regeneration of jazz musicians that we really, really have to think of.
We have been running Braga Jazz Walk for about a year and a half. This event is brought to the public by a harmonious collaboration between Jazzuality.com, venue Braga CityWalk and KPH Music who provides the instruments and some other equipments. This event comes every third Thursday of each month. Since we are getting closer to the third week of March, Braga Jazz Walk #21 is right around the corner. It's going to come on March 17, 2016, starting from 7:00 pm until the closing time of the mall. There will be four bands to perform and in the end we will open the stage for jam session. Either you just wish to watch or want to jam, we welcome you with open arms. The event is totally free.
Now let's get down to the business. As we are running community events, we rapidly cooperate with music schools which have jazz in their curriculum and of course, some music teachers as well. We have to give them credits for without them we will not have young talents with good skills. Speaking of which, in this edition we will feature performances of one music school located at the Southern part of Bandung and a band established by a senior guitar/bass teacher who have been teaching for many years.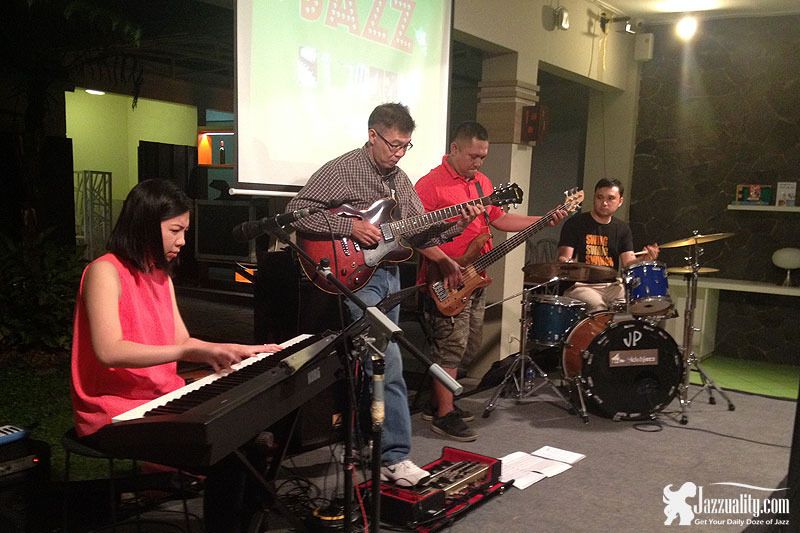 Let's talk about the music school first. The name of the school is Michelle Efferin Music Centre. This school was established in 2006 by Michelle Efferin just a year after she graduated from Australian Institute of Music majoring Contemporary Performance. This school is the first one who applies Encore Music Education curriculum in Indonesia. In 2010 M.E Music Centre was appointed to be the Official Representative of Encore Music Education for Indonesia, and the founder was chosen to be the official trainer for this institution.
What's cool about this music school is that they accept students from really early age, as early as 2 years old who can take Kinderbeat class. Other than that the school has some other classes like Piano (jazz, classical, modern and pop), drum, vocal, violin and guitar. Children from 4 year-old are welcome to join the class. This year the school celebrates its 10th anniversary. They are preparing junior class competition in May, June or July. They are also looking forward to make a concert on October for the 10th anniversary celebration.
For years we have seen how good they create smart children musicians who can already perform on stage along with the teachers, but they have never participated in our event just yet. We are happy to have them in for the very first time. The founder herself is going to play. The name of the band is Michelle Efferin & Friends featuring Jazz Teens Vocal Quartet. Michelle will bring her usual team, including her husband Richard Sirait (drums), Oggie Samuel (guitar) and Iwan (bass). Performing with them are the teenage students including Celline Indrawirawan, Lolita, Naomi Kumala, Patricia Angelica, Madeline Abigail, Sydney Gabrielle and Christopher Emmanuel. If you want to see how well children can do in jazz, you got to see them.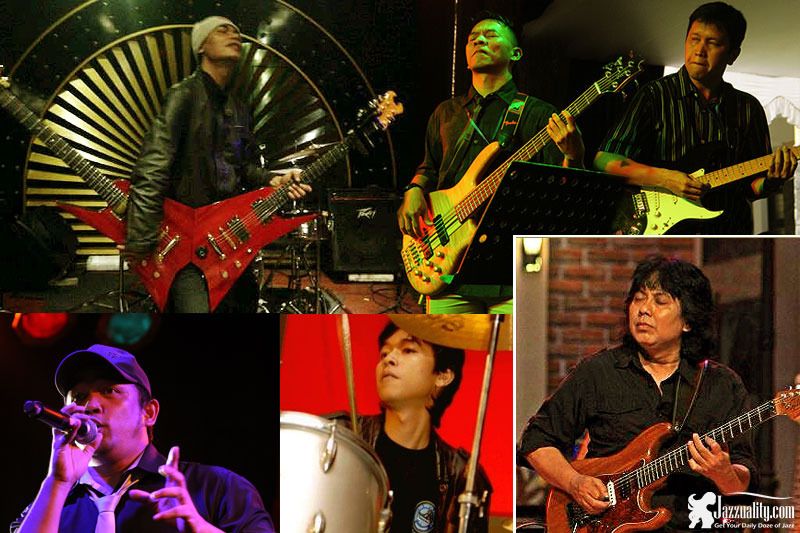 Now let's see the senior teacher we mentioned earlier. His name is Acep Bachtiar. He was the guitarist of legendary rock band from Bandung, Staccato. Other than teaching in StiMB, he also has private lessons at his home. He has created many successful guitarists that you can easily find in music festivals. There are many students of his have participated in our events too.
A couple of months ago some of his students decided to form a new jazz-rock (fusion) band. The name they chose is Boundless, describing the band's vision to explore music beyond limit. Three members of Out of 7 are found inside the band: Herman Yulianto (guitar), Abet Darmaji (bass) and Erick Gabe (vocal). Boundless has another guitar player, Joe Luthier. The drummer is John Daurux. Since most of the players are Acep's students, you can expect to taste his sharp, rich textured jazz rock signature. We have seen many of his students emerge as skillful fusion guitarists, it's time to check out some more of his students.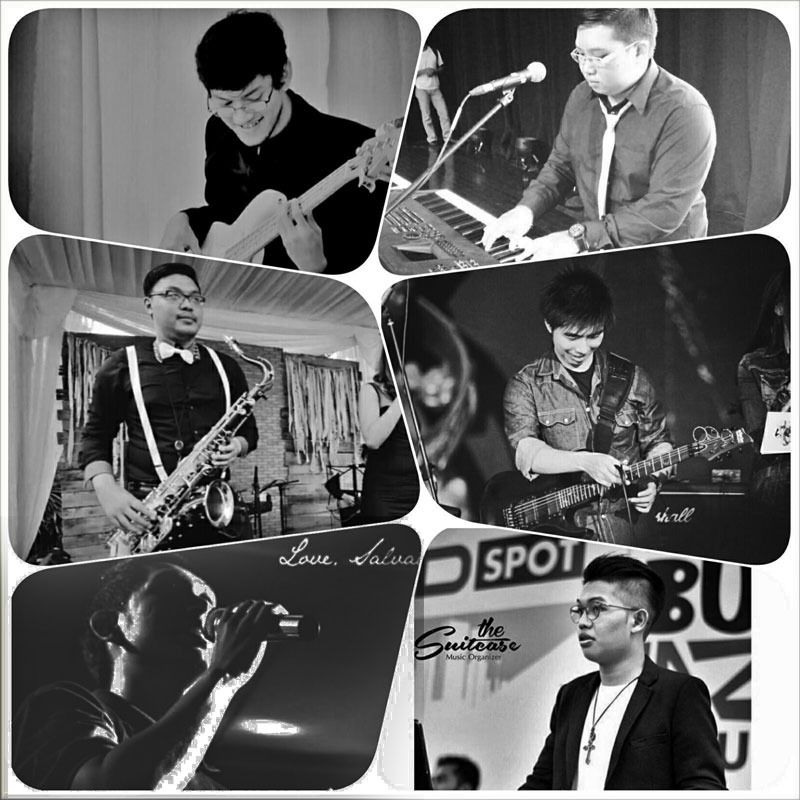 Next to mention is the tall, young man playing the seducing instrument, saxophone, Hendike Muzaki. We knew him since he was still a member of 5th Avenue. He already played several times in our event with different bands like Final Script and Lumiere. Noticing his ability to play good soulful smooth jazz tunes with his saxophone, we challenge him to establish his solo career too. He told us more than a year ago that he's working on his own project. A couple of months ago he informed us that the project is on, so here's our chance to see how the project turns out to be. The name is Hendike Muzaki Project.
In this project he brings some of his closest friends. The guitarist of 5th Avenue Chris Alfeus is with him. Then lethal jazz pianist Klency Lembono is also in. We have seen some homemade video of Hendike and Klency practicing together posted in Facebook, they do sound cool. Also starring Etudiant's Ilham Septia Inda Nugraha on bass, Eggy on drums, Bhisma on keys and featuring Palandi on vocal. Knowing that this is the project of a saxophonist, we are curious to see how the saxman would share the front line with keyboard and guitar. Soulful smooth jazz is to be expected from them.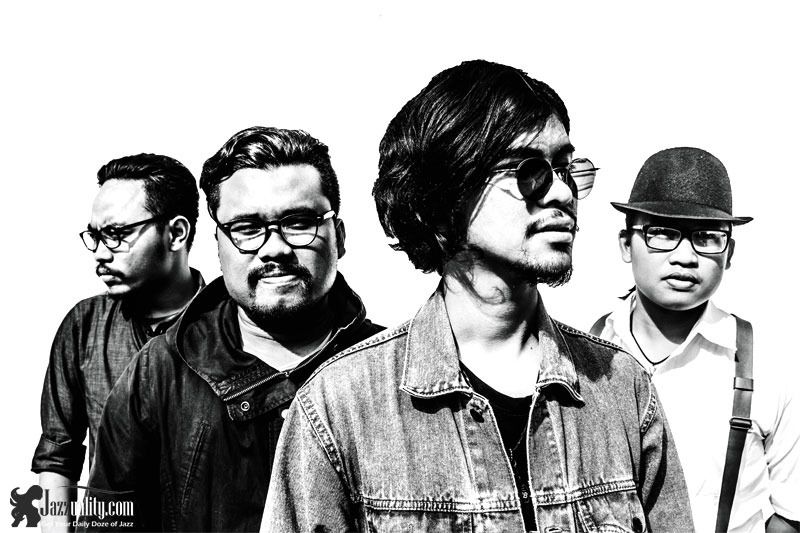 Last but not least, we welcome a band with unique name that sounds like a jazz standard, Green Dolphin Street. Their music was first inspired by blues and jazz, but then grew with more colors from rock n roll, funk and soul. This band was born in December 2011 and now comprises of 4 personnels: Antoni Sidjabat (vocal), Yosia Herdian Widianto (drums), David Alexander Manullang (guitar) and Okapatria Christie Adryan (bass),
What's also unique from them is wide array of influences found in this band, brought by each personnel ranging from Kurt Cobain, Michael Jackson, Mike Portnoy, John Mayer, The Beatles, POD, Buddy Guy, Nirvana, Sting, Flea, and Rocco Prestia. This enables them to step on different music events and festivals, from rock, blues, jazz and everything else in between.
Last Christmas in 2015 they launched a special Christmas EP titled "Blues Christmas" with the spirit of charity. 30% from the selling was donated to Salomo Foundation in Semarang. Now, they are ready to launch a new EP titled "Extended Play". Edgy, funky rockin' blues with some 'Nirvanattitude' is how we think of their music in general. We haven't featured blues for quite some times, so here, the Green Dolphin Street will bring it on. Time to get funked!
We will open jam session for the rest of the time until the closing hour of the mall. Whoever you are, whatever your instrument is and whatever your musical background is, you are totally welcome to taste our humble stage. Other than drums and piano, just bring your gear and jump right in.
Mark the date and join us. Plenty of musicians, the product of music school and senior music teacher, an edgy, rebelious funky blues, jazz-rock fusion and soulful smooth jazz will be yours. It's totally free as always. Alright, see you there.
Braga Jazz Walk #21
Date: Thursday, March 17, 2016
Time: 07:00 – 10:00 pm
Location: Braga CityWalk
Jl. Braga 99 – 101, Bandung
FREE EVENT!
FEATURING:
:: MICHELLE EFFERIN & FRIENDS::
Michelle Efferin (piano)
Richard Sirait (drums)
Oggie Samuel (guitar)
Iwan (bass)
:: JAZZ TEENS VOCAL QUARTET ::
Celline Indrawirawan
Lolita
Naomi Kumala
Patricia Angelica
Madeline Abigail
Sydney Gabrielle
Christopher Emmanuel
:: BOUNDLESS ::
Herman Yulianto and Joe Luthier (guitar)
Abet Darmaji (bass)
Erick Gabe (vocal)
John Daurux (drums)
:: HENDIKE MUZAKI PROJECT ::
Hendike Muzaki (saxophone)
Chris Alfeus (guitar)
Klency Lembono (piano)
Ilham Septia Inda Nugraha (bass)
Eggy (drums)Bhisma (piano)
Palandi (vocal)
:: GREEN DOLPHIN STREET ::
Antoni Sidjabat (vocal)
Yosia Herdian Widianto (drums)
David Alexander Manullang (guitar)
Okapatria Christie Adryan (bass)