Last month we dedicated the edition of Braga Jazz Night to celebrate Indonesia's Independence Day by presenting the diverse, colorful but united, wonderful Indonesia. We selected three bands that we think could represent it the best way, from the upper west to the lower east parts of Indonesia. Jazz, with its openness and freedom nature, is always more than happy to welcome the local music to blend within, creating a whole different level of listening experience (read the coverage here:http://jazzuality.com/jazz-event-report/braga-jazz-night-62-jazz-indonesia-special-ethnic-edition-the-report/).
Now we are back in business. For the Braga Jazz Night #63 there are three acts to see: a duo, a quartet and a sextet to be more exact. The duo are ready to defying the odds by showing that appearing with less people doesn't mean that they are less to enjoy. In fact, they offer a lot of surprises through the combination of their talents. One will explore the music wide, as wide as the sky to go fly through. The quartet, well, just by looking at the personnels and the reason to create this group, this one will unleash madness. And the sextet is going to move its leader's graduation recital to this event.
This 63rd edition is coming soon on Thursday, 19 September 2019, taking place at the regular ground zero right at the entrance of Braga CityWalk, starting from 7:00 pm onwards. In case you still don't know, this event is always FREE and open for public.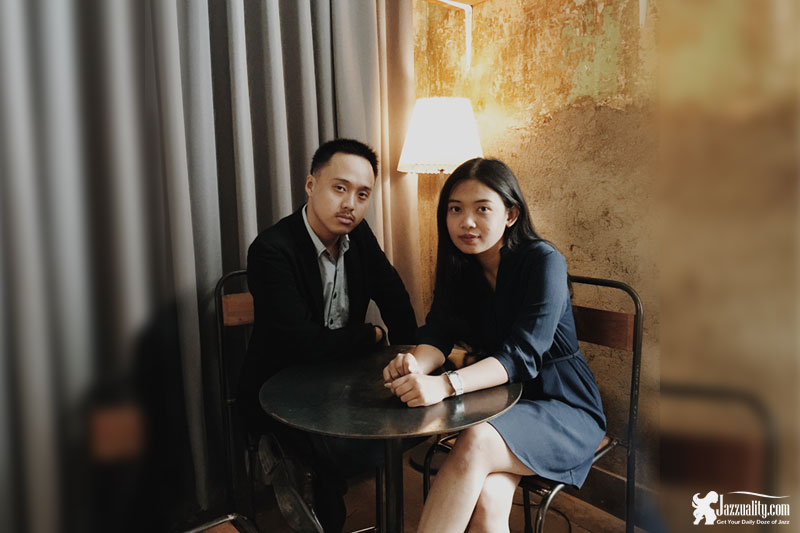 The duo we are talking about is making a lot of waves recently, which is amazing – considering the duo was established just some months ago in April 2019. We are proud to welcome them to this event. They are Vidya Pinandhita (vocal,piano) and Jason Limanjaya (piano and sequencer). Together, they are RASAKARSA.
Breathing through different music scheme, Jason and Vidya aka Rasakarsa "tells" their "stories" through harmonious melodies and song writing. Song writing? Yes. It's indeed, or should be taken as one of their forte. Vidya has won some song writing competition. As for Jason, this genius young man has let us hear his 'out of the box' compositions which are mostly taken from strange or unusual topic, mostly crafted along with traditional Javanese music, something we take as his signature. Jason is one of a few young musicians from Bandung who have gone international. He has tasted many prestigious jazz festivals not only in Indonesia but also abroad with the bands he's in like The New Equinox, New Blood, Agis Kania among others. Speaking of a duo, this is not his first because he has tried it with Nayra Dharma, Jesy Dewinda and most recently wowed us twice with his genius works alongside Otto Stupartiz, showing us that jazz can shine differently using pentatonic scale or gamelan sound.
Rasakarsa has appeared in Songwriter's Night at Nimna Book Cafe, Bandung and Where Friendship Matters at Ruang Putih, Bandung. Just a while ago they were having a blast performing at the prestigious Motion Blue, Jakarta. Before they go further, we got the chance to bring them in to this event. FYI, Rasakarsa has recorded some original songs and is preparing their single carrier at present time.
Heartfelt, emotional story telling through music is to be expected. This is the kind of duo who never stick in any particular genre. They can go any which direction they want to, which for us will become the element of surprise. Even if you have seen them, you will still get something new. A brilliant, expressive young key wiz possessed with jazz with pentatonic scale streaming in his blood veins and a young lady with beautiful voice who screams her heart melodiously, anyone? If what we share here interest you, Rasakarsa is not to be missed.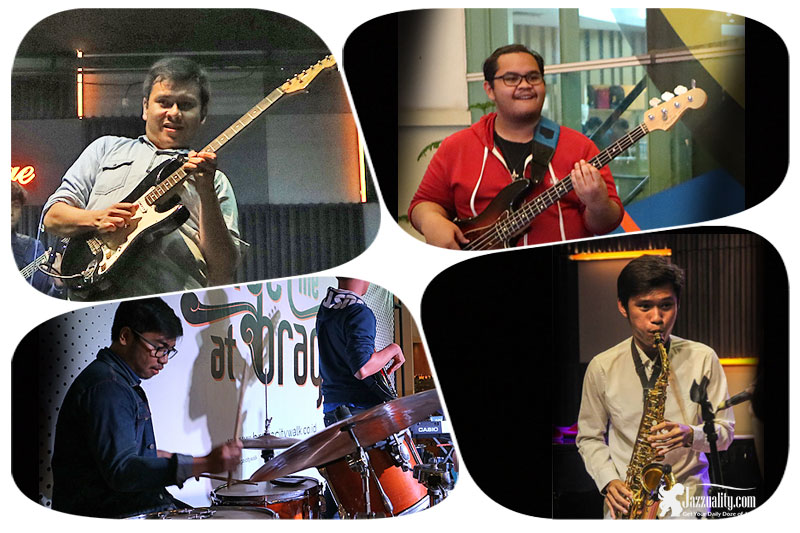 Now let's talk about one of the best jazz talents today from the younger generation, Anjuan Julio. This lethal jazz guitarist always knows that he can always rely on music to speak his feelings. As lately he is struggling of being a full time musician and in the middle of soul searching, he needs a media to share his story. So he made a project. It's called ANJUAN JULIO FREEDOM QUARTET.
"I am feeling anxious.. I have doubts. Tell you the truth, it's not easy to be a musician. But instead of giving up, I choose to let myself free. I'm going to do that with this band." he told us.
For that, he tells us that he has to stepping out of his comfort zone. For that he needs some powerful tone which brings him to choose free funk rock, something he's really good at. He is thinking of pouring his heart through such compositions made by Herbie Hancock, Miles Davis or Mike Stern. Mike Stern Quartet, that's the one who inspired him the most.
In this quartet he brings in some of his close, solid and loyal friends. Other than Anjuan Julio himself (guitar), there are Kevin 'KJ' Jonathan (bass), Gafie Garcia (saxophone) and Shallom Tangki (drum). None of them are stranger to us, so we know how strong this quartet is. We always want to see mad bands that are never stop unleashing madness, bands that love to jump out the borders, those who have strong killing punch. The word 'freedom' promises an unpredictable twists and turns, high octane action through free-flowing improvisations. Can't wait to have them funked us out.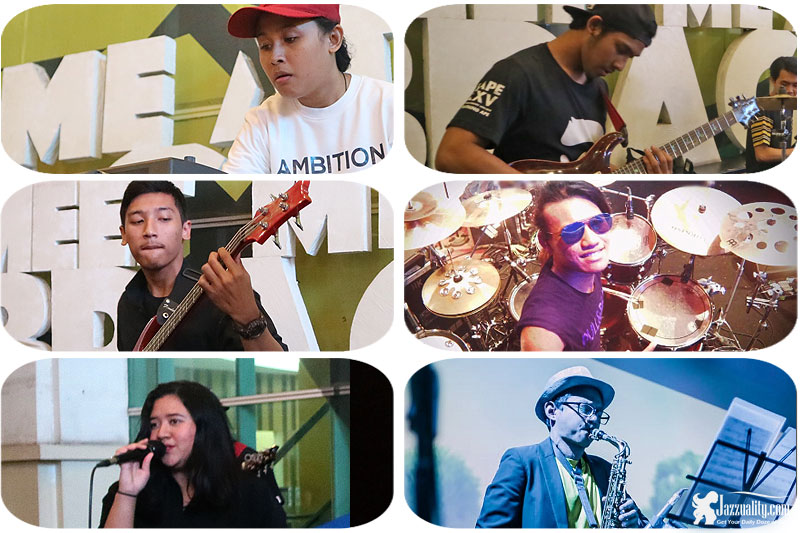 Just two editions ago we introduced a high potential young female keyboardist we spotted among the bands that she was supporting in some previous editions. There she performed with her own band and gave one merciless show. She proved us right, that this girl has so many 'hidden' talents, more than just a great keyboardist. Just a couple of weeks ago she's just done with her graduation recital that got a very good result. We are going to bring that recital out from her campus hall to this event, in a hope that the public could see how good it was, more than just family and friends. She is Sheira, and her band is called PLAN B PROJECT.
We knew her actually not that long ago, but it doesn't take long to spot all the great things she possesses. Sheira came from Palembang, the capital of South Sumatra. She formed a group with her sibling called Plan B back then and managed to bring it to success. The band had its golden moment by being popular in Palembang, but the band got to be paused when Sheira decided to continue her formal study at the STiMB in Bandung.
In Bandung she learns so much. Jazz rock fusion is what she's interested in, and she really shines in it. When we gave her a shot as a band leader, she didn't dissapoint us. Wicked play using keyboard and synthesizer, a lot of clean-cut tuttis and surprising rearrangements along with fired-up performance created ear and eye catchy show. We know we just have to invite her again to see more, especially since at that time she was still preparing for her recital.
So now in her second shot she's agreed to bring all the glory from her graduation recital to this edition. For the recital she played her own composition and her interpretation of Sherina's song. She's going to bring both of those, plus some with vocal for those who prefer bands with singer rather than just instrumentals. She is coming with the exact team from the recital, plus a vocalist. The lineup are Sheira (keyboard), Jordan Nathanael Yuristiawan (drum), Arya (bass), Arbiyasa Witha Pramara Adhi (guitar) and Valent Angeline Gumolung (vocal), plus a saxophonist that's failed to join before, Yanuarius Raditya P Verstegen.
A recital is a milestone in music students' journey since they must have put all their energy, ability, skill, idea and everything they have. Therefore we think it's going to be great to bring that to be available to public, letting them know that there's a young lady that can flip them upside down when she starts rocking the jazz. A great team is right beside her, ready to shake things up and assist her on doing the manouvers. If you like stage action and fun packed fusion, make sure to be here.
The Braga Jazz Night #63 is coming next week on Thursday, 19 September 2019 starting from 7:00 pm onwards, taking place at the entrance/lobby of Braga CityWalk. A duo with wide musical explorations, an outside the comfort zone quartet and wicked jazz rock fusion band are up for grab. Do come and enjoy this event. By doing that, you are supporting the bands and tour mission in socializing the colorful jazz world as well.
BRAGA JAZZ NIGHT #63
Date: Thursday, 19 September 2019
Time: 07:00 pm – 10:00 pm
Location: Braga CityWalk, Jl. Braga 99-101 , Bandung
FREE EVENT!
FEATURING:
:: RASAKARSA ::
Vidya Pinandhita (vocal, piano)
Jason Limanjaya (piano, sequencer)
:: PLAN B PROJECT :: – Recital Concert –
Sheira (keyboard)
Jordan Nathanael Yuristiawan (drum)
Arya (bass)
Arbiyasa Witha Pramara Adhi (guitar)
Valent Angeline Gumolung (vocal)
Yanuarius Raditya P Verstegen (saxophone)
:: ANJUAN JULIO FREEDOM QUARTET ::
Anjuan Julio (guitar)
Kevin Jonathan (bass)
Gafie Garcia (saxophone)
Shallom Tangki (drum)