Indonesia celebrates its Independence Day on August 17. Although the nation declared it 74 years ago, we still have lots of homeworks to deal with. One of the biggest task right now is uniting the people that was shattered pretty bad during the presidential election a couple of months ago. Stitching all the wounds won't be a one night job, but we are sure we'll be able to do it if we realize who we are and what we've been built upon by our foundingfathers back then.
Indonesia is famous for being united in diversity. There are tens of hundreds of different tribes that has their own cultures. When we talk about cultures, the variety of arts are included in it. And music is one of them. Yes, we have so many traditional musics, which interestingly still so many to be discovered and exposed.
Jazz is an open-minded form of music that's always welcome, or even absorb the local music wherever it's landed. How fascinating it is to see how jazz progressing in Indonesia, where there are endless ethnic musics living in it. And think of how many possibilities of music to be created from fusing jazz with each of this beautiful ancient musics.
We believe bringing the richness of our ethnic music will remind us of how wonderful it is to be Indonesian. We believe this will open up our mind of the diversity should never break us apart but instead making us tighter as one nation in harmony. We believe this. Therefore, as we wish to contribute towards the better Indonesia by celebrating this year's Independence Day by presenting the BRAGA JAZZ NIGHT #62 : JAZZ INDONESIA – A Special Ethnic Edition.
Unlike usual, this time we have something very special unlike anything before. By having ethnic as the theme, we don't just bring the ethnic fusion jazz from where we are, but we are lucky to be able to expand our horizon from coast to coast, meaning we are going to bring a band representing the upper north and lower south of the archipelago. Just three bands, but we hope they can represent the different sound of ethnic musics found in Indonesia inside the jazz frame.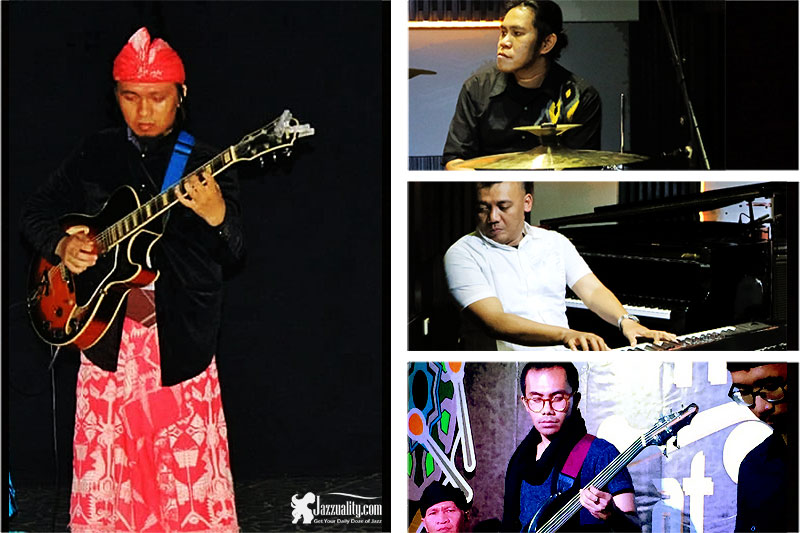 First thing's first. Have you ever heard the traditional music of the island of Lombok? For our overseas readers, Lombok is an island situated in the Nusa Tenggara province next to Bali. The island is famous for being one of the favorite spots for tourism, especially to those who want to enjoy anything on the beach. But when talking about its traditional music, it's still a mystery for most of us. Some may still take it as sacred, therefore it doesn't appear on the entertainment scene. Or maybe there are other reasons, we don't now. Once we thought it was something yet to discover, finally somebody we know who's gifted with talent is going to bring it for the very first time on our stage, right here in this event. It's the proud native Lombok son, previously known as a high skilled jazz guitarist. He is Adya Amru with his project called ADYA AMRU "BOYAQ BASE" (Language Searching).
Amru is our long time friend that has involved in our events for many years. We knew him for the first time as the guitarist of Chakraborty. For years he wowed us with his swingin' style, which is no wonder since he's one of the few students who finished the intermediate guitar course at the VMS directly from the founder, Mr. Venche Manuhutu himself. He was great in doing pure jazz, but then he surprised us when he told us around the end of 2017 that he's moving back to his motherland, and that's for a reason that surprised us even more. He went there for a mission: to explore and learn the traditional music and then introduce it to the world. And he's doing it by utilizing everything he's learned in jazz.
It wasn't easy for him to do so, even as a native. His idea wasn't accepted at first, but he kept on going from one traditional music studio to another, blending in and learning what they are doing. There are many kinds of traditional music of the Sasak tribe, from the old to new, that has to go against rejection from the chieftains. The first thing he learned is the root. Basically, the traditional music is rooted from other regions such as Java, Bali and Bugis, also from the Middle East, South India (Bangladesh) and the Turk Usmani from centuries ago. There are Gendang Beleq, Musik Cilokaq, Musik Kebangru'an, Tawaq Tawaq, Musik Tarian Rudat, Musik Tarian Sireh, Gamelan Sasak, Gamelan Wayang Sasak, the still-in-controversy Kecimol, just to mention a few.
Speaking of the music type, the scale holds a major role just like how the music from the other part of the world is. Amru told us that because of the influence from Java and Bali, the dominance of Pelog and Slendro is still thick. Pentatonic scale is found among the society. Other than that, the influence from the Middle Eastern music is also felt, such as minor harmonic. "What's interesting, and important to mention is that the 'sharpness' of the tone here is not as exact as the western music that has the agreement for A musical note with the 440 Hz frequency, using the pattern from math logarhythm. As we all know, chromatic scale represents all notes in modern music with all the note from A to G." Amru explained. "In Middle Eastern music, Kamal Musallam once told that there's one tune that he called representing Arabian music, which lead the Ibanez to make a special guitar with such frets that enables him to have 13 tones. The same goes to Sasak music. There are tones that can't be played by modern instruments no matter how hard you try to tune it, which makes me come to a conclusion that there are tones outside the chromatic scales that are existed in Sasak's traditional music." he furthermore said.
During his 3 years of digging, he already has two official groups to collaborate and experiment with: the Gendang Beleq and Cilokaq (Middle Lombok). Gendang Beleq is officially taken as the true identity of Sasak and registered in the government as the music from Nusa Tenggara Barat. Gendang Beleq (Big Drum) is played by at least 12 players up to 30, using instruments such as the gendang itself, reong, rincik, petuk, gong, kenceng and bamboo flute. In the old days, this music is played to send the soldiers to war. As for Cilokaq, it came from pantun (poetic form) accompanied by Penting, a kind of Gambus guitar). This music has developed rapidly in the Eastern part of Lombok by the musicians from Sakra distric.
That's the brief story about the traditional music of Lombok. After learning the character and types of the music from Lombok Island, Amru now makes some original songs that represent the Sasak music with his own style. And he's more than ready to introduce them for the first time to us in this edition. Joining him in the band are the crazy gang from West Java Syndicate and Gita Bawana family: Zahar Mustilaq (drum), Yopi D Nafis (keyboard) and Luqman Hertanto (bass). Speaking of Boyaq Base which means Language Searching, he uses this name to show that for him music is indeed a language, a universal language that can unite people around the world. Searching this traditional 'language' from his own mainland is what he's been doing for the past 3 years. He's not finished, but we can already listen to the progress he's made so far.
We really appreciate him discussing many things during the process by phone or when he visited Bandung, now we are honored to have him introduce the traditional Lombok music in fuse with jazz. As what he's doing is on-going, we hope to be able to have more updates in the future. For now, we are really proud to have this in our yard.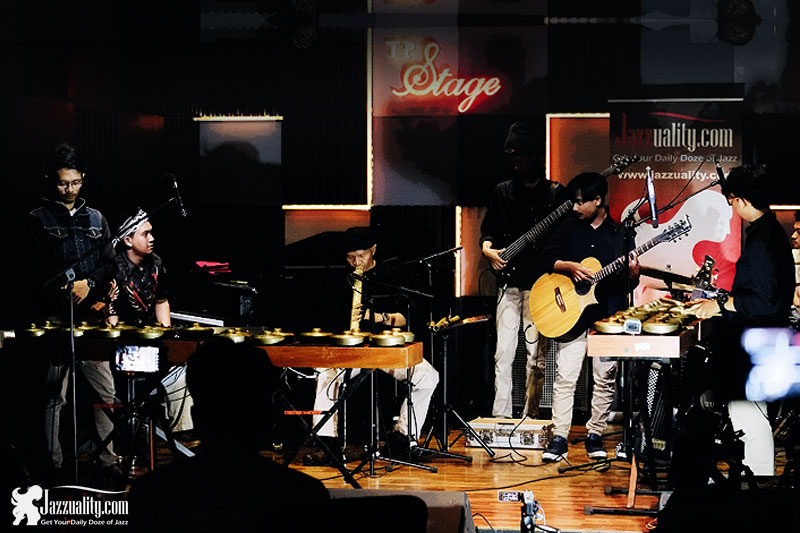 Have you ever imagined how would jazz would do under the diatonic circumstances? While pentatonic might not be surprising to you due to its harmonious blend with jazz for ages through many great bands, jazz on diatonic scale is still rare to find. Rare, yet not impossible.
The traditional music of Minangkabau, West Java has been built upon diatonic for centuries. The music from this particular area has a specific rhythm and melodies that's easy to distinguish when you hear it. It's captivating and dynamic, it could be energetic and uplifting but also smooth in terms of romantic or sad. They also have some original, ancient traditionl instruments that are found nowhere else. Sure, the Minangkabau music is familiar, but finding it in the jazz world is another story. It's ultra rare, until we finally found a band that knows how to cook jazz in diatonic pattern, keeping all the typical Minang music elements authentically but embedding jazz into their sounds. And the result is surprisingly great. It's PALANTA LINE ART.
The Palanta Line Art was established in July 2012 by traditional Minangkabau woodwinds virtuoso Maspon Herizal. The band has been fulfilling the needs of every wedding who needs traditional West Sumatra ceremonies in West Java since then. They do great in it, no doubt. But the band actually has the passion to explore wide and try new stuffs. The band has the ability to stretch their boundaries to jazz and beyond, amazingly without losing their grip on the traditional Minangkabau music at all. Their freedom of exploring extra miles of course naturally makes jazz a perfect habitat for them to live in.
The band has recently redressed with new formation with more instruments involved. This time Maspon brought in many talents to play the side of music that is not easy. Other than Maspon Herizal (traditional woodwinds), there are Arts Fiaris (guitar), Yopi D Nafis (keys), Kiki Septian and Gempur (talempong), Edy (bass), Frahma (violin) and Zahar Mustilaq (drum). They are ready to bring the contemporary style of traditional music by fusing the Minang music and jazz.
Instrument-wise speaking, they combine Western, modern instruments that we often find in jazz and other American music with traditional ones. That's including saluang, sarunai (bamboo flutes), talempong (a set of small kettle gong) and tanduak, a small flute made from horn bull creates such mystical vibes in no time.
It's always fascinating looking at how they tune the diatonic talempong instrument to be chromatic, or to find how traditional and ancient woodwinds work in progressive fusion. Realize it or not, they have created much wider soundscapes that's valuable to our music and even jazz in general. It's innovative and smart. Speaking of authenticity and uniqueness, the importance of preserving the traditional music as a part of our rich culture and the regeneration of musicians, the Palanta Line Art has a big role in all of those subjects. Palanta Line Art plays like none other, has a very unique concept and highly entertaining. We are delighted we can (re)introduce the beauty of distinctive Minangkabau music sound and show how jazz can accomodate the multi-dimensional exploration these musicians are into. Simply magnificent music form. Traditionally authentic, yet progressive and boldly provoking today's music trend.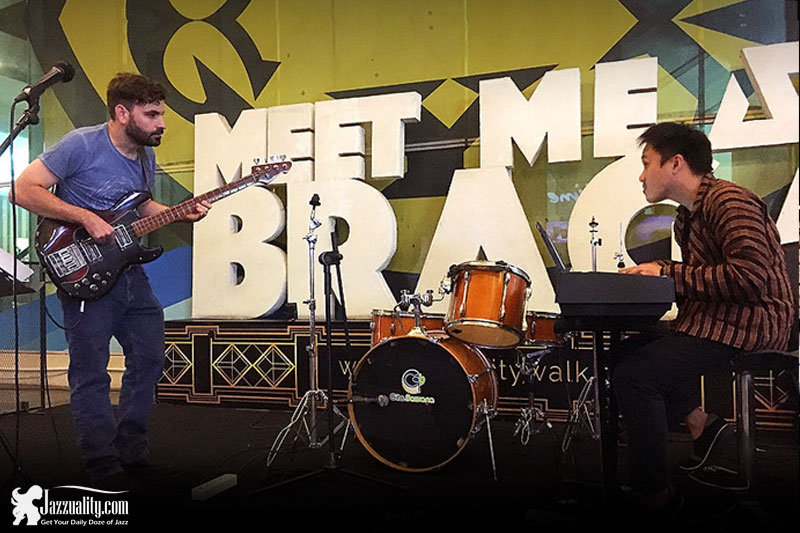 Now, let's imagine something different. Imagine if jazz and blues wasn't originated in New Orleans but somewhere in the island of Java. Have you ever wondered how the sound would be? We imagine the chords and notes progressing not in the way we usually hear, but built upon the pelog scale. Is it possible? Well, to be honest, we had that idea but we didn't dare to dream. Until then came a two-men band against all odds, make it possible. It's a mad, mad collaboration between key-genius Jason Limanjaya and academic/musician from America that might have been possessed by the ancient spirit of Javanese/Balinese music, Otto Stuparitz. The duo is called as simple as JASON & OTTO.
Jason came 'alive' in our jazz circuit around 3 years ago, when he came back for holiday from Singapore, where he took his formal study. His virtuosity in jazz quickly placed him in the fast lane, going up. From New Equinox to pairing with Nayra Dharma, to establishing his own trio and then The New Blood which brought him abroad. Other than that, he's done a couple of projects and duos, currently with Vidya in Rasakarsa (we are going to feature this duo in the next edition). His fingers work magic. You won't be able to guess his progressions over the keys. He's boombastic while performing, which makes him catchy to watch. He's been showing passion in digging the pentatonic scales and rhythm, which finally reached the peak when he met Otto.
As for Otto, well, we already mentioned that he's academic, surprisingly in the gamelan music. He graduated from the Ethnomusicology at the University of California with a paper exploring "Balinese Gamelan Pedagogies, Value and Time: The Co-Existence of Punctuated Time and Capitalism." It was while ago, yet this man never stop exploring all the spirit, essence and everything inside it, in details. That makes him not just understanding the way gamelan or traditional Javanese and Balinese music works, but he's living it. Oh yeah, we almost forget to tell you that he's a bassist and also digging music from the historical side. You'll be surprised to know how much he's into Indonesian music history including jazz. He masters bahasa both speaking and writing. If you want to have more details on Otto's profile, you can see it here http://jazzuality.com/jazz-events/braga-jazz-night-61/ .
Jason and Otto has performed in the previous 61st edition. At that time they wowed us by offering a new sound based on the seamless blending between jazz and Javanese/Balinese traditional music. Technically speaking, they go jazzing and bluesing in full pelog, making their music sound as if jazz was originated right here instead of USA, much, much earlier. What's amazing is that they execute each song with juicy, free-flowing improvisation. They go side by side as one, at the other time provoking each other, giving life to a new music form unlike anything we ever heard before.
Otto will soon leave Indonesia for good, as he's going to finish everything needed for his Ph.D some times around November. Therefore we have to empty some room for them as much as possible before that. After the first unforgettable appearance, we can't wait to see their second act. Jason & Otto : Chapter 2 is ready to blow your mind again. Make sure you won't miss this multi-dimensional duo before it's too late.
The Braga Jazz Night #62 : Jazz Indonesia – Special Ethnic Edition is coming soon on 22 August 2019, taking place at the entrance of Braga CityWalk, starting from 7:00 pm to 10:00 pm. It's totally FREE and open for public. This year we are going to celebrate the Independence Day of Indonesia unlike before, that is by showcasing the wonderful Indonesia in terms of the traditional music in harmony with jazz. Do come, we'd be happy to celebrate the 74th anniversary of our nation with you.
BRAGA JAZZ NIGHT #62: JAZZ INDONESIA – SPECIAL ETHNIC EDITION
Date: Thursday, 22 August 2019
Time: 07:00 pm – 10:00 pm
Location: Braga CityWalk , Jl Braga 99-101 Bandung
FREE EVENT!
FEATURING:
:: ADYA AMRU "BOYAQ BASE" :: (LOMBOK)
Adya Amru (guitar)
Zahar Mustilaq (drum)
Yopi D Nafis (keys)
Luqman Hertanto (bass)
:: PALANTA LINE ART :: (MINANGKABAU)
Maspon Herizal (traditional woodwinds)
Arts Fiaris (guitar)
Zahar Mustilaq (drum)
Yopi D Nafis (keys)
Kiki Septian and Gempur Sentosa (talempong)
Edy (bass)
Frahma (violin)