Happy to inform you guys that the Braga Jazz Night will still be on during the fasting month. Just like last year, we sync the Ramadhan edition with the venue and partner Braga CityWalk's special events and activities during the holy month of Ramadhan. Since this is a special edition for a special occasion, we decided to make it more than just a celebration. we want to keep giving our support to the movement made by the artists within our range, especially when they are making what we take as a breakthrough.
This Braga Jazz Night #36 is built upon that idea. There will be unique collaboration which connects two different traditional music from two different cultures of Indonesia, and proudly we will have an official single launching from a superb soul diva who for us just made a big return. To complete this episode, we invite a loving couple to share their love from the stage, jazz way. Since there are many subjects to highlight, we decided to have just three sessions.
We will tell more about each session, but first let us remind you that this edition will run much earlier than normal time. The Braga Jazz Night #36 will start at 3:00 pm (15:00 Western Indonesian Time) on 15 June 2017 at our regular spot, right at the entrance of Braga CityWalk. By moving the event earlier, we hope we can share the joy with mall-goers, our loyal audience and community members while they are waiting to open their fast. Also, so we won't disturb the time to do the special Taraweeh prayer at night. As always, the event is FREE of charge and open for public.
First, let's talk about the first-ever official single launching on this event that marks a huge come back of a fantastic soul singer after staying low for around a year. She is Agis Kania. Born as Agis Kania Kusumadewi, this mixed Sundanese, Chinese and India girl grew up in a musical family and has been showing her talent by winning many singing competition since kindergarten school. When she was in high school, she made a pop Sundanese single about her hometown Sukabumi which became the icon of the city.
During her college year at Universitas Pendidikan Indonesia (UPI), she learned classical vocal for 4 year. Outside the formal study, she learnt variety of genres from Soul/RnB with Brown Sugar, T-Five also digging Keroncong, Blues and Jazz. In 2008 along with some friends she established an indie acoustic trio named Fusiocoustic with 3 singles. A year later she was involved in keroncong project PHK (Pemuda Harapan Keroncong) which made her frequently on air on the national radio station, RRI. She was also a featured singer in Ryan Valentinus' song, "Aku-Kamu". The story continues on with her activity in a RnB vocal group A+ under Cats Records/Disc Tara resulting one album.
She is active in blues community. Other than being a featured vocalist for Trias Acoustica and Blues Libre, she has been appearing often in its events including Ruang Putih (Monday Blues), BBS (Bandung Blues Society), Blues In the Art, Antara and so on. Speaking of Blues Libre, she still serves as an additional vocalist for the group until now.
Her curiousity of digging jazz which has actually been going on since her childhood especially from her mother, also a singer who introduced her to jazz, pushed her to learn this genre all by herself. In Bandung, she got deeper with jazz through the late legendary singer Tula Samjoen since 2006. Klab Jazz's founder, Dwi Cahya Yuniman heard her strong vocal character then frequently featured her in his events. She soon joined the gypsy swing guitar duo Satura and reached the peak at the special Duo Tone event. For this event, Dwi Cahya Yuniman suggested Agis to make a duo with fingerstyle guitarist Opik Bape. The duo is called Agis Bape.
This duo proved to work nicely. Soon after they were found gracing many events in Bandung, Jakarta and beyond. Other than our events (including this one), the duo has landed on many stages, from Jazz Ohle, TP Jazz, Jazz Spot, Kampoeng Jazz, Jazz Street, ClassSoundsation, Jazz Black Spot Sudden Jazz, Nu Art Event, Konser Buluh Perindu (Selasar Soenaryo), Konser Ammy Violin (at Institute Francaise Indonesia) to regular programme on Inews TV. She served as the backing vocal of Dira Sugandi at Soulnation and Indra Lesmana's Red White Lounge. Agis Bape has released 3 singles, including the remix version of "You're The One" (Fusiocoustic) and "Embun Pagi" (Duo and Combo version). This duo was solid and productive, but in 2016 they shocked many people by disbanding the duo. We didn't hear much from her since then.
Just a while ago we heard that she made a big comeback. Not only she re-emerged on the surface, she announces that her first single is on the way. We quickly engaged in discussion, and set this event as the official launching of her single, "Baby You". We know she is a superb singer who can do jazz effortlessly, great in blues and other genres – both traditional and modern – but her strong soulful vocal character should give her opportunity to stand among the best in the world. This song was made in Neo Soul style with splashes of EDM which she says actually represents her true-self.
"Baby You" a song that we think could become a hit as it's up to date (current) and also timeless, in the same spirit of Neo Soul artists like Lalah Hathaway, Jill Scott, India Arie, Esperanza Spalding, Alicia Keys and the likes. She is ready with the video clip too, set to launch really soon. From her we heard that the process of having this single was a real smooth sailing, which make us believe that this is her moment to shine as a blessing from Above. While she was the one who wrote the lyrics, the melody and arrangement were made by Tabriz Muhajier 'Ajier' Effendy of T-Five. She will be accompanied by a drummer and a bassist who wish not to be mentioned.
What a coincidence that her single release date fits exactly the date of this event. So, for the first time we will have an official single launching on our stage. Considering this is a big comeback that will become an important milestone of Agis' journey and also knowing how good the single is, we are proud to have her launch the single right here. More than we are happy she's back, we are excited to see the promising new dawn for her that will contribute to the jazz and soul development in Bandung. Let's congratulate, support and share happiness with her by coming to her official single launching gig.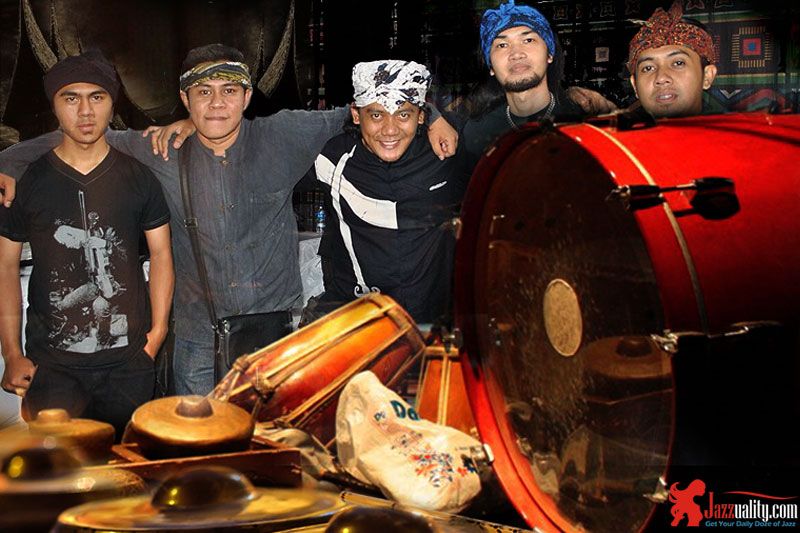 Next on the headlines is the special music collaboration that involves two different cultures found in Indonesia. This unique project features the great, bold cross- Sundanese (West Java) ethno jazz ensemble, West Java Syndicate (Zahar Mustilaq – drum, YD Nafis – piano, Dede SP – bass, IpinZbet – kendang; the traditional double-headed drum) and two musicians who master West Sumatra traditional music : Maspon Herizal and Sandy Ndung. This joint project is simply called WEST JAVA SYNDICATE COLLABORATION.
First, let's take a brief look at the badass gang, West Java Syndicate. It was born 7 years ago as a brainchild of Zahar the drummer. What they had in the concept was a seamless and borderless exploration of music, living and breathing inside jazz, blues, rock and traditional Sundanese music. Not only the sound, they also use the combination of modern instruments with traditional ones including tarompet (Sundanese trumpet), karinding (traditional instrument made of bamboo and midribs of palm trees), bamboo flute and kendang. The debut album (EP) was released in 2013 titled "Albeum Leutik" which took them to some prestigious opportunities such as performing for Asian African Carnival in 2015 among others. A couple of months ago they entered the Studio 8 owned by Andry Mandera to make a new recordings. This album is currently in mixing and mastering process and set to release soon.
We have featured them in January 2017 when their member was back from China for holiday. But recently, the Syndicate is making some interesting moves. They recruited 11 year-old girl Nadine Adrianna to fill in the keys position, either substituting YD Nafis when he's inavailable or playing alongside him as the second keyboardist. But that's not all, because Zahar has been expanding its musical territories by involving two musicians from West Sumatra. The collaboration was awesome at the Asian African Parade last month (13 May 2017), but at that time only with Maspon. This time, the West Java Syndicate will involve two players from West Sumatra's world of music for the very first time.
Now, let's dig deeper on the two featured players. Maspon Herizal started learning music since he studied at ASKI (Indonesia Art Institute) of Padang Panjang. He then continued further at STSI Surakarta to get a Magister degree. During that time he got the chance to be the arranger of musical dance titled "Ada Apa Di Balik Bambu" by Indriyeti. In 2012 he served as the musician for the 18th Pekan Olah Raga Nasional (PON) at Pekanbaru, Riau. He is still active until today in traditional music and collaborating with conventional musicians. Maspon is also the founder of Palanta Line Art.
What he is going to play in this gig is traditional woodwinds, including West Sumatra's bamboo instruments Saluang, Bansi, Serunai and Beluk Padang (voice humming).
Multi-instrumentalist Sandy Ndung graduated from STSI Bandung, majoring karawitan. He performed at the closing ceremony of Pekan Olah Raga Pelajar Bandung at Sabuga, joined the tour with Sampurna Hijau and now active as a teacher in SMK Negeri Ketapang and Palanta Line Art. For this gig, Sandy Ndung will demonstrate his ability to play talempong, the traditional West Sumatra small set of kettle gong (like bonang in gamelan).
One might wonder what kind of sound this collaboration will produce. We are curious too, since West Java and West Sumatra's traditional music are distinctively different. According to West Java Syndicate's founder Zahar Mustilaq, they are going to bring us into a journey of 'Exploring Archipelago'. The Syndicate will also play their partners' compositions.
So, the combination of West Java (Sundanese) and West Sumatra (Minangkabau)'s musics and instruments, be sewn within progressive jazz-rock, that's probably all we can say for now. A very interesting movement this surely is, and it's going to happen for the first time in this event.
Last but not least, we are happy to welcome back a wife, mother of two and teacher who sings jazz flawlessly. Her name is Tuti Iskandar, better known as Misty, based on the way her students call her: Miss and the last syllable of her name. Coincidentally, this stage name suits her passion in jazz singing which reflects one of the very well known, ageless jazz standard. The fact that she is a mother, wife and teacher makes her unable to pursue the singing career, but the fact that she has a sweet, smooth jazzy voice is undeniable. Therefore we want to feature her once in a while. We haven't been able to do that for quite a long time (the last time was on the 14th edition exactly two years ago: http://jazzuality.com/jazz-event-report/braga-jazz-walk-14-the-report/), now it's time to bring her back.
Just like before, Misty will be accompanied by her beloved husband, YD Nafis who will also play as a part of West Java Syndicate. Nafis is a superb pianist who love to play jazz while still holding the passion in digging the pentatonic keys in reflecting the traditional music. We found him in the mindbending Tesla Manaf ft Mahagotra Ganesha before, and he also has some projects such as Suryanafis and his own trio.
Back in 2015 when she performed in Braga Jazz Walk 14, she told us that teach, music and arts are among her favorite things. From these three things she's passionate in, she's connected with us through music, particularly jazz. We look forward to feel love among husband and wife transfered into music from the stage. This session will be sweet, smooth and intimate. The simplicity will make us able to focus over those things. Real jazz from real couple, that will be something to love.
Once again, this event is provided FREE of any charge. The date is on 15 June 2017, located at the entrance of Braga CityWalk starting at 3:00 pm. 3 shows with its own story, all interesting. We believe these lineup will give a meaningful and entertaining way to this year's Ramadhan edition. We invite you to join us and enjoy three cool acts. See you there.
Braga Jazz Night #36 : Ramadhan Edition
Date: Thursday, 15 June 2017
Time: 03:00 pm – onwards
Location: Braga CityWalk
Jl. Braga 99 – 101, Bandung
FREE EVENT!
FEATURING:
:: AGIS KANIA :: ("Baby You", Official Single Launching)
Agis Kania (vocal)
Ajier 'T-Five' Effendy (guitar)
bass: tba
drum: tba
:: WEST JAVA SYNDICATE COLLABORATION :: (Cross West Java-West Sumatra ethno progressive collaboration, Exploring Archipelago)
Zahar Mustilaq (drum)
YD Nafis (keyboard)
Dede SP (bass)
IpinZbet (kendang)
Maspon Herizal (traditional West Sumatra woodwinds: saluang, bansi, serunai and beluk)
Sandy Ndung (talempong)
:: MISTY ::
Tuti Iskandar 'Misty' (vocal)
YD Nafis (piano)