Jazz in Palembang has been growing rapidly for the last several years. We are proud to see that some radios in that capital city of South Sumatra are actually active in presenting jazz to the public places. Last year in August, 97.5 Play FM Palembang came up with a great idea that connects the freshness of green nature with the relaxing, calming and pleasuring sound we find and love from jazz. The name of the event is JAZZ TAMAN (Park Jazz). The first one was held in 2014, just a day before Indonesia celebrated its Independence Day and got success. Having jazz on the green, filling your lung with oxygen while letting your mind and soul happy with jazz. What's not to love about it?
Following the success of the first attempt, 97.5 FM Play FM Palembang once again presents this year's edition of JAZZ TAMAN. Cool venue and decoration will be provided in order to accomodate the music lovers especially jazz enthusiasts with good quality jazz entertainment while enjoying the natural goodness of city park. And it's all totally FREE of charge.
This year Jazz Taman will be held at the lovely Kambang Iwak Family Park, Palembang, on Saturday, April 25, 2015 from 3:00 pm to 6:00 pm. This edition features jazz crossover musicians such as Jazzyndicate, The Pure Acoustic and special performance by Leonardo & His Impeccable Six.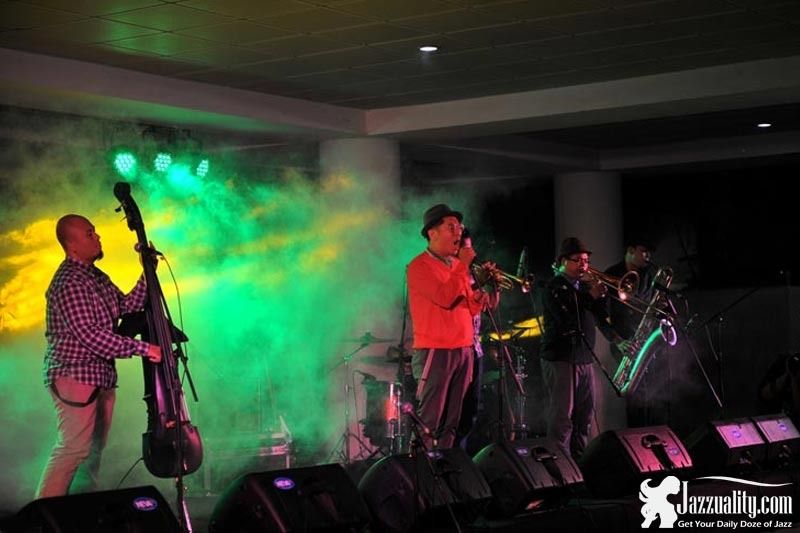 We have watched and covered Leonardo & His Impeccable Six a couple of times since 2013 and urge you not to miss it. The rockabily-swing connection in Indie music scene courtesy of Leonardo & His Impeccable Six is like none other. Not many group take this kind of train, but Leonardo Ringo and his team opened up a new ride with their rebelious swing with additional assorted flavors. How is it like? More or less, they play swing with Rock 'n Roll attitude, Blues and even Ska exist in harmony. The whole team proved that swing is not outdated. Today we can still go swingin' hard without losing our youth. Rebelious, twisting, mind-bending, and when it happens in jazz plus served in the park, imagine what kind of atmosphere will be created.
This year 97.5 Play FM Palembang collaborated with various institutions such as Bank Sumsel Babel, Dinas Pertamanan Penerangan Jalan dan Pemakaman Kota Palembang, Carla & Leaf, PT Rambang, Boom Futsal, Reload Kitchen, Koran Sindo Palembang, Sumatera Express, BP Radio Palembang, Radio El-John Palembang, Jazzuality.com, Warta Jazz plus join hands with some communities including Palembang Jazz Community, Fotografer.net, Bike to Work, Earth Hour Palembang and Palembang Sketch.
In addition to enjoying the city park and jazz acts, players can also participate through exciting games. If you are active in Twitter, you can be updated through @Jazztamankota and @975playfm.
At the end of the event, there will be 'Operasi Semut' (Operation Ants) where the crews, alongside with the audiences, will actively clean up the park area to show support to the city.
If you live in Palembang, love jazz and enjoy being in the fresh, green nature, do join this good jazzy cause. Not many people realize, but actually we can have fun while doing our part in greening the city. It will definitely give benefit to the better climate and certainly make world a better place. You can do that while getting the best of entertainment, jazz way. Come and fresh your mind, body and soul.
97.5 Play FM Palembang Presents: Jazz Taman
Date: Saturday, April 25, 2015
Time: 3:00 pm – 6:00 pm
Location: Kambang Iwak Family Park, Palembang
FREE EVENT!
For more info:
MARKETING & SALES 97.5 PLAY FM Palembang
Jefri: +62 81368682626
Jl. Bay Salim No.1 Komp. Percetakan Rambang, Palembang