You thought you've heard it all. But actually, jazz still has unlimited terrains to explore. And it doesn't always to be far, because something new can still come out from the elements, instruments or music style that we have been familiar with.
Here's the good news. From Singapore comes a group named TAJ. This group of three consists of Tim De Cotta on bass, Audrey Tengkey on keys, and JR Teo on drums. The band was formed in 2012 and actually found the chemistry as well as the creativity connection pretty fast. They spend almost a year in the studio cooking their meal, and.. voila! An EP titled "The Astral Journey" under local independent record label Darker Than Wax (http://darkerthanwax.bandcamp.com/) is going to be officially released on January 30, 2015.
If you listen to this EP, you would find that TAJ has indeed a very strong concept. The label says that TAJ crafted an album that features poignant, illustrious pieces which evidently highlight their harmonious unity and talent. We totally agree with that. You can find post-rock, psychedelic funk, soul, hiphop and multi-textured beats that should satisfy music listeners including the trendy youngsters. By laying the concept on rich blendings, the Astral Journey is an 'urban-esque' jazz fusion that can capture modern cosmopolitan lifestyle with plenty of room to let your mind wander all the way to the imaginative astral world.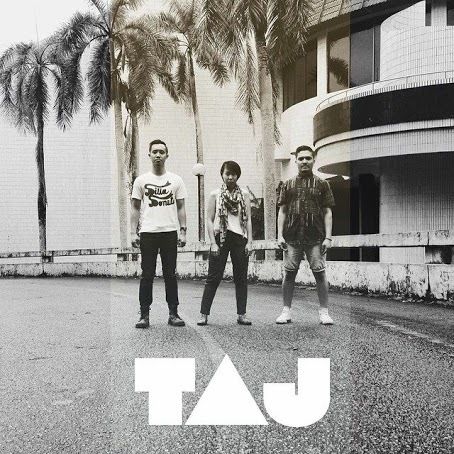 How was the band born? Audrey (who is actually Indonesian by the way) told us the story.
"We got together by chance actually. It was 2012 when Tim and I went with the Singapore contingent to MIDEM in Cannes. Through rehearsals for this showcase we got to know and like their musical styles in their respective bands. So when they came back, I invited Tim to an open jam session at LaSalle with other young musicians and students. It was a shed session to just have fun and also to try new things. Drummers, keyboardists, bassists and turntablists even. So JR was one of the drummers there and as the jam went on, it was clear that the chemistry between the three of us whenever we were on our instruments together was really strong! We didn't just jam the songs per se but we moved and evolved them in a matter of minutes. So eventually, we started meeting more and more often, till it became just exclusive to the 3 of us, jamming covers and then eventually writing our own music. It happened very naturally and faster than usual, also because we became great friends. TAJ was born and on 1 Oct 2013 we released our single "The Astral Journey".
Yes, the organic, epic, mind-traveling "The Astral Journey" was already released more than a year ago, but now TAJ finally has their debut ready to roll. Other than single, the album has other rich textured compositions which serve much, much more than just jazz. Tight drumming, sharp bass line and psychedelic synthesizer shone bright in "Old Town MOFO", creating an intense emotion over the mellow tune. The post-rock pulses strong on dreamy but punchy "7DB". The magical mixtures once again nicely showcased on "Daydream" which features the voice of Kaye, co-founder of Darker Than Wax, croons on the vocoder. Cosa Nostra's refix of Daydream takes on a 4-to-the-floor house-disco approach. And of course, who wouldn't love the fresh, high energy "Taj You'self". Soul and rap became the key-elements on this one as well. The smooth beatdown remix by Jaël, a multi-faceted musician from Holland created another vibe on this song. The Jaël's remix of 'Taj Yo'self' is exclusive to iTunes, Boomkat and Beatport. Lots of twists and turns are to be found here and there, not only as the element of surprises but play such important parts of each track.
"Do you see what you've been missin'?" that's rapped Tim De Cotta on "Taj Yo'self" in a way sends us a message that their brews offer many interesting stuffs that we might haven't heard so much lately. What's make it cooler that there are only three players to carry heavy concept like this. From Singapore comes a small package of fusion with enough dose to make the listeners stoned. TAJ's "The Astral Journey EP" ignites jazz's cross-generation appeal in Singapore. Fine works of art from Tim, Audrey and JR (TAJ) should be acknowledged and appreciated.
You can pre-order the EP at one of these links:
http://darkerthanwax.bandcamp.com/album/the-astral-journey
https://itunes.apple.com/us/album/the-astral-journey/id955164452
http://boomkat.com/downloads/1189173-taj-the-astral-journey
https://soundcloud.com/darkerthanwax/sets/taj-the-astral-journey-ep-dtw
And find/interact with them on:
http://twitter.com/TAJtheband
http://facebook.com/TheAstralJourney
Give a try and find out what you've been missin'.
TAJ are:
Tim De Cotta (Bass/ Vocals)
Audrey Tengkey (Piano, Keys and Synth)
Teo Jia Rong (Drums)
Tracklist:
1. Taj Yo'self (feat. Eric Foenander)
2. Old Town Mofo
3. 7dB
4. The Astral Journey
5. Daydream (feat. Kaye)
6. Daydream (Cosa Nostra Remix)
7. Taj Yo'self (Jaël Remix)
All track written and produced by TAJ
Cosa Nostra remix of Daydreams by Kaye and Funk Bast*rd
Jaël remix of Taj Yo'self by Giovanni Jaël Jano-Fatbinan.
Artwork by The Town Jeweller
Text by RAH