Established in 2008, The Executive Student Board (BEM) of the Law Faculty of Padjadjaran University has made several international musicians came to Indonesia and blended with various Indonesian musicians. As we know for this year they already completed the line up, so prepare yourself for The 7th International Kampoeng Jazz year 2015, people! Years go by and committee still keeps the tradition alive. So as usual this event will be held at kampus Universitas Padjadjaran Dipati Ukur on May 2nd, 2015. Perhaps it is safe to say while Jakarta has its own agenda every year for jazz gig in campus, Bandung also has Kampoeng jazz as annual event we all wait for. Theme keeps it all together, and for this year, they go twisting Michael Jackson's song title, "Don't Stop Till You Jazz enough". Yes, feels familiar right? Kampoeng jazz has its own teaser you can check in YouTube and they use one of Michael Jackson's upbeat hits "Don't Stop till You Get Enough" as soundtrack. Feel the vibes and the spirit through that video and this is more about Kampoeng Jazz 2015.
The committee surely gives their best into this event and as we can see through many social media, they already started to spread the news about Kampoeng Jazz many months ago. Many promos, many ticket boxes, and many quizes are the ways to remind people that next month are the time for this big event of jazz. Aside band audition, call for tenants and bazaar, Kampoeng Jazz also create a challenge in their instagram. Four winners from this challenge will get the opportunity to have tickets, meet greet free pass, and t-shirts for free. Maybe you fellas want to check out their instagram, challenge your sense of arts, and meet us at the gig.
After Renee Olstead, Tahiti 80, Sondre Lerche, and several other international musicians performed last years, Kampoeng Jazz will give us the chance to see Bondax and Jizue live real soon. Bondax is an electronic music duo from United Kingdom consists of Adam Kaye and George Townsend. 2012 was a momentum where they built their own record label and in 2013 they had started the music journey across Europe. Not to mention, they both still young and ready to conquer the world with their genre transcending.
Jump back to Asia, we get Jizue, a Japanese band of post-rock and jazz influenced genre. Actually the name of this band can be considered unique because it is a derivation of French soccer legend nickname, Zinedine Zidane (Zizou). Yup, not only they love jazz, they also put their heart in soccer. Many albums has created from these talented musicians and smooth jazz, electronic guitar, piano, salsa add many color to their play.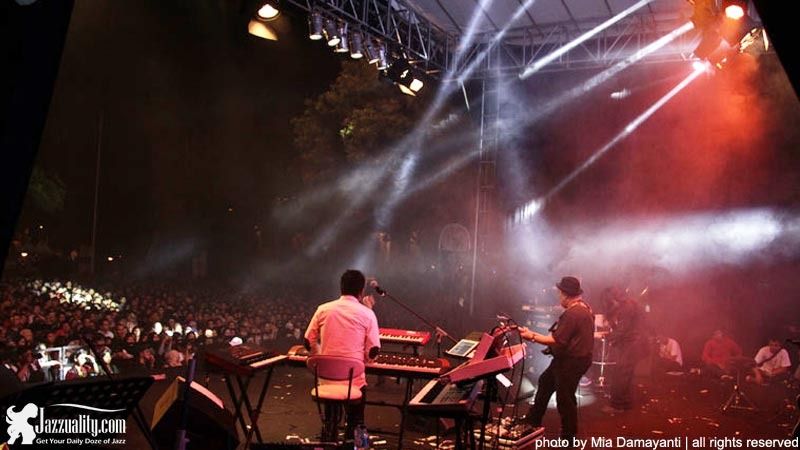 Krakatau Reunion at last year's Kampoeng Jazz 2014
Bandung is a place full of creative people and the atmosphere of this city is full of arts. No wonder it has formed many big names in Indonesian music. Gigi, Mocca, Kahitna are some of them. The idea of GIGI in jazz gig maybe leaves you a question. While we have seen the jazzy side of GIGI at the Java Jazz Festival several years ago, it will still be surprising to see this famous rockin' pop group plunge themselves into jazz and established the GIGI Jazz Project.
Nearly 30 years Kahitna do their music and it all started in Bandung. Here they are back again to see their loyal fans in Kampoeng Jazz and we will be reminded to the first's year of their music career where jazz clearly influence their tunes. Mocca once again go back home and will meet us also in this gig. Like they already said in twitter, they are preparing something special for Kampoeng Jazz, an unusual formation, and it is called Mocca and Friends. Have you listen to their newest album? Get yourself ready to sing along with them.
The husky voice from Syaharani along with Queenfireworks-ESQI:EF aren't new in jazz are. We already met them in many events before and yet we always want more, especially from their newest album, 'Selalu Ada Cinta'. Beben jazz, one of the founders of Komunitas Jazz Kemayoran, also will be on stage along with the Friends and fresh concept to entertain Bandung. Won't your jaw drop to see G-Pluck Beatles, Endah n Rhesa, and Adhitia Sofyan are on the list? If those aren't enough, Kampoeng Jazz still has Blotymama, Yura, Dried Cassava and Babendjo Sung Angklung Udjo to lay their tunes later. Not to mention three tops of previous band audition, let us welcome talented youngsters: MEPT rio, Salty Sugar, and Chakraborty who also will join the big stage.
Have you save the tickets in your hands? Now here's the info about the ticketing. After the 1st and 2nd Pre-sale tickets got sold out, now they are in the 3rd pre-sale with the price of IDR 160.000. Yes, that worth all the fun you'll get at Kampoeng Jazz. So do not hesitate to grab the tickets now in ticket boxes and other ways the committee prepared so you can easily purchase it. For you guys who already have it, see ya and let your soul affectionate with millions of pleasant tones!
Ticket Price: IDR 160.000 (presale III)
Date: Saturday, May 2nd, 2015
Location: Campus Ground Universitas Padjadjaran, Jl. Dipatiukur no 35, Bandung
For more info:
Twitter/Instagram/ask.fm: @KAMPOENGJAZZ/ @kampoeng_jazz /@kampoengjazz
Website: kampoengjazz.net
CP: 081250805503