Jakarta is blessed with the series of amazing two monthly concerts courtesy of Goethe Institut Indonesia called Serambi Jazz. Since 2009 this event has featured so many top-notch bands/musicians both from our own land and also from Germany. Thanks to Serambi Jazz, the mutual friendship between these two great nations has been re-established through music as one of the art forms-jazz to be exact. From Jakarta, Terraz Jazz continued to spread its wings to reach Bandung, the capital of West Java and then stretched further to meet Yogyakarta and Surabaya. Why? Simply because there are many jazz fans too in those cities that are, most probably, hungry for a high quality event that amazingly provided free from any charge by Goethe Institut. Just like in Jakarta and Bandung, we heard many positive responses from the jazz aficionados in these two cities.
We still remember last year Serambi Jazz landed big on Surabaya featuring two amazing musicians from different generations: the curator himself, keys-wiz Riza Arshad and versatile guitarist graduated from Berklee College of Music, Robert Mulyaraharja. Calling the project as R&R Duo, we heard from Riza that it's still carried on and planned to appear in an album. Also last year in Surabaya, the Duo Project (Johanes Radianto and Dhani Syah) was brought by Goethe Institut for Serambi Jazz.
And now, listen to this. If you live in Surabaya, you must be exicted. Because in its 5th year in service, Serambi Jazz is coming once again to Surabaya. Goethe Institut and Wisma Jerman Surabaya (Goethe-Centre/Goethe-Zentrum Surabaya) proudly present a stunning band with unique concept, the one that we love to mention as one of the most dynamic bands in terms of musicality, variation and formation: SKETSA. This Serambi Jazz event will take place at Ciputra Hall, Performing Arts Centre, Sekolah Ciputra, Puri Widya Kencana, Citraland, Surabaya on September 13, 2014, starting at 7:30 pm local time.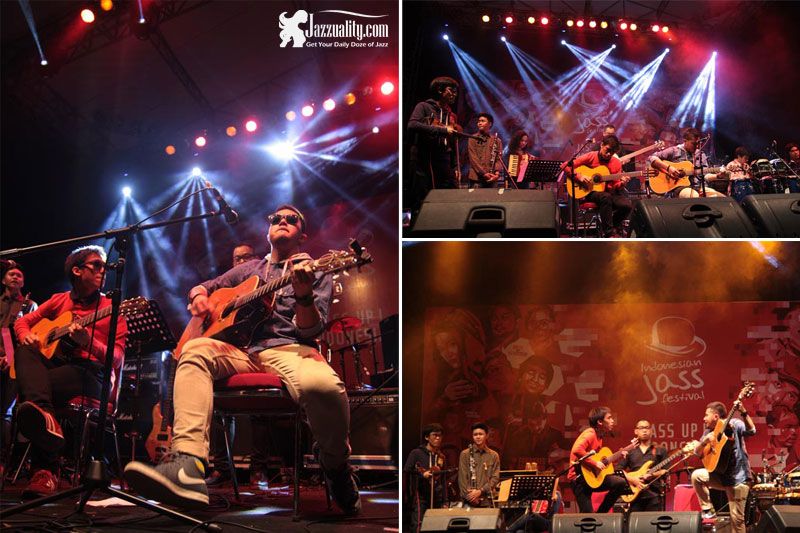 Let's go back in time to see how Sketsa was born. The journey of Sketsa started almost a decade ago in 2005 by the name of Acoustic PL as they made their debut in PL FAIR Village, still with the first formation: Gerald Hiras Situmorang and Adnand Adyasha. A year later the name changed into Sketsa. Adnand had to continue his study to Australia and quitted the project. It wasn't long until Dimas Budi Satria Wibisana came in and established a rock-solid formation that still makes so many waves in Indonesian jazz scene until now.