Tell you what, this doesn't come everyday. There's a young French bassist who have played with so many giants and gained respect from every corners are heading to Indonesia to play alongside some of our own musicians. Not that long ago we got stunned to his electrifying bass lines in Chick Corea's latest album, "Chick Corea & The Vigil". Chick Corea? Yes, you heard us all right. If that name can already be a guarantee, this young bassist has played with so many other big names that we will tell you a bit later. When being asked about him, John McLaughlin said: "…for me, he's the new Jaco (Pastorius)." For sure he's the true heir to the Jaco Pastorius' throne, or you can say that he's the modern day of Jaco. Still don't get it? It's none other than HADRIEN FERAUD.
None of us dare to predict that Feraud would visit our nation this soon, not just to play once but will land on many spots from Bali, Jakarta to Bandung. So if you're a musician especially a (jazz) bass player, his coming should make you really excited. There are a lot to learn from him, even if you don't feel like learning, you can just enjoy his play and find out why McLaughlin gave him that compliment. You can find the complete schedule of his Indonesian Tour Debut and who will be his playing partners in each trip. (He will also perform in our own Terraz Jazz too!) But before that, let's take a closer look at Feraud first.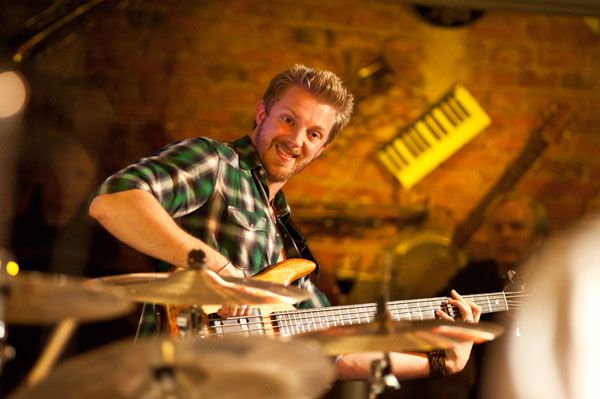 Hadrien Feraud
Hadrien Feraud was born in Paris and grew in a musical family. That's why he became familiar with wide arrays of genres, including Jazz. He then learned guitar when he was still 8 years old from his own father. He was once interested in drums, but when he received Jaco Pastorius' "The Birthday Concert" CD (at age 12), suddenly everything was clear for him. He was born to play electric bass.
Right after that turn, he seriously analyzed the techniques of some masters in the bass land, ranging from Jaco Pastorius, Christian McBride, Victor Bailey, Gary Willis, Anthony Jackson, Matthew Garrison, Richard Bona, Skull Sverrisson, Linley Marthe and Jeff Berlin. As he seriously digged and chewed all these heavy stuffs, he was ready faster than expected. He already performed and involved in the recordings with iconic figures and famous names like John McLaughlin, Chick Corea, Dominique di Piazza, Billy Cobham, Jean-Luc Ponty, Jada Pinkett, Dean brown, Chris Coleman and Scott Kinsey, just to mention a few, while he was still in his 20′s!
Hadrien Feraud has been announced as "Rising Star, Electric Bassist of the Year" by the Down Beat Critics Polls, also the "Most Exciting New Player" by Bass Player magazine.
He recorded some remarkable albums with John McLaughlin (including the Industrial Zen" which marked his first appearance in the recordings) and Chick Corea, but he actually has released his own album in 2007 which amazingly featured so man renowned musicians such as John McLaughlin, Bireli Lagrene, Flavio Boltro, Jean-Marie Ecay, Jean-Pierre Como, Marc Berthoumieux, Mokhtar Samba, Jim Grancamp, Jon Grancamp, Dominique di Piazza, Thierry Eliez, Linley Marthe.
Who will play with him  in his tour debut? Feraud will be accompanied by three musicians: one keyboardist: Erik Sondhy and two drummers: Sandy Winarta and Yandi Andaputra.