What criteria does a band/musician have to meet to be featured in Serambi Jazz? We asked that question to the curator, Riza Arshad in 2009, a couple of months after the Serambi Jazz series has just begun. According to Riza Arshad, this event has to be filled by someone who has high dedication to Indonesian jazz development. In other words, still according to him, it has to be someone who has decided to live their life as jazz players. Furthermore he explained that there are so many musicians in Indonesia who are very talented and fully dedicated, but they haven't got the credit that they deserve. At that time, Riza wished to introduce these talents so they could get more appreciation from the society.
That was 5 years ago. Since then Serambi Jazz has been growing very well and now stands as one of the most awaited regular jazz events in Jakarta. It has featured so many amazing musicians with their own distinctive jazz styles and tastes. So far this successful overseas program of Goethe Institut has become a showcase/gallery of great talents, a place for jazz aficionados to go whenever they want to see quality shows from artists that know how to cook their meals in perfect.
Speaking of the criteria, there's a pianist who has his own color and more than deserves to be featured in front. He was already played in the first year of Serambi Jazz, but it was with his group, the Sarimanouk Quartet (Read the report here: http://jazzuality.com/jazz-event-report/serambi-jazz-iv-tao-kombo-collective-messkeepers-and-the-sarimanouk-quartet-at-goethehaus-jakarta-the-report/). . We have been waiting to see him get the spotlight because we know he has good things to offer. Now finally he's the featured artist for Serambi Jazz. That's about time, that's what we think. He is Julian Abraham Marantika, also known as Joy Marantika.
Let's point our attention more towards him. Julian started by learning classical piano when he was 14 years old by studied from Getih Indra Sunaryo, but then got his encounter with jazz when he learned it from Benny Likumahuwa for Music Theory and Saxophone. He then took his number one Jazz Piano lesson from Riza Arshad and Krishna Balagita.
In 2004 he enrolled to the Institut Musik Daya Degree program under Tjut Njak Deviana Daudsjah, Ivonne Atmojo, Aksan Sjuman, Masako Hamamura, Mark Isaac, and Jelia Megawati Heru. Julian graduated in 2007 holding Bachelor of Music in Performance.
Speaking of the stages he's conquered, he already tasted many prestigious events such as Java Jazz Festival 2007 and 2008, Pasar Jazz 2006 with New Conservative Trio (his first jazz trio), Serambi Jazz as the pianist of Sarimanouk Quartet in 2009 and Jazz Speak 2012 in Bandung just to mention a few. Some of his shining project are the compilation album "Jazz Masa Kini" by Aksara Records, joining Ricki Lionardi Big band for a recording session for Ruth Sahanaya Christmas Album 2006, "Dunia Mereka" OST in 2005 and "Sarimanouk Quartet" album alongside Talafaral Ramiandriosa, Sandy Winarta and Doni Sundjoyo.
Another thing that you have to know is that beside performing, he is also an active educator. He's been the Head of Contemporary Piano Department at Pelita Harapan Music Faculty from 2008. He teaches Jazz Piano, Improvisation Concept, History of Broadway Musical, Jazz Ear Training, Jazz Ensemble Class, also contributes as one of the educators at Ponpin Music where he teaches Jazz Theory, Rhytmic & Ear Training and Major Class. Now Julian has working on his latest trio for recording project.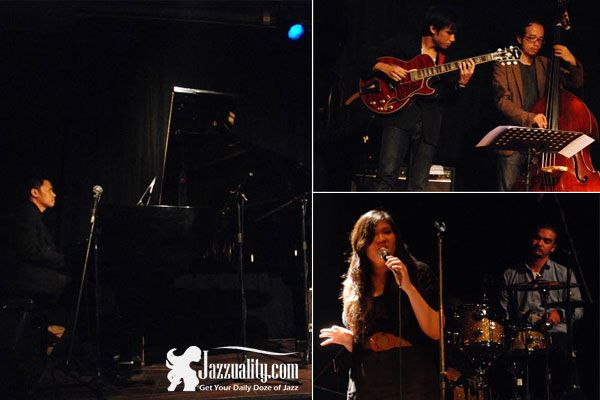 At Serambi Jazz he will bring a strong team consists of Indra Perkasa (doublebass), Elfa Zulham (drums), Gerald Situmorang (guitar) and Cassia Agata (vocal). We have seen the exact line 2 years ago at Jazz Speak where they gave something unique, either his own standout compositions (including one song which the lyrics' written by wife Mery Kasiman) and Miles Davis' "Milestones" with lyrics (http://jazzuality.com/jazz-event-report/jazzspeak-festival-2012-the-report/). We still remember Julian Marantika's performance at that time clearly. Julian has two contrast music assets: the structured play style learned when he was into classical and jazz with good phrasings, both glued with great improvisations. This is the project that he's been working on for several years, a project that involves a singer, different than any previous ones he's done before.