As one of the most successful overseas program of Goethe-Institut, Serambi Jazz has been doing great in presenting quality jazz concert every two months since 2009. Riza Arshad who acts as the curator of this program works hard to maintain each edition by featuring skillful bands/musicians who have dedicated their love to jazz both from our local source and Germany. Series of clinics has been made that already bore fruit, meaning that there are successful bands today actually started from attending the Serambi Jazz's workshop. Two months ago this successful program higlighted a great man that can combine the strong jazzpression with sophisticated and poetic tunes at the same time, Julian Marantika http://jazzuality.com/jazz-events/serambi-jazz-2014-julian-marantika/. Just a month later, a special Serambi Jazz visit to Yogyakarta was held by presenting Duo Project, a guitar-piano session of Ramadhani Syah Warongan (Dhani Syah) and Johanes Radianto http://jazzuality.com/jazz-events/serambi-jazz-2014-duo-project-ramadhani-syah-warongan-johanes-radianto-yogyakarta/. Both received great results from the society.
In this month of August Serambi Jazz is ready to spread its venom again. Unique might be the best keyword to describe this upcoming show. It involved four cross-aged jazz titans where each of them can pour out a deadly one. If a band decides to play without bass is already unique, what if we say that this band utilize just set of keys (piano, synthesizer and Hammond organ) plus drum? How can this formation carry the concept and how will it sound? Tell us if you on't think it's unique. We think these four dudes are really daring and brilliant at the same time. Who? Well, it's TUSLAH. This quartet is the headline for Serambi Jazz August 2014 which will come on August 21, 2014 at GoetheHaus Jakarta, starting 7:30 pm onwards. Just like always, this one's free concert and open for public.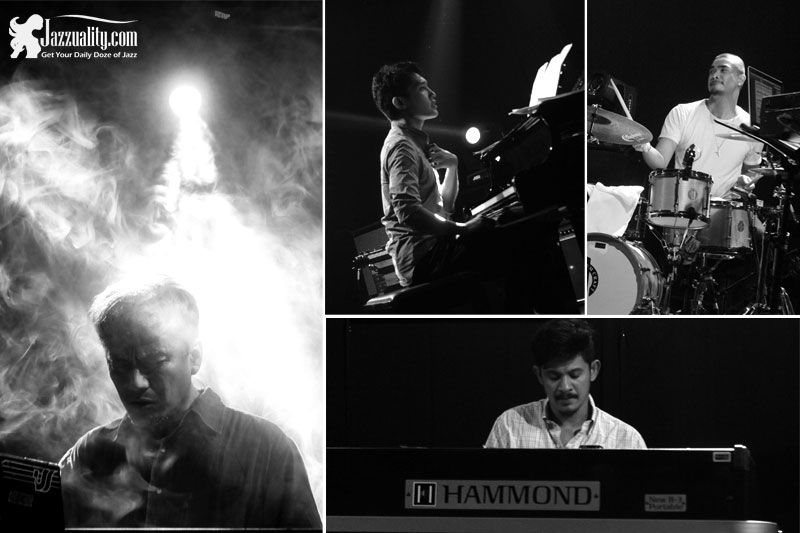 We call Tuslah a group of Jazz titans is not without reason. Other than they possess worldclass skills in dealing with their instruments, they know what to do in order to flip you upside down. Maybe you're wondering what Tuslah refers to. It came from "Toeslag", which is a shorten word from Toetsen (keyboard) and Slagwerk (drums).
The Serambi Jazz curator Riza Arzhad on synthesizer, Sri Hanuraga on piano, Adra Karim on Hammond and Elfa Zulham on drums are the personnels of this very unique quartet.
This idea came from Riza Arshad first of all, as he thought it would be interesting to form a band with an 'unusual' formation since he has some fellow musicians with specialties and distinctive characters. So it was formed some times in October 2013 and had the first gig in Red White Jazz Lounge. "What I wish to make is a home for these 'non industrial' fellows. I want us all to maintain our intellectuality as an improvisator, especially in this non industrial segment of music scene." Riza explains. He also said that this becomes more relevant today since there are so many musicians that actually dare to take this path. So now four them is living harmoniously together, sharing and throwing the ideas to one another in order to make this work. "This band doesn't have a leader, but rather is a collective band." he says furthermore.
We heard this band for the first time when they were featured in Gedung Kesenian Jakarta's event Festival Musik 2013  and then saw them again at the Java Jazz Festival 2014 .  Based on the uniqueness, masterclass skill, brilliant concept and fine execution, Serambi Jazz is exactly one of the perfect playground for this group.
Tuslah's music is served as a creative impulse of the musician whose background is rich with musical experiences in Indonesia, also in Europe and America. What's also interesting is, this group is like a combination of two groups. Riza Arshad and Sri Hanuraga are from W/H/A/T while Elfa Zulham and Adra Karim are two of the four players found in Tomorrow People Ensemble (TPE). From what we've seen, Tuslah creates a 'new color'. They combine the element of classic, jazz, blues, funk and rock which are going to appear through original compositions and new arrangements.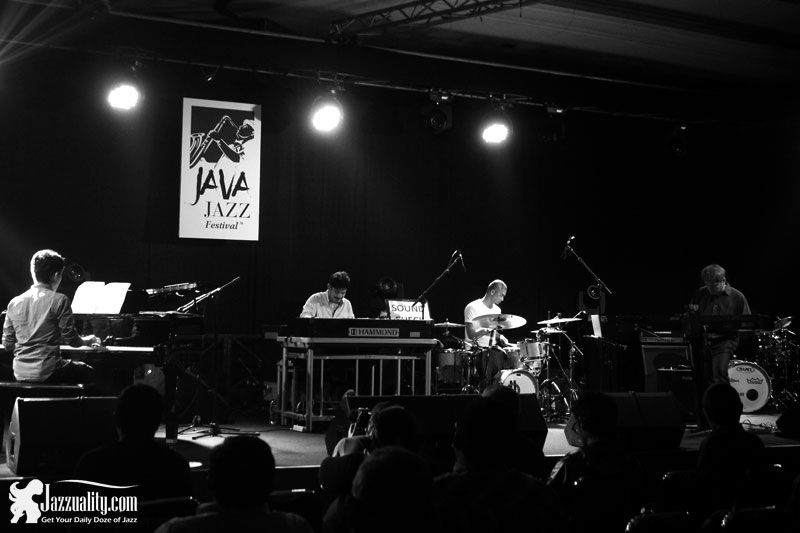 Just like we said before, each of them can make a difference when asked to play, now imagine what would happen when they join forces. Think of how the combination of piano, synthesizer and Hammond in one shot along with drum without bass would sound. What kind of 'jazz hybrid' does they create? The key-wiz Riza Arshad, the magic fingers Sri Hanuraga, the strong funky-punchlines of Adra Karim and the rich beat from Elfa Zulham will surprise you. Just don't miss the Serambi Jazz August 2014 Edition on Thursday, August 21, 2014 at GoetheHaus Jakarta, and prepare yourself to see a concept totally different than what you've seen so far.
SERAMBI JAZZ 2014 : TUSLAH
Date: Thursday, August 21, 2014
Time: 06:30 pm – onwards
Location: GoetheHaus, Jl. Sam Ratulangi 9-15, Menteng, Jakarta
FREE EVENT!
Photos of Tuslah were taken by Mia Damayanti Sjahir