Red White Jazz Lounge has been running really well for several months now in presenting so many great  bands/artists in various jazz colors. It didn't take long for this 5 days a week event to capture the heart of jazz lovers in Jakarta and nearby. Not only because it continued the previous Mostly Jazz that already has loyal fans from both jazz enthusiasts and artists but also because this event provides more than enough space for everyone who are into jazz to express themselves while enjoying series of performers with affordable price. After a very cool March program, another interesting program has been announced for the April edition of Red White Jazz Lounge, again featuring colorful lineup in variety, from the legends, maestros up to the potential young cats. "This month we've come to our seventh month in service as a full time jazz club. Thank you to all musicians and jazz enthusiasts for your continuous support", said Indra Lesmana proudly. Without further ado, let's see  the complete rooster for the April calendar of Red White Jazz Lounge.
Mostly Jazz' Open Jam Session with Sudden Jazz Fanny & Friends
If you're a regular visitor of Red White Jazz Lounge you should still remember when Fanny Kuncoro led his fellows in Fanny & Friends to present Sudden Jazz 3 times back in February. This month the young man who's recently pursuing his passion in organ with his Fanny Kuncoro Organ Quartet will be back again presenting the joyous part of jazz, the open jam session. In this April Fanny Kuncoro and his friends will guard the jam session for four Sundays. Check out the date and don't miss it, especially if you're a big fan of the unpredictable and spontaneous jammin'.
Fanny Kuncoro & Friends will perform on Sundays, April 1, 8, 15 and 22, 2012
First Drink Charge: IDR 60.000
Bubu Giri
The dynamic duo Bubu Giri continues their path on Red White Lounge's soil after their first attempt in March. Yes, it's Bubu, the vocalist of Contra Indigo and Giri, a guitarist we know from the Stonation behind this minimalistic group. Joining their forces together they bring delightful groove and blues over their acoustic pattern. For you who like this kind of jazz, Bubu Giri will definitely pleasure you.
Bubu Giri will perform twice on April 4 and 11, 2011
First Drink Charge: IDR 50.000
Donny Suhendra Big City Blues
Just in case you missed Donny Suhendra Big City Blues two months ago at Red White Lounge, here's the chance to pay it off. Donny Suhendra is definitely one of the Indonesia's most influential guitarists. Starting with blues and rock, later he played more to fusion and established himself strongly within this sub-genre. Having said that, his earlier pattern always shine during his play. You can hear a strong, thick sound of the root of the modern music we know as blues from him which often comes in humble but challenging method. This is the group where he can go freely in painting up his blues passion. Last January he brought Sue Bonnington, Amiroez, Rishanda, Eddy Syahroni and Najib Osman to fill up 5 sessions of the program. This month they are going to give two shows. Let's celebrate blues together with them.
Donny Suhendra Big City Blues will perform three times on Thursdays: April 5, 12 and 26, 2012
First Drink Charge: IDR 50.000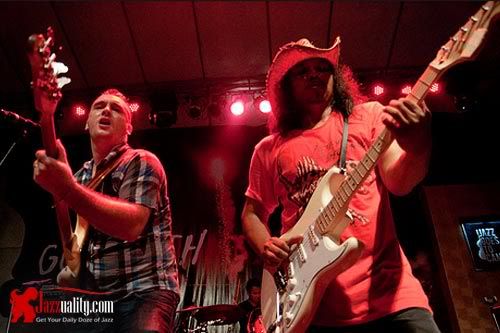 Gugun Blues Shelter (Special Show)
Behold, the popular group which has gained their international fame especially in England is coming to grace the Red White Lounge this month! Gugun Blues Shelter which is consisting of Gugun (guitar,vocal), Bowie (drums) and Jono (bass) is ready to bounce you upside down with their dangerous rockin' blues music. Being a blues group that has appeared many times in jazz festivals/events, we know that sooner or later they will come to this jazz lounge. Get ready to go rockin' and roarin' with them in a special show next week. Long live the blues!
Gugun Blues Shelter will perform on Friday, April 6, 2012
First Drink Charge: IDR 100.000
Balawan BiFan Trio (Special Show)
A month ago we tasted the new dopin' collaboration between the guitar maestro I Wayan Balawan with a great young bassist Fajar Adi Nugroho at the Java Jazz Festival 2012. Yes the Balawan BiFan Duo was formed not long time ago, but so far they have played in numerous events, including at Jazz Market Taman Bagawan Nusadua bali before landing big at the Java Jazz Festival. From duo now they are shaping up as trio by having drummer Dion Subiakto in. "We now has two formations, duo and trio, depending on what the event needs" said Fajar to us. Watching Balawan 'drowned' in guitars and watching him play like no others is always entertaining, plus now he has a bassist who can match his 'craziness' in pouring streams of notes. Imagine when they both got empowered by drum beats courtesy of Dion. A collaboration that should be kept and has to go further into the recordings we should say. If that's not enough, guitarist Aria Baron Suprayogi is confirmed to be the special guest. Let's enjoy these nutricious collaboration while they are listed in  this month's program.
Balawan BiFan Trio will perform on April 7, 2012
First Drink Charge: IDR 100.000
Barry Likumahuwa : Dance According to Jazz ft Monita
It's a fact that Barry Likumahuwa is now one of the most important frontliners for youngsters when it comes to jazz. It's also a fact that he can play seriously cool funk in thicker jazz pattern the way he shows in LLW or with his Barry Likumahuwa Quintet. Apart from these groups, he's also focusing in establishing the connection with his father Benny Likumahuwa as 'Like Father Like Son' which based on the his idea to facilitate his father for making a solo album that suits his hearty expression. Now listen to this. If you're a fan of Barry Likumahuwa and you like to dance, you got to see this one. Here Barry will bring you all to dance together, in jazz way. The beautiful girl with lovely voice Monita Tahalea joins in as well.
Barry Likumahuwa ft Monita will perform on April 13, 2012
First Drink Charge: IDR 60.000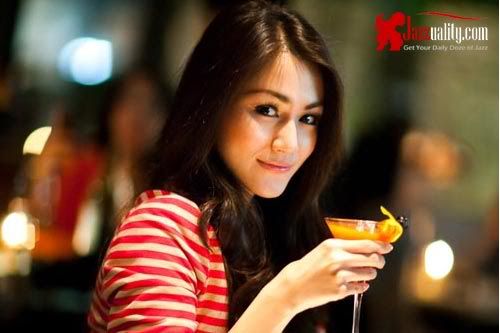 Sierra Soetedjo
Many jazz lovers have already got seduced with the smooth and soft voice of this stunningly beautiful lady named Sierra Soetedjo. She's already realized that music is her energy eversince his childhood. Taking the Bachelor Degree of Music, in Jazz Performance at Edith Cowan University, Australia was an important step for her to take before she jumped inside the industry since 2008. Soon after she captured the attention of many people including some of the VIPs in our music scene. That of course includes the late Bubi Chen who asked her to join his every performance right away up until he passed away last February and dubbed her as a scatting song bird. Her first landing on Red White Lounge's center stage will definitely be a wonderful news for her fans. For you who still doesn't know her yet, she sings bossanova, latin and standards with good scatting ability in a beautiful way. Please take some time to read our exclusive encounter with her in this article: 'Something About Sierra'. If 72 years ago Manning Sherwin and Eric Maschwitz wrote a classic standard "A Nightingale Sang in Berkeley Square", be sure to catch the moment when a nightingale sings in Red White Lounge.