New Year, new hopes… and new season of Sunday Jazz! After a blazing climax to close their 2010 program with Jazz & Perempuan as a tribute to great female artists, we got the announcement that Sunday Jazz will roll again right on the second day of 2011. While some of you from Jakarta and other cities will still be around Bandung for your holiday, it's your chance to get some jazz treatments while enjoying the foods and beverages at Potluck Kitchen. Entering the 14th edition, Klab Jazz has prepared a set of bands, including one emerging band from Jakarta, Indrawan Tjhin Group.
We've heard about Indrawan Tjhin Group's coming since two months ago. This is a group that's set to be able to appear in different shapes and sizes from the beginning as Indrawan Tjhin told us once. It was started as a quartet with Indrawan Tjhin (contra bass), Indra Dauna (trumpet), Yusuf Shandy Satya (drums) and Alvin Wirianata (piano), but now for Sunday Jazz they will appear with some changes in the formation. Besides Indrawan Tjhin and Yusuf Shandy Satya, Johanes Radianto (guitar) and Ramadhani Syah (piano) are completing the group. What you can expect from this group is a full packed action of pure straight ahead jazz, something that not many musicians in Indonesia take as their style. This time they will appear still as quartet, but someday you may have them in other sizes. "I never planned it to be only in that (quartet) size.." said Indrawan. "The size may change as needed. That's why I'd rather use "Group" instead of "Quartet". he continued. (Check out the full interview with Indrawan Tjhin) . While Shadow Puppets, the other group where Indrawan Tjhin's in are now climbing higher and higher in the Indonesian jazz scene, it's going to be interesting to see his other "child" to go the same.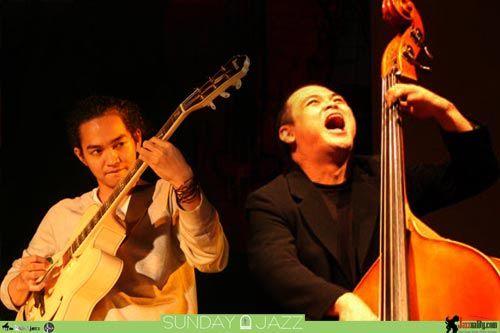 Indrawan Tjhin Group is not the only performers in this 14th edition of Sunday Jazz. If you remember back in last October Sunday Jazz presented a piano duo featuring Aldi Nada Permana and Christ Stanley. It was really entertaining, especially when we saw them filling up each other harmoniously instead of making a duel with one another. This time they're back again with a whole new theme, "Play the Music of Thelonious Monk". It's going to be fascinating just like before, that's for sure. Then let's see the other band, Ivan & Tesla. Tesla seems to find another form to live in. He's such a restless guitarist who can't stop playing no matter what or how. Now he appears in the whole different formation with Ivan Jonathan (piano), Gega Nesywara (electric bass) and Dani Irjayana (drums). Then there will be CAMEO to give their second performance for KlabJazz' event after the one at Ruang Putih last June. This group which consists of young musicians know how to bring the fusion delightfully with enough amount of explorations. For the pop jazzy lovers, you will have Kania Belle to suit your taste. All will bring their best to cheer up your Sunday with delicious jazz.
Join us this Sunday and let's give some jazz treatments to our souls. Let's celebrate the new year in jazz style!
Klab Jazz in cooperation with Potluck Kitchen present: SUNDAY JAZZ 14th Edition
Date: Sunday, January 2, 2010
Time: 3:00 pm – 7:00 pm
Location: Potluck Kitchen
Jl H Wasid 31 Bandung
FREE ENTRANCE

Featuring:
ALDI PERMANA & CHRIST STANLEY
(duo piano)
"Play The Music Of Thelonious Monk"
Aldi Permana – piano
Christ Stanley – piano
CAMEO
(fusion)
Desal Sembada – drums
Ridwan Rachmawan – keyboard
Billy Ramdhani – gitar, saxophone
Khrisna Alda Radiansyah – electric bass
INDRAWAN THJIN GROUP
(straight ahead)
Indrawan Tjhin – upright bass
Yusuf Shandy Satya – drums
Johanes Radianto – gitar
Ramadhani Syah – piano
IVAN & TESLA
(bop, straight ahead)
Ivan Jonathan – piano
Tesla Manaf Effendi – guitar
Gega Nesywara – electric bass
Dani Irjayana – drums
KANIA BELLE
(pop jazzy)
Ira Lestari – vokal
Ismail Haryadhi – gitar
Dimas Setiawan – bass