Do you remember the song Kreyzie? That song was highly popular in top radio stations back in  2008 and brought the artist Sister Duke to fame. That song was a single taken from the album "Highlight of the Day" which remarkably is still good on sale at our online store even until now. (Click here to buy the album). Ever since that album we seldom hear about the Sister Duke's activity. The creative girl behind it, Nengah Krisnarini have been busy with her collaboration with Achmad Ananda presenting and taking requests to cover favorite songs in simple acoustic presentation and share the songs for free to their fans. About two months ago suddenly we saw Sister Duke back again performing at the festival in Padalarang, West Java. Soon after that, we received the news officially from Nengah that Sister Duke is back! To start with, Sister Duke has released the first single, MYOB which you can download for free. Scrool down this page to find the download link.
MYOB is a common initial of Mind Your Own Business which asks for a respect of other people's privacy. It's an expression to simply ask a person to stop meddling in what does not concern that person. Apparently Nengah has experienced that from some people who kept on disturbing her privacy. As the abbreviation is unique and fit to the theme, she decided to make it as a song. She decided to bring out her feelings boldly, presented in ear-catchy and unique melodies just like the style of Sister Duke we're familiar with.
This song starts with the beautiful piano play in minimalist that can make the listeners curious to wait for the next surprises. The talented Doni Joesran who's also known as the keyboardist of Barry Likumahuwa Project is back in  the saddle again as a co-producer and arranger together with Nengah, continuing like their nutricious collaboration for the first album. They came out with this future+vintage concept, combining organic sounds with the futuristic synthesizer to create a simple beat but with lively nuance.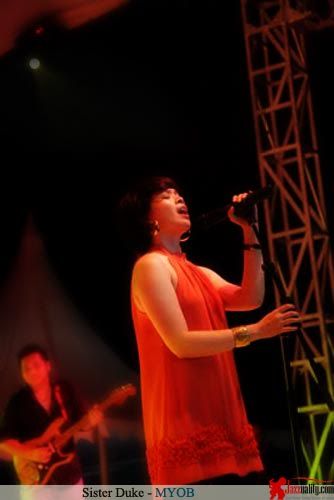 Let's take a closer look at Sister Duke. It was first made as a music project between Nengah and her friend whom she met while she was still studying in Sydney, Australia. But then due to personal reason, her friend quitted the band and left her alone. Being single in the group didn't make her down. She quickly brought Doni Joesran in to produce the first album "Highlight of the Day" at the end of 2007 under Can Opener Records and distributed by Demajors Independent Music Industry. This album which holds her passion towards jazz, pop, RnB and soul needed no time to hit the right spot in the market. As the album went really good in selling, just a year after its released it became one of the best album of 2008 in Rolling Stone Indonesia.
In 2010 the second single "Kreyzie" was selected as one of the "Mercedes-Benz Mixed Tape vol 30" compilation. that put Sister Duke as the first Indonesian artist to be involved in this German-based platform. Through the voting, in the early 2011 Sister Duke became one of two Asian artists to fill the Mixed tape "Full Spectrum", presenting 10 favorite songs from the whole previous 36 compilations.
Sister Duke has graced many stages so far, including big, international festival. This solo project of Nengah has performed in the Java Jazz Festival, JakJazz, JGTC, Jakarta Crossover Festival, and also did a really nice opening act for Monday Michiru at the Hard Rock Cafe, Bali (November, 2007). "It was one of the most unforgettable moments for me..I really like her and she was the one who influenced me of Acid/Nu Jazz." she said once in our exclusive interview with her three years ago. (Read the whole interview here). Other than those remarkable achievements, she was also invited to be the guest star for Majazztic, a charity event for the victims of the Black Saturday bushfires, the tragedy where series of bushfires  ignited across Victoria in 2009 and killed many people.
If you're one of Sister Duke's faithful fans like us, let's give a warm welcome to her and the new single, MYOB. If you haven't heard the name yet, you should download the song and get to know this multi talented girl behind Sister Duke. Above all, if you feel annoyed by some people who like to disturb your privacy, just sing this song, Mind Your Own Business, Baby!"
Download the song here:
SISTER DUKE – MYOB