Some refer to him as "one of the most innovative producers and live performers you will find anywhere." He's mentioned as someone "awesome and genius", even called "A Herbie Hancock for the new millenium" by the Montreal Jazz Festival. All pointed to a free minded artist who love to stick around in the club scene while enjoying his passion, or even his true soul which clearly resonances jazz. He's Mark de Clive-Lowe a.k.a. MdCL. Two years ago we interviewed him not long after he released his album MdCL + Sy Smith: Collection Vol 1 under Demajors (read the interview here: http://jazzuality.com/interview/exclusive-interview-with-mdcl-mark-de-clive-lowe/). Now he's back again with his upcoming 11th studio album, CHURCH.
Mark de Clive-Lowe  a half-Japanese, half-New Zealander musician, based in Los Angeles since 2008 after spending a decade in London. That seems to be a mishmash, but it plays a big part of the reason why his music is such a melting pot too. "If anything, i think the dual-heritage of my cultural background has always kept me open to different cultures and given me an ability to balance them in my own creative expression." he said to us 2 years ago about how he takes his dual-heritage as a blessing.
As an artist he covers wide territories. He's also a producer, composer, pianist, performer, DJ and so on. He brings jazz to fit the clubbing scene and crafts them as an interestingly beautiful new breed. The clubbers would love his music, the jazz fans would too. He builds a bridge connecting not only jazz and the electro dance/club music but also RnB, Soul, Funk, World Music and everything else in between. as well as capturing the spirit of US, UK or even Japan club scenes. He likes to bring the combination of acoustic and electronic instruments. His music lands on many sounds, styles, genres. No barrier found in Mark de Clive-Lowe's music, the essence of his unique musical spirit can be felt all over his work.
Mark has released 10 studio albums since 1996 and numerous remixes, collaborations, shows and tours. Now he's gearing up to independently record and release his next album.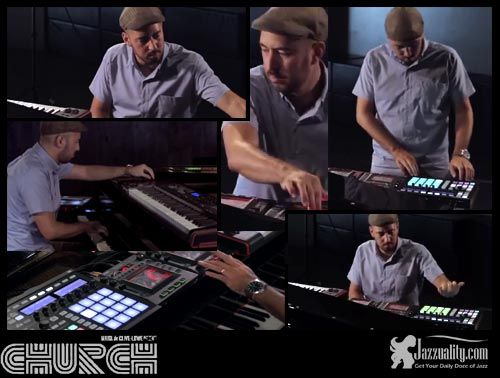 Perhaps you wonder why he takes Church as the album title for his most current work. Here's what he said about it. "For the past three years I've had a live music event resident in LA and NYC that we named CHURCH. It's equal parts jazz club, live remix experiment and dance party – part acoustic, part electronic; part planned, part improvised. Everytime we throw the event, people 'get' why it's called CHURCH. Well, it's not about a religious angle – it's about uplifting the spirit and the human condition through the power of music." said Mark. Each month he'd bring in special guests to collaborate with him and meld creative minds, from his favorite musicians, to his favorite singers and MCs, to his favorite DJs. "I've been fortunate to have so many of them be part of the vibe. There's been amazing shows outside the US as well – Germany, Holland, Portugal and Australia have all hosted the event at different festivals and venues." he added.
Playing with the likes of Eric Harland, James Genus, Nate Smith, Mark Kelley, Chris Daddy Dave, Casey Benjamin, Jean Grae, Questlove, Nia Andrews, Gaslamp Killer, Jose James and others has been an amazing experience for him, and certainly tells him that this new album CHURCH is going to be something very special for sure.
What is he going to pack inside this new album? "I've been wanting to capture the essence of the live shows and share that as an album with the world."  All of his experiences from working with many amazing talents and the way he crafts his music above genres, sounds and styles will bring those all together. That's the concept he has in mind, and now it's that time. The album is going to feature some very special collaborators from NYC and LA, and he's writing and arranging a whole stack of new music for the record. There will be a mix of instrumental songs and vocal guests. He's going to be in studio for a few days recording, then there'll be post-production before mixdown, mastering and finally having it sent off to be manufactured on CD and vinyl. He's really excited with this. I can't wait to get my new record done, I'd love to have you on board to support it, and be a part of the process." he said. Well, let's wish him all the best, may the process go smooth exactly as planned. Good luck Mark! Look forward to get into the groove with your electryfiying jazz that always come with tasty danceable, clubbing beat.
Listen to what he says on his Kickstarter : https://d2pq0u4uni88oo.cloudfront.net/projects/690432/video-300715-webm.webm
For more info, log on to Mark de Clive-Lowe's Kickstarter : http://www.kickstarter.com/projects/mdcl/mark-de-clive-lowes-new-album-church