Some against the tech updates, some embrace it. If you're in the second category, you can be surprise with what the tech brings you. Often you didn't even realize what you could get until you utilize it to the max. This is the case of Indra Lesmana who made a big hype last Friday by releasing his new single "Two Steps At A Time". As usual he's done a great job in making up stand out composition, but the thing that created big hype was the way he created it. He didn't do it conventionally, instead he used the popular audio-visual media in the shape of tablet computer released by Apple Inc. called iPad.
For a genius like him, it shouldn't be surprise to hear him inventing something. Yet we're surprised when we heard about it. Some people have used iPad to write and/or record songs, but still the result feels different when it was made by Indra Lesmana.
"Two Steps At A Time" appears as an ambient-jazz tune with dubstep. Dubstep originated in England and appeared just a while before the millenium, where the dub remixes of 2-step garage tracks represented the funky elements of drum and bass into 2-step. It's not often for us to find this dubstep in the jazz scene, but as Indra Lesmana recently spoils himself with more electro-urban sound like what he showed with LLW and Jazztronika, it's about time to have something like this from him. This song was recorded and mixed with iPad using Meteor Multitrack Recorder DAW (Digital Audio Workstation) and virtual instruments, Tascam IU2 audio interface, Electro Harmonix Vocoder to bring out his voice in ambient mood, Moog Littlephatty and Hammond Melodica 44 with pitch to midi converter controlling various soft synths from Logic Pro.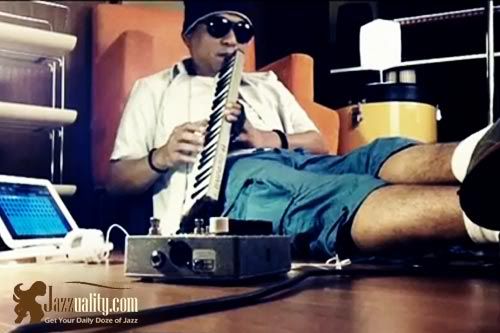 In his official website http://indralesmana.com he shared the story. It all began when his dear wife, Hanny 'Honhon' Lesmana gave him the gadget about a month ago. For a man with creative brain like him, he didn't just let his excitement only for fun but he went on thinking how far he could actually go making music by using iPad. The first inspiration came to his mind while he was still in Japan for a performance at Blue Note Tokyo with his group (Denny TR, Barry Likumahuwa and Sandy Winarta) and Everette Harp. Then he surfed on the internet full day and night to find the iPad applications that could suit his way of work and found Meteor by 4pockets Studio. "I think so far this is probably the best DAW for me", he said. Then he started to get busy dubbing in the piano, drums, bass and synth, all from iPad. "I took time in between my activities to do it, even while I was in the car or taxi." Later he overdubbed wobble bass with moog, added the vocal through his vocoder and midi harmonica. After working on the song for about 3 weeks, finally he uploaded it to his website last Friday around midnight.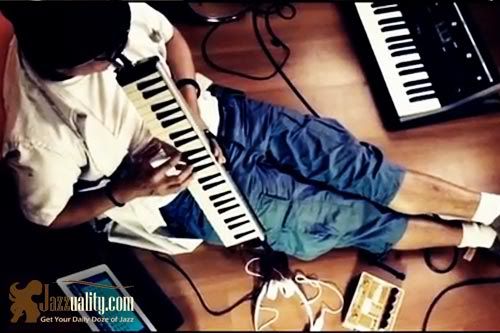 When he announced the song through his twitter @indralesmana, his followers quickly digged it and responded right away. In no time, Indra bagged many comments/praises from them. "I just heard Indra Lesmana's new song. Jazz mixed with dubstep, made by using iPad. He's a god." said one his followers. "That's the real function of technology", and another one said "It's ubercool, it's still hard to believe that he used iPad to make something like this." Many people also expressed how much they love the song, including the 'woob-woob' (The Drop) sound and the sexy, seducing yet elegant and feels throughout Indra Lesmana's brand new single. Not only his fans, he also got positive response from the apps vendor. They are going to use this song as a promotional material in their website.
The creative surprise continues on the making of the videoclip. The director Eman Pradipta of Uletbulu Production synchronized the madness by using iPhone multicam, grading and special FX process by utilizing iPhone apps. The full package is now ready. You can watch and listen through the youtube video below.
So, clearly Indra Lesmana has taken 'two steps at a time' in making up a song. First, we might never thought of how good the dubstep sound with jazz until Indra Lesmana made it, then we can also see how he could create something really cool by using iPad with the right apps. Another thing that we should not forget is the way he create a song that fit the ears of music fans in general, despite of their backgrounds, music tastes and ages. For Indra Lesmana this iPad change his way of writing songs. "Making music is no longer the same for me", he giggled. Another breakthrough has been made by the jazz icon, it's a big leap to the creativity in our music industry. Indra Lesmana promises to put this super-cool song in every iTunes outlets in USA, Australia, Europe and Asia. Ambient Dubstep-Jazz with iPad, is it possible? Definitely. Kudos to the genius for making his new masterpiece, "Two Steps at a Time". Be inspired, and be entertained, to the max.
INDRA LESMANA – TWO STEPS AT A TIME (directed by Eman Pradipta, Uletbulu Production)
Visit Indra Lesmana's official website , reverbnation and follow his twitter
Written by: Riandy Kurniawan