For being a very important and respected figure in the jazz scene, 36 years in the business resulting 66 albums (47 of them were his own recordings both solo or group) and uncountable number of performances both nationwide and international, it's normal for us to think that Indra Lesmana should have tasted it all, especially when we look back at his illustrious history. From there a simple question would arise, does he still have something new to offer? The answer is: absolutely. All these past years this iconic jazz prodigy has never stopped surprising us in all his crafts and creations from bebop, hardbop, fusion, standards, pop, ethnics and everything else in between. Just last year he surprised us with his new path by establishing LLW which quickly gained praises from around the world. The album became best seller everywhere and set his new path for the second decade of the millenium.
Then, what would be next? Many would predict that he would work on the second LLW album or ressurected his previous (super)groups like Reborn, Kayon, JavaJazz and so on in the recordings. But that wasn't what he did. His new brainchild started to appear last June 2012 when he suddenly gave a clue about his next step which, again, caught us off guard with it. What he did was pretty groundbreaking. He released his new single "Two Steps At A Time" not conventionally by using full band, instead he used the popular audio-visual media in the shape of tablet computer released by Apple Inc. the gadget we all know so well called iPad (Click here to read the whole story behind this single: http://jazzuality.com/jazz-news/indra-lesmana-jazz-dubstep-new-single-two-steps-at-a-time-ipad-way-of-composing/ ).
So, a new album it is, made by exploring the ability/posiblity of his new toy as far as he could. He already told us that the title would be 11:11. A unique title you might think, but to him, 11:11 is like a sign from the universe. "11:11 is a number that appeared very often in my life, at least the last 10 years. When I looked at the clock I saw this number, when I entered my car I saw it, on the street, on the plate number. 11:11 is like following me wherever I go, even when I was making this album. For example when I made "Angels on My Side" with Eva Celia, I finished the rendering exactly at 11:11. Just this morning when I was about to drive to reach this press meeting, this number appeared again in my car clock. So this number is very personal to me. But I take it as an inspiration. I believe everything in life is connected, we people are connected, and if we look deeper into our lives we will finally see that connection." he said.
[flickr id="8166921691″ thumbnail="medium" overlay="true" size="medium" group="" align="center"]
As the title of this 21st solo album of Indra Lesmana said, he's going to launch it right at that number, November 11 (11-11). Prior to the launching of this album, Magnum Filter invited us to attend the Exclusive Media Briefing as the Pre-Launch of Indra Lesmana's 11:11. Why does Magnum Filter interested in supporting this new album? The answer is simple. As a brand that believes that inspiration should be without limit, Magnum Filter always gives high appreciation towards the outstanding persons that never stop creating something new and inspring others with it. So, naturally they should support Indra Lesmana and his upcoming album that will be launched in a revolutionary way in application digital format through iOS (iPad, iPod, iPhone). 
[flickr id="8166949438″ thumbnail="small" overlay="true" size="medium" group="" align="left"] This exclusive media briefing was held at the Red White Lounge today on November 8, 2012. Other than Indra, the Event Manager of PT HM Sampoerna Tbk, Pribadi Satyahadi also hosted this conference. Indra began with explaining where it all started, right from the time he made his first piece Two Steps at a Time. "I made it just in a couple of weeks and then immidiately shared it to public. He told his twitter followers: "Hey, there's a new way of making music. Now you can do it not just by the help of computer, not just by using conventional music instruments, but simply with this gadget and here's the result." In no time this new invention gained many positive responses, including from some sound engineers that admitted that the quality was a top notch.
From there he was challenged to do more pieces with this tablet gadget. "While I browsed to buy some applications at the app store, I thought to myself: if I could buy applications at the app store, I could sell the songs through it as well. It's all connected anyway. Meaning, since they sell the equipments, it'd be very beautiful if the result of using those stuffs can be sold at the same outlet. It'd be a nice interaction between the apps developer and the user."  There was where the idea of making an album in the shape of application came from. Filled with curiousity, he browsed around to find out whether anyone has done it or not, but all he found was artists' applications transfered from their website. When one wanted to buy their songs, they would be connected to the iTunes. "I didn't want that way. I wanted something more integrated. Like, you buy the application, got the songs, and then they can interact." he said. Then he continued the story. "This is the interesting part. Before, when I made a CD, I didn't know who bought it. I could not have a real time interaction with the listeners right at the time they played the CD. Then at the iTunes most of the people downloaded singles. I want people to be able to buy an apps where there's not only music inside but also other stuffs that can answer your needs as far as your imagination goes. It can be video clips, games with my music inside, karaoke, partitures/music sheets for those who eager to learn about composing, tutorial, documentary… all can be integrated in one platform, which is an application." Interesting isn't it?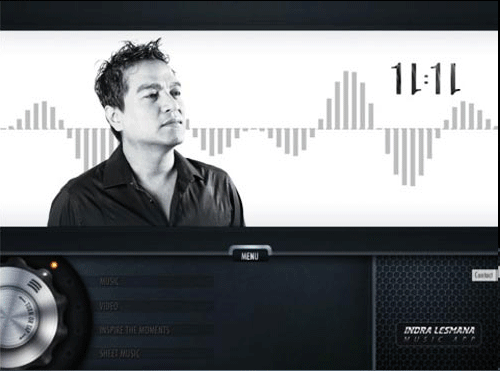 Looks like it's the first time in Indonesia, that there's an application called Indra Lesmana HD where you can get 11:11 inside. There are 5 songs inside so far, but he's going to add more and more songs every month to reach total amount of 11 songs. What can you find in the app? So far there's a sing-a-long game called "Aku Ingin", the user can sing and record it and then I can comment on it. Then there's tap-tap Reborn, that can only be opened after you play the game and reached a certain score. In shorts, this application is filled with so many interactive stuffs. "I'm so excited with it. Just this morning it has already been approved by the app store. So far it's already available on iPad, hopefully by November 11 it will already be launched for iPod and iPhone." he said happily.
Now let's see the songs contained in the new album. "Two Steps at a Time" like we said earlier appeared as an ambient jazz-dubstep track. According to Indra, the message is that we have to look ahead to catchup with things. "Like with technology, life, consciousness, awareness..whatever. In order to do that, sometimes we need to take two steps at a time." he explained. Then there's his song written 12 years later titled "Reborn" which got a totally new sound. "I wrote it when I experienced a spiritual awakening. So it's relevant to be in the album. But this time it appeared in the version of chiptune 8-bit especially made for game." Now the song got new title, "Reborn (8-Bit Chronicle)", or he simply called it "Reborn Chronicle".
[flickr id="8166921503″ thumbnail="medium" overlay="true" size="medium" group="" align="center"]
The title track "11:11" showed how much he embrace all the signs of life and turn it into something very positive." Another inspiring message we should say, since many of us tend to ignore it. Speaking of "The Sign", that's the title of the other available track on the app. Then here's another very interesting song which should also be important for Indra, "Angels on My Side". This song gathered him and his beloved daughter Eva Celia who currently studies in Los Angeles. Thanks to the technology like Skype, this thing is now possible. It became more personal since the lyrics were written by Indra's sister Mira Lesmana, which re-established their collaboration again after many years past.
Next, what's the genre of this song? Since Indra Lesmana is a jazz musician, it's obvious for you to find some jazz harmonies and improvisations in those tracks. But keep in mind that this album is not entirely about jazz. "It's a crossover (album)", he said, "where there is many other things like dubstep, chiptune, pop and so on."
We all then amazed when he demonstrated the application, showing everything inside and let us hear the songs. For something like this, is it expensive? Absolutely not. There are two types of application: free and premium. For the free one you can get one free song and preview of the other 4 songs. Games can be played, videos are available, but the partitures are locked. The premium only cost as low as US$ 3.99 where you can get everything inside, including all the future updates. Imagine when you can get everything with a very cheap price, that including being connected to this living legend in regular basis. What a catch!
If you want to have the teaser, you can drop by the Red White Lounge this Sunday (November 11, 2012) because Indra Lesmana will play the whole album in live session. Joining him are Barry Likumahuwa (bass), Muhammad Rafi (drums) and Rifka Rahman (2nd keyboard), plus 8 iPads, 2 iPhones and all the applications he used for the album. So this time you won't see the conventional band, instead you will get the iPad Band. Barry's bass will use iPad for providing the amplifier and effect, then the drum is electronic drum pad with iPad sound. On Indra's keyboard he will use control iPad for piano sound, then two synthesizers he play directly on iPad and then one iPhone played on a small keyboard and vocoder. Rifka will play with three iPads. To complete the package, Eva will also join live from Los Angeles through Skype.
[flickr id="8166950572″ thumbnail="medium" overlay="true" size="medium" group="" align="center"]
To conclude, these are what Indra Lesmana has invented:
1. making music with iPad
2. making it into an application
3. making an iPad band.
In short, this is the new revolution of making music. This can be a new platform to accomodate creativity, and with this Indra Lesmana has found another solution in distributing our music. "I want to focus and commit myself in it, and there are still many other things to dig." he said, while also explaining that he's not interested in making the physical CD version. "I don't see the significant reason. If I make it into iTunes then my fans in Indonesia won't be able to buy it, and if I make it into CD, the application will be irrelevant." he said. Well, let's congratulate him for his new album, and send huge respect for opening a whole new door, also kudos to everyone involved in it. Making music is no longer the same for him, and he has shown us that we can utilize what's available in our life in creating something positive, in the most innovative way. For the Apple user, you can get the application through this link: https://itunes.apple.com/us/app/indra-lesmana-hd/id573472437?mt=8&ign-mpt=uo%3D2 or simply look for it (Indra Lesmana HD) at the app store. We are living in the modern world where technology is within reach easily. Some choose to go against the tech updates, but some embrace it. There's nothing wrong with embracing the technology if we know what positive things we can use with it. Indra Lesmana has made his two steps at a time, showing that we actually can create something new by using available today's technology. Grab the application today and have fun with it!
Get the App here: https://itunes.apple.com/us/app/indra-lesmana-hd/id573472437?mt=8&ign-mpt=uo%3D2 or simply search the App Store
See more pictures:
[flickrset id="72157631960787381″ thumbnail="square" photos="" overlay="false" size="medium"]
Reporter/Photographer: Omar Arif Maulana
Written by: Riandy Kurniawan