Happy to inform you that the first announcement of the upcoming 32nd JGTC is officially here. JGTC (Jazz Goes To Campus) is the longest running jazz event in Indonesia, second to North Sea Jazz Festival which was started 2 years earlier. Since 1978, JGTC has been constantly held until it reaches its 32nd anniversary this year. For 32 years of ups and downs, we should be grateful to see JGTC still running strong. The Student Executive Board of Faculty of Economics at the University of Indonesia is still behind this annual event as usual. This year might turn to be the best one yet, with surprisingly heavy lineups as projected.
First of all, let's hear the preface from the Committee.
"The composition of jazz is the manifestation of feelings via rhythm, via words, onto a symphony, in other words, it is the conveyance of ordinary words into other, more poetic words. Many definitions have tried to articulate jazz in its nature; however none have been able to grasp its true meaning without acting out through its undeviating form.
We proudly present to you our own form of assessment of jazz through our very own designation. A platform of expression, an intense recognition of freedom to communicate, and a completely boundless podium of creativity. The 32nd Jazz Goes To Campus is brought to you, claiming "Sense of Rejuvenation" as this year's theme to bring out the very best and bring a sendse of revitalization of its earliest definition.
Our utmost and primary purpose of this event is to satisfy the thirst of many jazz pleasures, to provide jazz musicians the stepping stone of delivering their passion, and to bring about and initiate contribution towards escalation of jazz."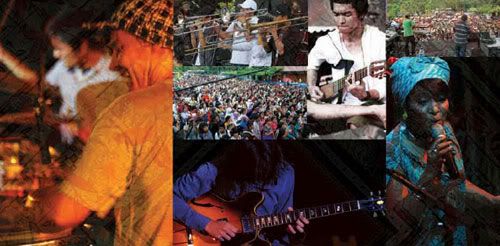 Prior to the 32nd Jazz Goes to Campus there will be some pre-events to check out, including Jazz Gathering, JGTC Roadshow, Jazz Competition, Jazz Clinic and Children Workshop. The complete schedule of all these pre-events will be provided soon.
Now, let's see the lineups.
Projected musicians performing (tentative):
Local:
Barry Likumahuwa Project
Benny Likumahuwa & 5 trombon
Chaseiro
Anggun
Reza
Bunglon Reunion
Idang Rasjidi
Indra Lesmana Reborn
Ireng Maulana
Salamander Big Band
Kul-Kul
Luluk Purwanto
Maliq & d'Essentials
Balawan
Elfa's
JDS
Starlight
Oele Pattiselano
Nikita Dompas
Nial Djuliarso
Juno
Bob Tutupoli
Fariz RM
Ecoutez
Tao Kombo Collective Messkeepers
Sketsa
Souleh and Soulehah
Tomorrow People Ensemble
Tompi
Utha Likumahuwa
Margie Segers
Syaharani
Gamelan Shock Breaker
Jamaican Cafe
Dira
Other talented young musicians
The list of CONFIRMED International bands/artists will be provided soon.
Other talented international bands
Save the date!
32nd Jazz Goes to Campus (JGTC) will be held at:
Date: Sunday, November 29th 2009
Time: 10:00-00:00
Place: Campus grounds, faculty of Economics University of Indonesia (Depok)
More info about JGTC will be updated regularly, so stay tune!