Talking about Jazz means we will find out the harmony between many instruments, souls, and even various genres in every tones of it. We have seen the development of Indonesia music especially in Jazz grown up even better. Thank God, we have got another young people who also want to give contribution to the better movement of music industry in Indonesia. Here they come, a group originally from Bandung, the Parijs Van Java, Titik Awal (In English means Starting Point).
Big Band SMANSA
Their very first step started since they was in SMAN 1 (High School) Bandung. In 2008, they gathered in Big Band SMANSA as a group. Melvhin, Bobby, Dwi, Gamma, Windura, Yogi were five members that brought Big Band into many high-rated local music competition. Three achievements they had collected in two years a row. Got position as big twenty from Bandung in Indomie Jingle Dare, they continued the journey as band in others event. The second one, they got into big ten of Bandung Governor Band Competition. The last but not least, they were announced as Duta Anti Narkoba (Anti-Drug Ambassador) for Bandung region. If people assumed Senior High School Students mostly do a rude thingy, so they prove that it's wrong. These five boys created their hopes for future since early times.
Behind the "Titik Awal"
After a year of hibernation, those youngsters back to the stage in 2011. Braga Festival was the first place that reunited them all. That also became the moment of their meeting with Bali Lounge 2 vocalist who asked them to give Melvhin and friends a chance to perform on Bali Lounge 2 album release. No need to wait so long they got another opportunity to enjoy the stage of the biggest Jazz event in Indonesia. Unfortunately, they stood up on the stage without Windura and Yogi, two members of this band resign before the Java Jazz Festival 2011. So, only four of them on stage. Again the had to loose Dwi, another member to quit because of some reason. Not only the member of the band, they had changed their manager for three times. Until today, Tumpal Silalahi who also covered as stage director and friend of them takes a control as a manager. With the rest four, they established Titik Awal. A year of prosperity in their journey started there. Invited on many hip music events such as Espose, Sunday Jazz, and Ninetyniners Accoustic, made their name getting famous in Bandung region.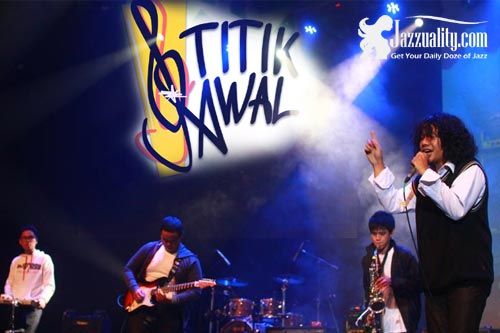 The next steps
We give a plural sign after the "step" for the movement of these four boys still continues. They did not give up with the situation of the changing of their personels. One thing about them, they build their career above the power of honesty and love. "We don't have any target. I mean all tones that we bring up to the stage contain our desire to share the spirit of life through music. The greatest thing about singing and playing music is, I could be honest to myself. Of course the melody and lyrics show what I mention as honesty. Besides, we want to courage young people to follow their passion, but being responsible with every decision they take" explained Melvhin to us. As we told before, they have been setting up their plan for releasing the first album. During the preparation of it, they were invited by one of biggest fertilizer company in Kalimantan to participate on their event as the guest star. Moreover they also work with some people who expertise in music, they are Hagai and Rai. Both of them are additional player for Ruth Sahanaya's band and take a part as music director of Titik Awal.
"Titik Awal" Human Resources
Formed by four players, Narendradipa Soemantri on drums, Boby Suryo Alam on bass, Gama Ramadhani on guitar, and Mevhin Samuel Harapenta Sitepu on vocal, today's Titik Awal comes up with more attractive music. If a company had a human resources development to develop their project, Titik Awal also supported by some additional players on their performances. On vocal, they are Tiara Effendy, Ranitya Aulia, and Sheila. Rifqi and Ray on keyboard, Hagai and Reyhan on guitars. To add different taste of their tunes, they also involved two percussionists Alson and Raka. Arkan with his saxophone also presented his ability at several of Titik Awal's gigs.
Put our hopes in the soul of young people, it would not be wrong. Hopefuly those young boys could spread the good tunes and tones for Indonesia music development.
"The beginning happens to be something."– Titik Awal
Upcoming events:
Metro 8-11 Show
Jazz Kemayoran Jakarta
Perform at KFC Store Jakarta
Youth Jazz
Contact Person: Tumpal Silalahi (085762155372)
Twitter: @titik_awal
Email: Titik.awal@yahoo.com
Facebook: https://www.facebook.com/titikawal
Written by: Shely Napitupulu