"Embracing Uniqueness and Tolerance"
Attention please! Jazz will once again paint the sky of Bali with vibrant colors. The 4th annual Ubud Village Jazz Festival 2016 will be held, once again 12-13th August at the same spot, ARMA Museum and Resort, Ubud. Unlike Kuta area which is admired for its beach and rave parties, Ubud still preserves all the natural essences of how a paradise island should be. This town is located amongst rice paddies and dense forest in the central foothills of the Gianyar regency. With the distance around 37 km from the airport, this town with cool mountain climate has been known as one of Bali's major arts and cultures centres. For all the beauty and charm Ubud possesses, it has been standing as one of the most favorite destinations for any tourists who visit Bali or even Indonesia. Now, jazz is added into the town's account and should be listed as one of the important annual jazz destinations in the world.
Just like the previous edition, this international jazz fest will feature a world-class line-up. A culmination of the Festival's commitment to bring together a diverse and unique group of jazz musicians has resulted in a collection of performances that combines exciting new artists, legends and student groups, international artists, local heroes and the best from the capital and other cities in Indonesia, all connected around special custom programming and unique musical experiences that cannot be seen anywhere else in the world.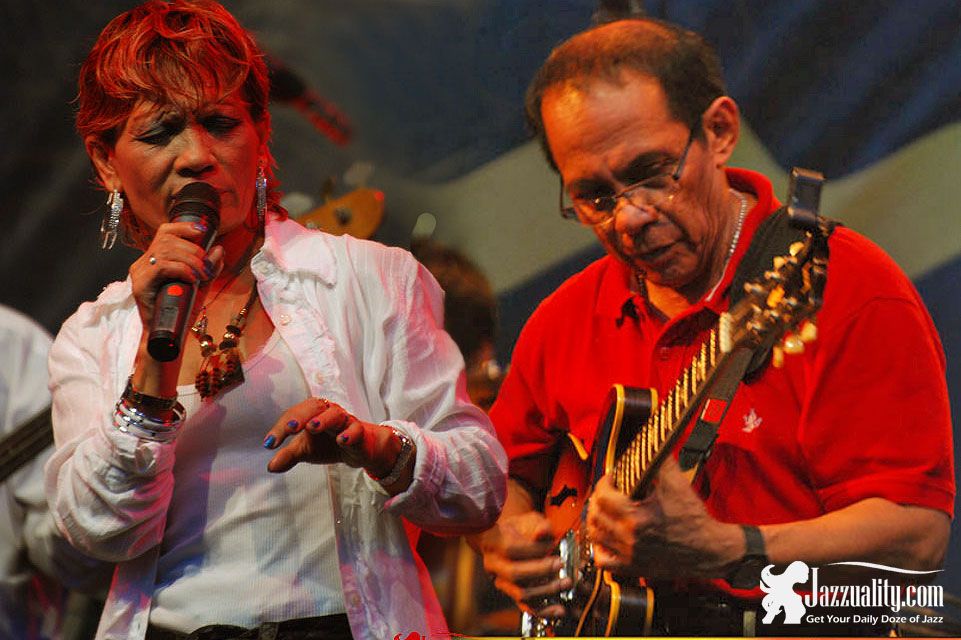 Legendary Margie Segers and Oele Pattiselano
Acclaimed legendary jazz musicians from Indonesia such as the lady of jazz and blues with career spanning more than 40 years Margie Segers, the master of swing Oele Pattiselano, Glen Dauna (with sons Rega and Indra) performing as The Daunas, Jeffrey Tahalele and Arief Setiadi. World class bass player, Reuben Rogers, who has performed with Wynton Marsalis, Roy Hargrove, Joshua Redman, and Dianne Reeves, will perform as a duo with Peter Bernstein, one of the most respected and inspiring jazz guitarist. Bernstein was first discovered by Jim Hall, and labeled as the most impressive guitarist he has ever heard.
More interesting artists found in the lineup include LOUIS! Project from Holland, a surprising music program about the legend, Louis Armstrong. The show will bring you swing, spirituals, improvisation, blues and vocals that will make you think you are in New Orleans. This is the second project created by trumpeter Michael Varekamp together with saxophonist Ben van den Dungen the rest of the team, following Miles! – a tribute to Miles Davis which was presented grand at last year's Ubud Village Jazz Festival as seen in the photo below (read the report here: http://jazzuality.com/jazz-event-report/ubud-village-jazz-festival-2015-day-2-report/). It's going to be great to see the second project of this Legends of Music project, especially when they are tributing Satchmo who was widely recognized as a founding father of jazz.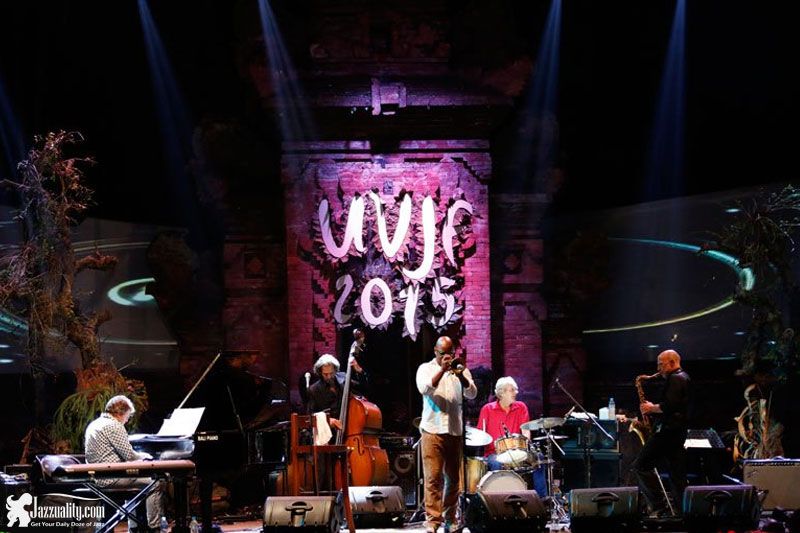 Legends of Music Project: Miles! at last year's UVJF edition
For the first time in Indonesia, Youn Woo Park Trio will perform all the way from Korea. Ian Scionti Trio, endorsed by Accion Cultural Espanola, Spain explores the limit between jazz and flamenco, and will present the cohesive dialogue between the two traditions for the Festival guests. Yuko Shirota quartet  (Angin Asia) from Japan will also bring her uniqueness style of jazz to the audience of Ubud Village Jazz Festival. Indonesian Nita Aartsen will collaborate with Frenchman Jean Sebastien. Representing Pland is Piotr Orzechowski Quartet, then from the land down under Australia are Julian Banks and Energetic Zen Quartet. More European jazz will be represented by East West European Jazz Ensemble feat Gregory Gaynair from Germany.
Many other local artists are joining the fest too this year. Mia Samira, the great big band founded by Devy Ferdianto, the Salamander Big Band (Bandung), Balinese based jazz groups Bali Gypsy Fire and JoyFe Jazz Quintet, proud Bali son Sandy Winarta Trio, Michael Setiawan Quintet and the Underground Jazz Movement will spoil your thirst of real jazz for two days.
The Ubud Village Jazz Festival is not only about great music, be prepared for a culinary experience with 26 food outlets and like last year, you can enjoy 1 hour of free flow wine by Plaga Wine and be amazed at the artistic design of the stages.
Performances will span over three stages, each with a different theme. Padi stage, inspired by the Balinese tradition of rice farming, Giri stage, in honor of the great Mount Agung, and Subak, the famous Balinese irrigation system for rice fields.
Encouraged by a range of local communities, Ubud Village Jazz Festival is one of the most respected Jazz Festivals in the region. The majority of team members volunteer for the event from a variety of backgrounds such as art, media, video, design, music and even culinary! Yet, it keeps the spirit of Ubud Village Jazz Festival: A small festival with a big message!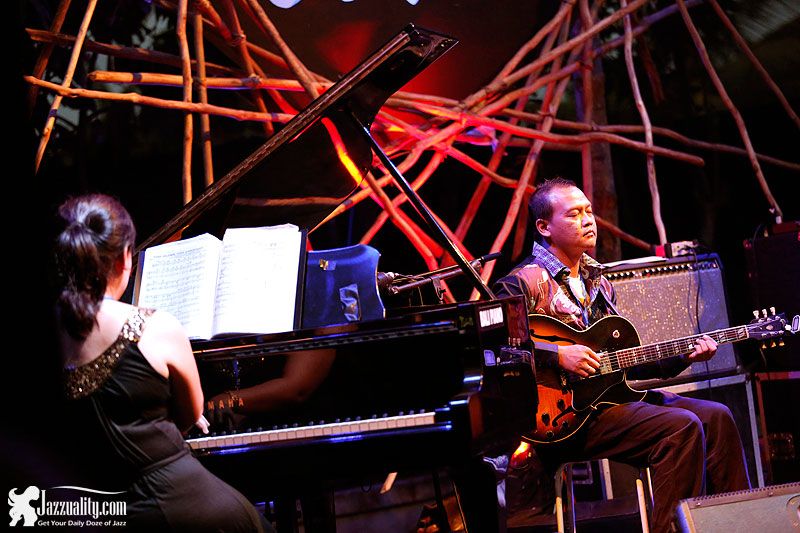 Founder of Ubud Village Jazz Festival, Yuri Mahatma with wife Astrid Sulaiman
For the third year, Ubud Village Jazz Festival 2016 is proud to promote Jazz education in Indonesia. The Bali Jazz Summer School will be held over 3 days prior to the festival and will be divided into 6 classes featuring, drums, piano, double bass, vocal, and brass and reed instruments. Festival co-founder, Yuri Mahatma explains "This is a great opportunity for young Indonesians to gain valuable knowledge and improve their skills through classes in theory and daily jam sessions".
On behalf of the Ubud Village Jazz Festival committee, we invite you to come to this 2-day jazz party. There's still time to get the erly bird ticket price as listed below. If you haven't decided where to spend holiday this year, you can enjoy the mystical paradise of Bali while tasting jazz in a way you have never experienced before.
For more information, please visit: www.balijazzsummerschool.com
Visit the website to secure your early bird tickets. Only available until June. Don't miss out on this extraordinary deal!
Early Bird ticket price (Including taxes) April- June 2016 period
One Day ticket  : IDR. 300,000
Two days ticket : IDR. 500,000
Please visit their website to get the most updated ticket prices
Normal ticket price (Including taxes) July-Aug 2016 period
One day ticket : IDR 400.000
Two days ticket: IDR 600.000
For further information or inquiries, please check the official website: www.ubudvillagejazzfestival.com .