If you ever been to Bali, Ubud should be one of your most favorite destination. This town is surrounded by rice paddies, creek with steep, located in the central foothills of Gianyar. For more than a century Ubud has been popular as a large tourism site since there are many fine arts, dance, music and other forms of cultural can be found throughout the place, not to mention so many sacred nature reserves like Ubud Monkey Forest, temples, cave or even art/painting museum. Now think of this. What if this land with beautiful nature surroundings adds its charm by serving jazz, not a single show but festival, for two days? That sounds great, right? Well, that's what going to happen. Here comes the first ever International Jazz Festival ever held in the heart of Ubud-Bali, the capital of Art of Indonesia by the name of UBUD VILLAGE JAZZ FESTIVAL 2013.
The idea of this event was triggered a musician/composer/teacher and the founder of Underground Jazz Movement Yuri Mahatma and the director/owner of ANTIDA Music Productions, Anom Darsana. This is a new higher step for them after partnering for some regular jazz concerts that has different themes in every edition. The idea of making up a community concert came in the early 2012, but then it rolled bigger by having the involvement and support from majority of community artists. Hence, the concept of hosting a community concert in this unique village was born.
The Ubud Village Jazz Festival 2013 is created in medium size with around 20 performances, involving about 100 musicians (local and international) for two days which will be divided into 2+1 stages (two main performers and one stage for amateurs, new talents and music students). As how the jazz festival normally goes, you can find plenty of jazz forms to choose. Just in case if you're hungry and thirsty during the event, the event also provides variety of best food in the culinary section. Other than live performances, Ubud Village Jazz Festival also facilitates workshop of local and national music educators to investigate ways of getting more people to be interested in playing jazz. The festival will be held on August 9 and 10, 2013 at the 5-star Arma Museum and Resort, Ubud, Bali.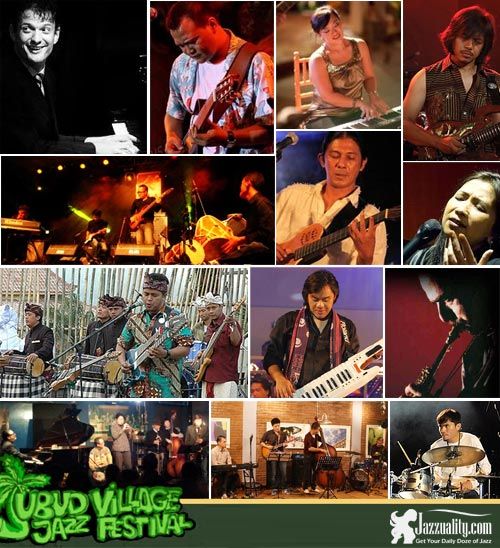 Now let's talk about the artists. As we have mentioned earlier, the lineup consists of local, national and international stars, either with their own groups or through special collaborative acts. Representing Netherlands is Peter Beets, a world-acclaimed pianist with classy, infectious swing. Then look at the combination of Mexico, Japan, England and Malaysia under the name of Diego Maroto and No Black Tie Artists. From Japan comes an interesting ensemble Yokohama Association of Artist Orchestra also known as YAA. After visiting many Asian regions like Korea, now they are going to expand their coverage area by playing in Bali.
After participating in uncountable jazz events in Indonesia and around the world either as the playing artist or conceptor, Dwiki Dharmawan is going to add another festival in his account. His tranced stage act and unbelievable finger-dancing on keys will stun everyone as usual. Another inspiring artist who's highly respected by the jazz musicians Riza Arshad is also in the list with his supergroup simakDialog, a cross ethno-jazz progressive ensemble who has been running successfully for 20 years. SimakDialog's albums are distributed internationally by MoonJune Records and soon to release the 6th album. Consisting of Riza Arshad (keys), Tohpati (guitar), Adhitya Pratama (bass) plus traditional musicians Endang Ramdan, Erlan Suwardana and Cucu Kurnia, simakDialog is an expert of crossing the line of modern jazz and traditional ethnic by replacing the role of drums with Sundanese kendangs and metal toys. No matter where they land, they keep on gaining praises. Now you can experience the madness once again by attending this fest.
The proud Bali sons who have gained popularity both nationally and internationally will grace this festival too. Guitar maestro Dewa Budjana will come home with his group Dewa Budjana Quintet, then I Wayan Balawan is coming with his famous fusion band which has mystical Balinese spirit, Balawan & Batuan Ethnic Fusion. One of the best modern jazz drummer Sandy Winarta is also in the lineup. After playing several times in Surabaya tributing Bubi Chen, now he's bringing his compatriotes to his motherland.
There are many local artists to join the event. The founder Yuri Mahatma will jump into the pool with his guitar. Ito Kurdi Quartet will share the joy on stage, and then the combination of compelling saxman Joe Rosenberg who recently lives in Bali with Indra Gupta Trio will certainly grab your attention. More talents from Bali are multi instrumentalist Koko Harsoe, Pramono Trio, Eko Soemarsono Group and Underground Jazz Movement.
The lineup doesn't stop right there, because you should also check the fantastic female singer who has natural jazz breath and distinctive phrasing all over her voice, Dian Pratiwi. Having such gift, Dian has traveled around the globe, stretching from Bali, Netherlands and Germany. In this event she will perform together with Uwe Plath, her music partner in Germany, the leader of the Glen Bushman Jazz Akademie Big Band where she joined since a decade ago. A young female jazz pianist (also a dentist) Astrid Sulaiman will charm you with her enchanting piano swing. The Jongens Quartet is also confirmed. This group comprises of four close friends who mostly graduated from Netherlands: Elfa Zulham (drums), Johanes Radianto (guitar), Dhani Syah (piano) and Doni Sundjoyo (contrabass). As recently they released the selftitled debut album (buy it here: http://store.jazzuality.com/products/cd/the-jongens-quartet/), you should listen to how nice they can bring the straightahead concept alive. Openmind Quartet from Jakarta is among the participants as well.
More artists to come, including some international stars who the organizers are still waiting for the final confirmation. So if you're looking for a place to visit for a jazzy holiday in August, why don't you pick Ubud instead? If you take this remarkable town in the middle of Bali as a haven for backpackers and/or tourists who are looking for exotic place, stunning nature, mystical fine arts and culture, historical sites and the likes, now you can add the word Jazz in it. As this festival is planned to be an annual event, you can have the privilege to attend it exactly from the first edition. More than just one of the world's most favorite holiday destination, Ubud invites you to experience jazz in paradise. Hurry get your tickets now because the space is limited!
UBUD VILLAGE JAZZ FESTIVAL 2013
Date: Friday-Saturday, August 9-10, 2013
Location: Arma Museum & Resort, Bali
Jl. Pengosekan, Ubud, Bali, Indonesia
Ticket price:
– 2 Day Pass: IDR 550.000
– 1 Day Pass: IDR 360.000
For more info and ticketing, log on to http://ubudvillagejazzfestival.com