The long wait will finally be over soon. If you're a fan of TULUS and live in Bandung or nearby, you should be excited to hear this news. We have heard about the planning of this event since the end of last year, but then the concert was posponed due to some problems. But now it's settled, that Tulus will greet his fans in Bandung through a very special 'hi-tech' concert simply called: KONSER DIORAMA. This event will be held next month, on May 9, 2013 at Teater Tertutup Dago Tea House, Bandung. Keep reading, we will tell you all about this concert.
It's true that Tulus has been and driving his journey fast to reach the big festivals such as Java Soulnation Festival 2012 and Java Jazz Festival 2013 , and presenting his grand concerts several times. Speaking of his grand solo concerts, it's already one and a half year ago when he launched his album at Centre Culturel Français de Bandung (CCF Bandung) titled "TULUS: AN INTRODUCTION", which followed by almost a year ago in Gedung Kesenian Jakarta with TULUS:BEYOND SINCERE concert. Fans have been asking when he will make another grand solo concert and where; now it's official that he will drop another bomb in his own hometown, Bandung.
Tulus is a phenom. So far he's sold no less than 10.000 copies of his debut album and still running. His singles "Sewindu" and "Teman Hidup" has become major hits in many top radio stations, along with other songs in the album which are also loved by many music listeners. He's been followed by thousands of fans, he gained that number too in his official youtube channel. Other than capturing the hearts of music lovers through his tender crooning vocal character, he's also capable to write smart but simple lyrics which mostly speak about life and love, things that we all experienced.  He also write song for other fellow artists, including for Andien in her latest album. His combination of pop, acoustic and light jazz proved to be one of the winning formulas that made him gained success in no time. Flawless tone, perfect pitch, charismatic, friendly and down to earth, these should also be listed in gifts that he possesses inside. A year's passed, "it's time to make something special again." he said. It's not Tulus if he doesn't make something new, so along with his team, he's ready to bring something that he's already planned to make for quite some times.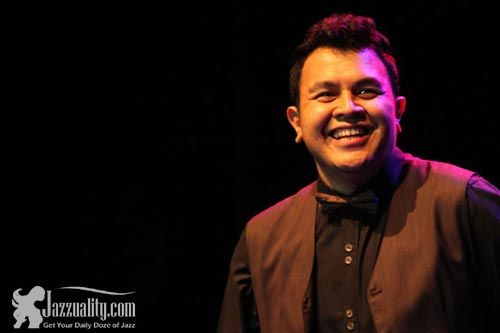 If you check on the dictionary, Diorama means a three-dimensional miniature or life-size scene in which objects are arranged in such naturalistic setting. He smartly used this image as song in the album, but now it's going to be translated further to spoil us visually. KONSER DIORAMA is set to be a music concert which combines the harmony of audio-visual experience through Video Mapping Concert. In order to bring something different like this, Tulus invited Tanti Sofyan, the videographer of Deluxe Symphony to translate his concept into something visual. This is a very exciting new technique that can turn just about any surface into a dynamic video system, enabling the projected image to fit perfectly on any shaped screen, even the most irregular ones. Musically speaking, he once again asked Ari 'Ari Aru' Renaldi, his music producer to create special arrangement for it. What Tulus will present is the songs from his debut album, his favorites, also some materials which will appear in his upcoming next album. With the capacity of 750 seats, KONSER DIORAMA is prepared to be a high quality concert that none of us would forget.
This event is organized by DIAgency and AZZEO. The ticket is available through many official outlets both land and online (Check the outlet list below).
If you're looking for another grand concert of Tulus, the long wait will be over in a month from now. Not only you will have him back in interactive session, you will listen to the new arrangement of his tracks, his favorite song choice and a teaser of his upcoming new album. All will be presented not in an ordinary solo concert but in hi-tech concept which will answer your need of having a spectacular event that can also wow your eyes instead of just the ears. As the seats are limited, hurry secure your spot and make sure you won't miss this one. Get ready to sing along and have the best eye-treatment in a concert like none other.
TULUS: KONSER DIORAMA
Date: Thursday, May 9, 2013
Time: 8:00 pm – onward (Open Gate: 7:00pm)
Location: Teater Tertutup Dago Tea house, Jl. Bukit Dago Utara no 53, Bandung
Ticket price: IDR 75.000
Click here to buy the ticket from us: http://store.jazzuality.com/products/ticket/tiket-tulus-konser-diorama/
or visit other official Ticket Box:
Landstores:
Omuniuum (Jl. Ciumbuleuit 151B Lt 2 Bandung)
Loubelle Shop (Jl. Setiabudi no 56 Bandung)
Bumi Maicih (Jl. Prima Raga no 6, Cingesed Bandung)
Online ticketings:
Jazzuality.com (http://store.jazzuality.com)
GigsPlay (http://gigsplay.com)