Twenty. Many people say this is the gate to many wonderful life experiences. Time to try everything we cannot imagine before, travel around many places and at the same time it is when many people trying to figure out who they are and what they want in this life. Some people have to live long journey until reach one point in their life while other special people can maximize all good aspects in their life and reach that point in such young age. David Melchias Manuhutu is one of them.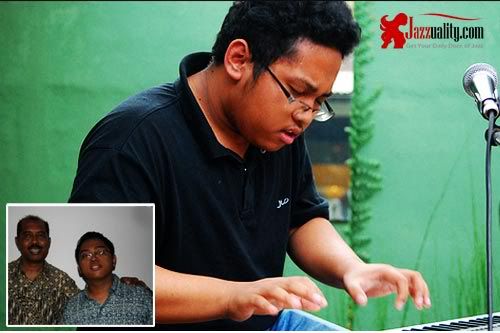 David Manuhutu performing at Sunday Jazz [inset: with proud father Venche Manuhutu]
This awesome youthful started his musical experiment in age 5 and until now he continues to shine in jazz. It's not difficult for us to trace where he got that from, since he's the son of senior guitarist who also opens a Bandung-based music school, Venche Manuhutu, and of course from the gift/blessing from above. We met him for the very first time in 2008 when he played with one of his previous band, Applepine. He was still 16 at that time, yet he already played serious jazz along with improvisations that usually only come from more mature and experienced musicians. From there he never stops progressing, from one leap to another, along with his musical growth. He got his some kind of 'inauguration' in his first solo performance called "Touch of 17 by David Manuhutu" in 2009 (Read our report from it here: http://jazzuality.com/jazz-event-report/touch-of-17-by-david-manuhutu-the-report/ ) followed by having his own spot at the Java Jazz Festival 2010. This wonderkid has done much collaboration and got many learning from other famous jazz musicians, for instance, Bubi Chen, Indra Lesmana, Imam Pras, Australian band LOGIC, Lewis Pragasam, Oele Pattiselano, Jeffrey Tahalele, Arief Setiadi, Imelda Rosalin, Riza Arshad, Nial Djuliarso, Rudy Zulkarnaen, and many more.
Bunch of experience with the seniors enrich David's knowledge and sharpen his skill as pianist for sure. Hard work and eagerness to learn new things are another absolute formula that brings David to his position now and already flew him to America. He is still doing his study in Berklee College of Music in Boston, Massachusetts, USA with Jazz Performance as the field of study. He has finished four semesters in summer 2011, fall 2011, spring 2012, and summer 2012. For this 2012's fall, he decided to take a break, went home, had holiday, and make a special concert in his hometown. THE NEW TOUCH OF DAVID MANUHUTU, that's the title of the concert will enable us to see his fruitful progress featuring fellow musicians from Jakarta: Indra Dauna (trumpet), Indrawan Tjhin (bass), Elfa Zulham (drums) and the phenomenal pop-jazz singer from Bandung, Tulus, before he goes back to continue his study again in Berklee.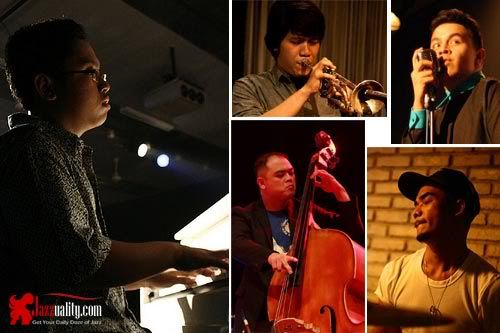 clockwise: David Manuhutu, Indra Dauna, Muhammad Tulus, Elfa Zulham and Indrawan Tjhin
David's father Venche Manuhutu praises the Lord for His grace on David that he gets Dean's list award  every semester because of his great GPA, which is always above 3.4. Back in summer 2011, David had his first great musical experience in college; Joanne Brackeen, a piano instructor, was tutoring him. In hiatus, he joined a workshop with Danilo Perez who is a contemporary pianists and jazz composers. Then in fall 2012, David got another workshop with Aaron Goldberg in Berklee and he was being recommended to have learning from Goldberg's instructor whose name is Stephany Tiernan. In 2012, he got many experiences because of hard work and maximal effort in developing his talent. As in spring, David did not only play in the last session at an obligatory concert but also got a chance to learn from a Jim Hall's saxophonist, named Grek Osby in spring.  Different story he got in summer, David once again fully blessed because he had lesson with a private instructor, Shannon Leclaire who is an assistant of David Baker, a symphonic jazz composer. In addition, David was (again) being recommended to study with Roy Hargrove's instructor whose name is Hall Crook in the next semester.
These completely great stories about David Manuhutu during his studies in Berklee boost us to continually updated what is new about him and what is he does now. Because for such a talented young person, he has proven that excellent talent will give us back the good impacts and experiences in things we love if we do such a balance effort to maintain and improve our flair. And this time, David go home to let loose his longing to the family, have good times in holiday, and kindly want to share his musical knowledge from Berklee to his dearest friends here in Indonesia, especially in Bandung. This concert will be held at Balai Pertemuan Bumi Sangkuriang Bandung on Wednesday, September 26, 2012 starting from 7:00 pm. The concert is set to be a FREE show, but please get your own invitation at Venche Music School (VMS) Bandung. (The address can be found in the info below). Hoping we can grab as many learning as we can from this grown-up juvenile, and since he'll be backed with all-star players, none of us should miss this lovely jazz package.
Balai Pertemuan Bumi Sangkuriang Presents: The New Touch of David Manuhutu
Featuring:
David Manuhutu (piano)
Indra Dauna (trumpet)
Indrawan Tjhin (contrabass)
Elfa Zulham (drums)
and
Tulus (vocals)
Date: Wednesday, September 26, 2012
Time: 07:00 pm – onwards
Location: BP Bumi Sangkuriang
Jl. Kiputih 12, Ciumbuleuit, Bandung
FREE CONCERT, but get the invitation at:
Venche Music School, Jl. Nanas 16, Bandung
Phone: +62 22 7273326, 720 5862
Website: http://venchemusicschool.web.id
Written by: Mellysa Anastasya Legi