We don't know what kind of vision did Candra Darusman has when he initiated the first Jazz Goes to Campus in 1976 as a part of an art event. It was held with minimalist stage sets surrounded by the trees with ticket price only IDR 500 (equal to 4 cents in US currency). He might have had big dreams, or maybe, as an active economics student of Universitas Indonesia at that time, he just wished to proof that jazz is not an expensive and exclusive music the way it was wrongly labeled back then, even until now.
But hey, fast forward almost 4 decades later today, Jazz Goes to Campus (JGTC) is still alive and kicking hard! It stands as the oldest jazz festival in Indonesia and one of the oldest in the world. This event carries the mission to bring jazz to campus and share the love of jazz. This event is made by the students and all stakeholders of Economics and Business Faculty of Univeritas Indonesia as a form of contribution and appreciation towards the music industry, jazz in particular. This year this festival celebrates its 39th edition, coming soon on 27 November 2016.
JGTC stands as the only festival who has brought three generation of legendary jazz family: Jack Lesmana, Indra Lesmana and Eva Celia. The success of this annual event can also be seen from the significant growth every year, consistently presenting more than 30 local and international musicians spread over 4 stages with more than 20.000 attendances per year. Other than that, Jazz Goes to Campus has been accomodating the development of musicians who dedicate themselves to jazz, from junior to senior, also music community through series of programs.
This year, The 39th Jazz Goes to Campus goes with "Jazz is the Moment!" as its theme, referring to their wish to give memorable moment to all the stakeholders so the harmonious connection could be built. As for the word 'Moment', just like how a jazz musician play, this event offers two ways: a well-prepared moment and the unpredictable ones. Hopefully by this approach, you can find "The Moment" in it.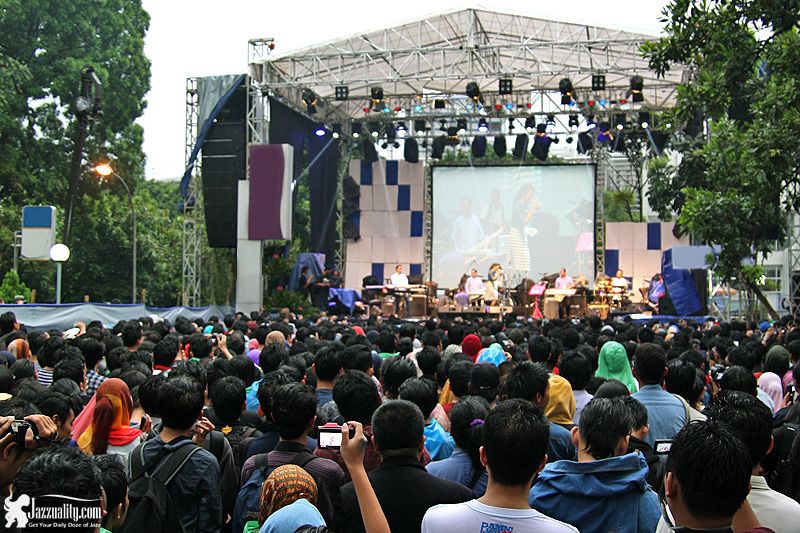 It's like a tradition for Jazz Goes to Campus to hold many activities or pre-event before the D-day. It started with JGTC Opening and Press Conference a couple of days ago. This year the 39th Jazz Goes to Campus will work as a pilot basis to pay performing rights to all song-writer or the copyright holders through Wahana Musik Indonesia (WAMI). From there, JGTC Clinic followed just a day after. This clinic educates the young musicians who compete in the JGTC Competition. Standing as the mentors were Tohpati, Indro Hardjodikoro, Rahmadanni Syah and Demas Narawangsa. This year JGTC also cooperates with Badan Ekonomi Kreatif Republik Indonesia (Bekraf RI) to give more knowledge about intellectual property rights, presented by singer/politician Theresia Ebenna Ezeria. The JGTC Competition itself is divided into two rounds: the qualification round on 5 November 2016 and final round on 19 November 2016 at Plaza Indonesia, Jakarta. The panel of judges consists of Indro Hardjodikoro, Adra Karim and Echa Soemantri. Three winners will get their chance to perform at the festival.
Not only in Jakarta, like before they are spreading the good news to other cities. This year they are coming to Purwokerto in cooperation with Universitas Jendral Soedirman as a part of JGTC Roadshow. A mini festival will be held on 11 November 2016, presenting Ricad Hutapea Quartet ft. Renata Tobing and local community bands such as Jess Kidding, Jes Udu, Staccato, SASMI and many more.
Then, as a form of their concern towards the education, in cooperatin with Adkesma BEM FEB UI, JGTC is ready to distribute scholarships. The fund is coming from the donors which will be invited to attend the JGTC Gathering & Charity Night. This charity night is set to come on November 12, 2016 at Pearl Restaurant, JW Marriott Hotel, Jakarta. The previous committee are expected to join as well along with the donors. Meanwhile, JGTC Community Night is coming on 18 November 2016 at Negev Gastronomy & Art. Jazz communities from Depok, Kemayoran, Bekasi, BSO Band from FEB UI and ITB from Bandung have confirmed their participation.
And now, it's time to talk about the MAIN EVENT! As we have stated earlier, it's coming soon on 27 November 2016 at Campus Ground FEB UI, Depok. This main event goes with "Moment of Celebration" concept. There will be three international artists for this edition such as Kgomotso Xolisa Mamaila (South Africa), Sammy Thiebault Quartet (France) and the BRIT Award and Grammy Award winner famous with a big hit "Bad Day" in 2006: Daniel Powter (Canada). A very famous band originally from Bandung with 30 years of career Kahitna, Barasuara Project with Indra Lesmana and Adra Karim, Barry Likumahuwa Experiment, Due Empat Jazz Affair (Alvin Ghazalie and Misi Lesar), the legendary Margie Segers and Motown Band, Mocca, Monita Tahalea, Raisa Andriana, Ricad Hutapea Quartet ft. Renata Tobing, Rizky Febian and Tohpati Bertiga.
It's very important to let you know that there will be two very special projects for this time. First, JGTC All Stars: Tribute to Ireng Maulana. This is a project to pay respect to the late Ireng Maulana and his works/songs, consisting of living legends like Benny Mustafa, Benny Likumahuwa, Jeffrey Tahalele, Sam Panuwun, Hasan Alamudi, Arief Setiadi, Idham Noorsaid, Ermy Kullit and Ireng's daughter who follows his footsteps in music, Andrea Maulana.
The second project is JGTC Young Stars: Djanger Bali Remake! This is a very interesting project focusing on playing the songs from the phenomenal album made by Tony Scott and the Indonesian All Stars (Jack Lesmana, Bubi Chen, Benny Mustafa, Maryono and Yopie Chen) in Villingen, Germany in 1967: Djanger Bali. The vinyl recording was released under SABA label, Germany, also by MPS Records, Japan and MPS Records-BASF, Germany in 1971. All releases were limited editions and never distributed in Indonesia, so it was really hard to find for 48 years. But thank God, through the amazing efforts from Demajors, the album finally finds its way to be ressurected and distributed in Indonesia! 5 amazing young talents are ready to revisit this milestone of Indonesian jazz history as well as presenting original compositions which are inspired by the album. The members including Tuslah (Sri Hanuraga, Adra Karim and Elfa Zulham), Johanes Radianto and Ricad Hutapea.
Other shining lineup including Bandung's rising stars Grace Sahertian and Dhira Bongs, Deredia, Merah, Indah Anastasya and Her Boys, Bagong Big Band, Trisoul, Five Percent, 57kustik, Mika Quartet and winners of JGTC Competition.
During the fest, The 39th Jazz Goes to Campus will give some moments of appreciation to some figures who have given their valuable contributions towards the jazz development in Indonesia through JGTC Choice Awards in some categories such as New Comer, Young Talent Most Dedicated, Lifetime Achievement and Album of the Year. Other than that, they also show their care of artistic contents and history. So, the JGTC Jazz Museum will have a new content this year: Jazz Family. Jazz Family will share the story of some family who have been devoting their lives to jazz through generation like Lesmana, Likumahuwa, Song and Dauna families.
As the oldest and most celebrated jazz festival in Indonesia, The 39th Jazz Goes to Campus is ready to bring in the selebration and inspirational moment. Once again, the festival is set to go on 27 November 2016 at Campus Ground FEB-UI Depok. Be a part of the long (his)tory, come and have a good jazzy time!
Ticket price: IDR 76.000 (phase 2)
Get the ticket at the official website: http://www.jgtcfestival.com, Indomaret, Alfamart, 7-eleven, GO-TIX, Goers, Rajakarcis, Ibu Dibjo, Tiket.com, Gramedia.com, Kliring.co.id, and Dailyconcerts.
For more info, follow their social medias: @jgtcfestival