As you might probably know, the oldest annual jazz event in Indonesia, the Jazz Goes to Campus (JGTC) 36th edition is coming really soon on 1st of December 2013. Prior to the main event, series of pre-events have been running, not only in Jakarta and nearest cities but also goes further to reach other spots such as Palembang. For the first time Palembang, the capital city of South Sumatra, will taste a slice of JGTC. This event is made by the Executive Student Board of Faculty of Economics Universitas Indonesia (BEM FEUI) and Student Assosiation of Faculty of Economics, Sriwijaya University (HIMAFEK UNSRI) in answering the wish of jazz lovers in Palembang. The 36th  Jazz Goes to Campus Roadshow will take place on Tuesday, November 12, 2013 starting 4:00 pm at the parking lot D3, Kampus Bukit Unsri Palembang, featuring talented local artists and communities with guest stars from Jakarta.
Representing Palembang are 2nd Episode and Elfroux 16. 2nd Episode is a Lounge Pop band that will be cool to see, especially the improvisation of its guitarist Iqbal Soeharin. Elfroux 16 is an Indie Jazz band with slices of pop, groove, folk and also Swedish Pop. Some other bands from the Palembang Jazz Community to participate are Espresso, Fusion band Jazzyndicate, vocal harmony group Celeste Voice and HEI with the young lady Nesia on vocal. What you should check from HEI is the solo drum technique and the connection with Nesia's voice.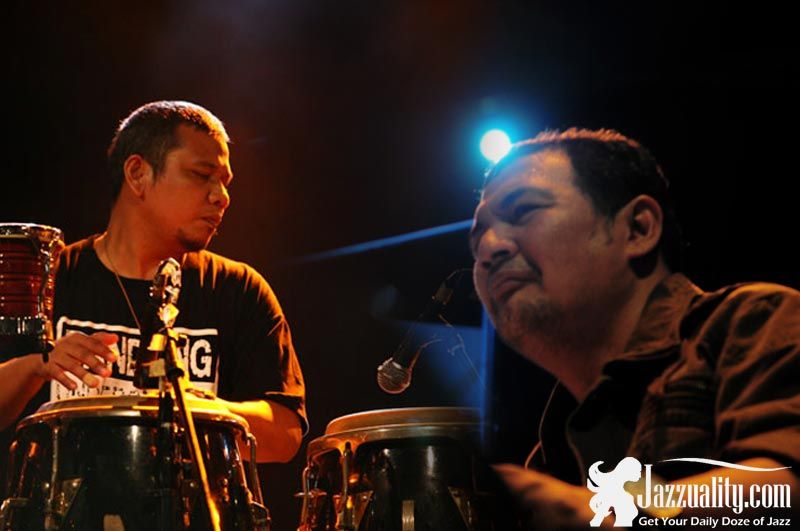 From Jakarta, the senior jazz pianist Idang Rasjidi will once again visit Palembang. The living legend Idang Rasjidi has been standing as a role model and father for many young jazz musicians in Indonesia. The jazz lovers in Palembang should not miss the impressive spontaneity of Idang in entertaining his audience with jazz, also the way he interacts with the audience and of course, his outstanding scat singing technique. Idang will bring two brilliant young musicians along, his own son Shaku Rasjidi and Samuel. Last but not least, senior percussionist Iwan Wiradz is featured too. From Idang Rasjidi and the gang you will get not just pure jazz entertainment but also share a little history of jazz.
We can feel the Palembang Jazz Community's and the local jazz lovers' excitement of this event. If you haven't heard it yet and live in Palembang, you shouldn't miss this one. It's FREE from any charge, open for public. Dedication, history, education and entertainment, this event holds it all. So if you're one of the jazz lovers in the capital city of South Sumatra or nearby, come and join The 36th Jazz Goes to Campus Roadshow!
The 36th Jazz Goes to Campus Roadshow
Date: Tuesday, November 12, 2013
Time: 3:30 – onwards
Location: Lapangan D3 Fakultas Ekonomi, Universitas Sriwijaya
FREE EVENT